I stumbled upon this shop selling coconut jelly in Dato Kramat Road, Penang. According to Mr Joez the proprietor, the coconut are grown in Perak and are of the pandan species. To form the jelly, the outer husk of the coconut is initially removed and then roasted in the oven. After a cooling period, they are then placed in the cooler room. During this period, jelly will be formed…definitely a new innovation. He assured us that no additive or artificial chemical is added. The jelly is formed through the hot and cold process.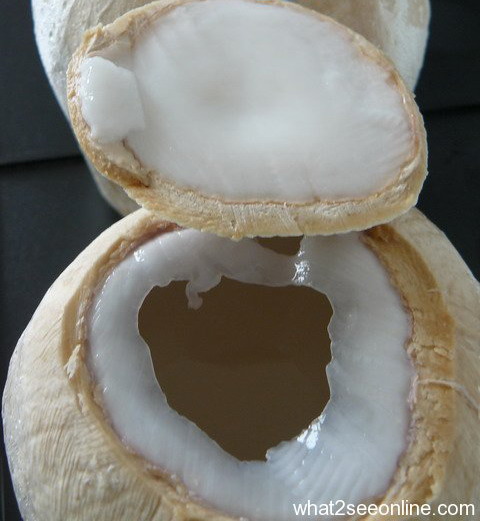 Out of curiosity, I bought some home. The coconut can be open up easily as the top was already cut open for the convenience of the customers. Inside, you will get the yummy coconut flesh but with less coconut water as some of it has formed into jelly. You will be surprise to find a large amount of smooth jelly in there. The coconut flesh can be easily removed from the shell using a spoon.
According to Mr Joez, the coconut must be kept in the refrigerator and will last only for a week. After that, it will turn moldy or sour as no preservative are added. Suitable as a dessert for any entertaining events.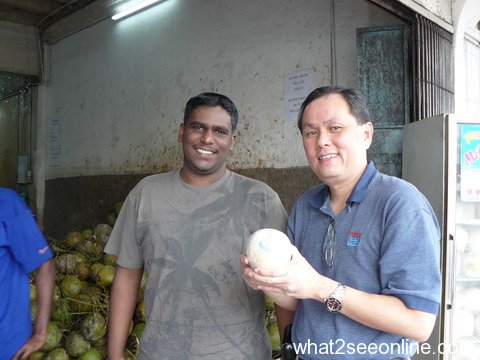 The shop is open for business from early morning to late afternoon. It is a few houses away from the Patani Road Police Headquarters. Click here for the Map Location.

Penang Coconut Jelly
201, Jalan Dato Kramat
10150 Penang
Contact Joe at 016 440 9049
Email : joezcoco@yahoo.com