Pan Mee @Macalister Road/Lorong Selamat, Penang
***Ah Gu Pan Mee 阿牛板面 have shifted several times and the latest is further down the road to 97 Lorong Selamat.
Pan mee is a delicious noodle that is handmade manually on the spot. I found a stall located in Yi Garden coffee shop along Macalister Road / Lorong Selamat selling this delicious pan mee. Also known as mee hoon kuih in Hokkien, you can have it with soup or the dry version; with many different sizes.
The soup version comes with fried anchovies, black fungus, minced meat, Chinese mushroom and vegetable. A lot of anchovies are used in boiling the stock which makes it very flavourful and sweet. In the bowl that you can see below, the flatten dough is torn into bite sized pieces.
The dry version has thin strips of pan mee mixed with dark soy sauce with ingredients of deep-fried anchovies, dried black fungus, shredded meat, Chinese mushroom and lots of spring onion. It also comes with a small serving of soup.
For those who love spicy and hot stuff, you can opt to add in more chili oil to get a bowl of delicious chili pan mee. Just take a look and the delicious ingredients and noodles below, is your stomach growling yet?
Preparing this type of noodles requires more time. The prepared small lumps of dough are kept fresh in a tight container. The picture below depicts the lump of flour that makes up for a bowl of noodle. It is flattened and cut into strips using a noodle making machine (below). Observe that it can be adjusted into different sizes.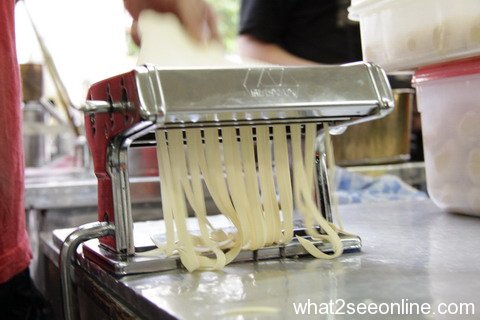 Close-up shots of the pan mee …. Despite the extra effort having to prepare the pan mee manually on the spot, each bowl is sold for just RM3.30. I believe it is reasonably priced for a healthy bowl of noodle.
Click here for the Map Location. The frontage of the shop faces directly opposite The Guang Ming office and with its side leading inwards to Lorong Selamat.
Business Hour : 6pm – 10.30pm
Close on Sunday
GPS Coordinates : N05 24.980
E100 19.458