Penang Food – Roti Bakar at Campbell Street
BY CK Lam
Toh Soon is a small side street cafe situated in the folds of Campbell Street Penang. This cafe which is run by Mr and Mrs Ooi has always been a hit with the locals, especially their varieties served for breakfast and tea time. One of our pit stops for breakfast during the Canon Singapore Photography & Food Trip was at this joint which has an alley atmosphere.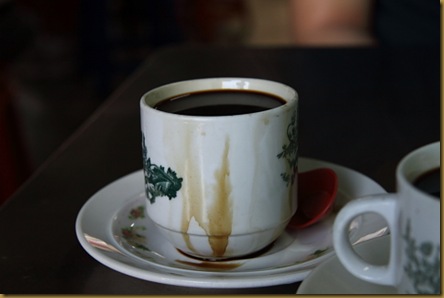 Among the items on the menu include half boiled eggs, steamed bread, packets of nasi lemak and their old fashioned charcoal burned roti bakar, and Kopi-O.
This cafe utilizes charcoal in their daily operations. It is now rare to find the water boiler running on charcoal fire. Furthermore, the bread is toasted at the lowest compartment using the same charcoal fire! It may be a psychological thing, but I personally find food cooked over charcoal fire taste better than their gas stove counterparts.
Small and well organized kitchen.
Water boiled at the top while…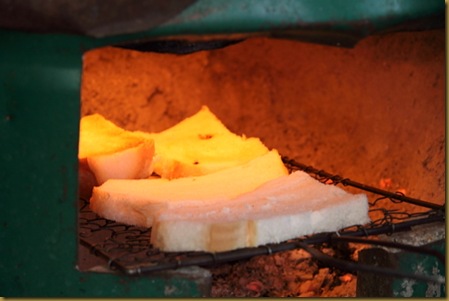 …the bread is being toasted at the compartment below.
You would be surprised to know that the assorted bread are made at their own Syarikat Luan Fong Bakery, located in nearby Kedah Road. Varieties include Hainan bread, Low Calorie Bread, Chocolate Bread and many more.
Among the varieties of bread spread sold at Toh Soon are the creamy and pungent kaya, butter and peanut butter. There is also the steam bread with a spread of butter and sugar.
Located within the narrow lane between Campbell Street and Jalan Kampung Malabar, this cafe has been operating for almost 50 years.
Make a visit to this cafe for a light and simple breakfast. Parking spaces are available on both of these streets. Click here for the Map Location.
Toh Soon Cafe
Campbell Street
10100 Penang
Tel : 04 2613754
GPS Coordinates : N05º 25′ 08.0″   E100º 19′ 54.7″