Peranakan Nyonya Restaurant – Hot Wok, Penang
***The restaurant has since closed down.
Many of you would definitely be familiar with Hot Wok! The name is associated with the abundant of Nyonya food coupled with beautiful decorations and authentic Peranakan ambiance.
Customers who have frequented the restaurant in Penang knows that Hot Wok Nyonya & Local Cuisine has established itself as the premier restaurant in serving authentic Peranakan or commonly known as Nyonya food from its earlier years in Gurney Plaza and later shifted to Tanjung Tokong. Now they still continue serving their customers in a double storey pre-war house along Jalan Burma, near to the many food eateries of Nagore Road and New World Park.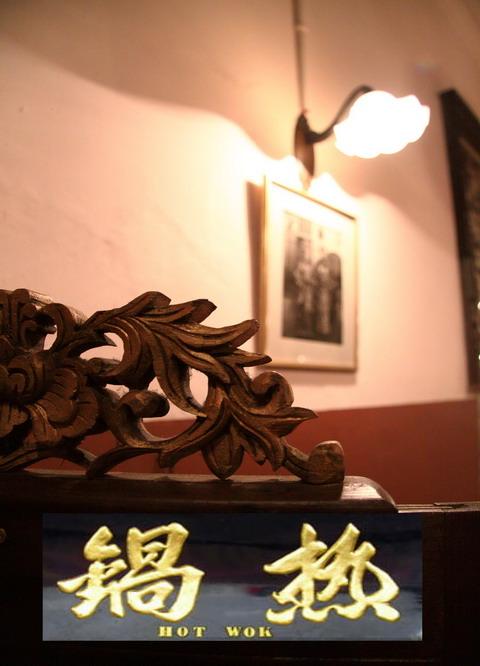 Welcome to a gastronomic food journey at Hot Wok
What's more, dining here gives everyone the opportunity to savor varieties of Nyonya food besides some of the local hawker favorites. Being established for so long, they have been masters of the trade and never fail to cook up some of the delicious Nyonya food on the island! There were a few groups of customers on that night, which is a sign that their customers keep coming back for quality Nyonya food.
Menu neatly tucked away in this creative abacus rack
The Penang Food Bloggers recently received an invitation to have a taste of Nyonya food from the owner, Mr Kelvyn Yeoh. All of us got seated in this table in the second dining hall surrounded by beautiful antiques, collectibles, art and craft. The wall was decorated with many mirrors and artifacts. We got out our cameras in no time and started snapping away at the beautiful surrounding!
Aerial view of our dining table with the beautiful flooring

Part of the dining hall with the staircase leading to the upper floor
The meal started with assorted deep fried rolls. The first was the Loh Bak. This Nyonya delicacy of meat rolls done with minced pork and other ingredients is rolled up in bean curd sheet and deep fried. The hot juicy rolls were served with chili sauce. Everyone of us was complementing on this flavorsome rolls, a definite must try for first time patrons!
Loh Bak – simple yet delicious
The second dish for our taste buds was the Choon Piah. It is actually spring rolls with a savory shredded turnip filling. It is deep fried with a crispy exterior and best eaten with the Lea & Perrins dipping sauce. Both the Loh Bak & Choon Piah really had our appetites going.
Choon Piah
Hot Wok also serves some hawker favorites, like the Hokkien Mee and Steam Or Kuih (yam cake). The ingredients for the Hokkien Mee is the prawns, hardboiled egg, kangkung and the Siew Yoke (roast pork). Spiciness of the soup depends on the amount of chili paste added. The soup is savory and sweet with prawn flavor. The Hokkien Mee stall can be seen displayed right beside the entrance of the restaurant.
Hokkien Mee
Another local delicacy which we were offered was the yam cake, better known as Or Kueh to the locals! Garnished with plenty of sliced chili, shallots and spring onions coupled with their blend of sweet & chili sauce, their yam cake holds a softer texture as compared to other places.
Steam Or Kuih – yam cake

The delicious Curry Kapitan that comes with big chunky pieces of chicken is a perfect dish for many as it is not too spicy. This dry curry is cooked with a paste with ingredients of lemongrass, chilies, garlic, onions, lengkuas (galangal) and buah keras (candlenut) which made this dish very flavorful especially with the kaffir lime leaves. Excellent complement with white rice!
Curry Kapitan
The dish of Tau Eu Bak (pork stewed in soy sauce) comes in various versions in different restaurants. In Hot Wok the braised pork was simply marvelous, moist meat done with the right amount of spices. This dish comes with unique hard boiled eggs with its outer layer of egg white slightly harder. Both were just simply delicious when eaten with some sambal belacan.
Hard boiled eggs served together with the braised meat
From the flavorful Tau Eu Bak, the next dish was a huge bowl of Kiam Chai Ark (duck soup boiled with salted vegetables, tomatoes and sour plum). The soup was full of flavor, really very appetizing indeed. Some of us even requested for a second helping.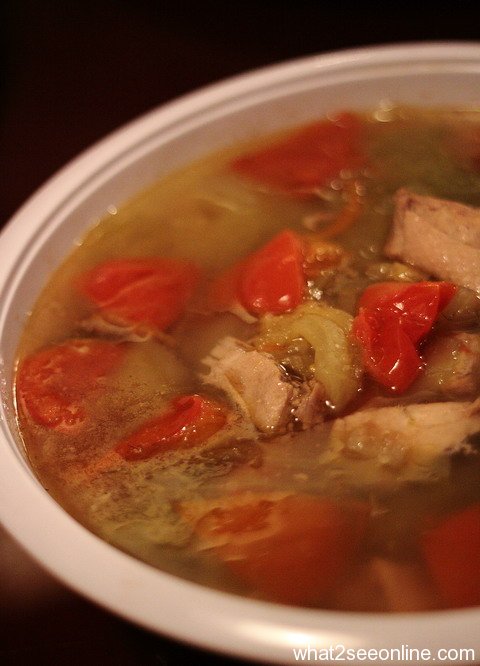 Harm Choy Arp Tong
Next up was the Assam Prawns, which was cooked in the appetizing tamarind and dark soy sauce. The fried prawns were all covered with the caramelize sourish sweet tamarind sauce. It was a joy indulging on the prawn flesh, and equally good sucking on the shell as well!
Assam Prawn
The Curry Tumis Stingray Fish was served in a claypot which keeps the dish warm. This curry has a refreshing tangy flavor gravy and I took a few spoonfuls of the curry myself. It is a dish that most Hot Wok customers would order to go with their meal.
Vegetable dishes are a must when going together with all those meats, and what else should be better than this plate of Jiu Hoo Char, which is a Nyonya style fried mixed vegetable. The bangkuang (yam bean) is fried together with strips of dried jiu hoo (octopus), carrot and mushroom. Hot Wok version of this sweet and savory dish is a bit dry, which makes it easier for wrapping with the accompanied lettuce. The wrap taste good with a bit of sambal belacan….give it a try!
Jiu Hoo Char – Nyonya style fried mixed vegetable
The Pork Cincalok is an excellent dish that perks up the appetite. However, in my personal opinion I found this dish to be a bit salty for my liking.
Pork Cincalok – sour and slightly spicy
The dining hall on the ground floor can accommodate up to fifty customers with another seventy sitting comfortably upstairs. This master piece divider separate the first dining hall from the second.
Section of the third dining hall with marble top coffee tables & kopitiam chairs

The Nyonya cuisine was rounded up with the serving of many different types of Nyonya desserts. Most of them tasted alright while some was a bit too sweet. You can always request to reduce the sweetness if you don't have a sweet tooth. The combination of the ingredients were good except for the Mango Cendol. I personally feel that the taste of the mango and the sweet sugar syrup of the cendol do create an uncertain mixture of taste.
Here are some of the desserts that we had…
Sago Honeydew, Sago Nangka & Sago Gula Melaka
Cendol & Mango Cendol
Ice Kacang
Cendol – chilled green pea jelly with kidney beans, gula melaka & coconut milk
I would like to express my thanks to Hot Wok proprietor, Mr Kelvyn Yeoh for extending this invitation to all the food bloggers. There are two dining area, one with the Kopitiam setting and another fully air-conditioned. The restaurant is located diagonally opposite the BMW car showroom. Parking is very convenient as it is just beside the Giant Supermarket in Penang Plaza which has ample parking spaces. Click here for the Map Location.
Hot Wok Nyonya & Local Cuisine
124-E & F Burma Road
10050 Penang
Tel : 04 2273368
Business Hour : 11.00am – 3.00pm & 6.00pm – 11.00pm
Website : http://www.hotwok.com.my
Closed on Tuesdays
GPS Coordinates : N05 2516.0   E100 1930.0
UPDATED ON 6/7/2009 :
A SPECIAL PROMO FOR WWW.WHAT2SEEONLINE.COM READERS
Currently customers get to enjoy 10% off the food menu price at this Penang outlet by presenting the voucher. For Hot Wok Restaurant, this voucher is valid till end of December 2009 and for a bill of RM50 and above. This voucher is not applicable for promotional items.
Click on the above coupon & print it out
Visit the Kota Damansara outlet post to print out their discount vouchers.