Vegetarian Poon Choi at Yishensu
Yishensu, the vegetarian restaurant which was opened recently in Klang Bandar Bukit Tinggi is another outlet to the one in 1 Utama. They served Vegetarian Poon Choi in addition to other vegetarian dishes. On my recent KL trip, we visited the outlet just to try out this dish.
The restaurant is very spacious and inviting with deco almost similar to the one in 1 Utama. It offers the vegetarian Poon Choi in one size and cost RM168. It was arranged and presented in twelve layers of ingredients and served steamy hot in a large porcelain bowl. The ingredients make up of mock abalones, sharks fin, kei chee (dried wolfberries), black mushrooms, monkey mushrooms, yam, mui choy, siew bak choy and many more in this wholesome dish.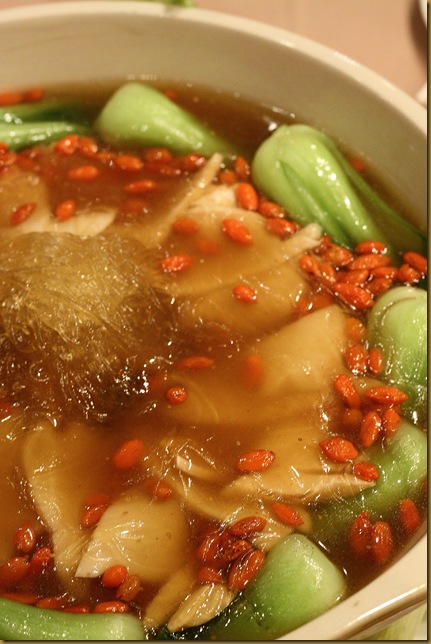 Vegetarian Poon Choi
The dish is kept warm in the porcelain bowl
This dish comes with delicious deep fried battered mock prawns. It's done to taste exactly like the real prawns and they complimented the Poon Choi very well.
We enjoyed eating it layer by layer, starting from the very top…
The ingredients were cooked for long hours and very tasty as they soak up the flavorful sauce.
We were stuffed to the brim with just the dish of Poon Choi and this complimentary cold dessert. It is worthwhile to visit Yishensu to try the Poon Choi…indeed satisfying. Click here for the Map Location.
For more reviews, do hop over to the blog of Chris, Benjicajess and Ken.
The bowl of Poon Choi serves for eight to ten people. Although it is available in the Klang outlet, customers at the 1 Utama outlet can also enjoy this dish serve to them at 1 Utama with one day advance booking. Besides the Poon Choi, do check out the delicious and hearty vegetarian dishes, noodles and sweets that I had at the 1Utama outlet.
Yishensu – A Vegetarian Connoisseur
Lot 12A-1-1 & Lot 12-1-1 (First Floor)
BBT One Boulevard
Lebuh Batu Nilam 2
Bandar Bukit Tinggi
41200 Klang
Tel : 03 33251015
Website : http://www.yishensu.com