Chinese Recreation Club Restaurant, Penang
Chinese Recreation Club Restaurant (CRC) is located in the Chinese Recreation Club, and over the decades has remained as one of the best Chinese restaurants in Penang. This restaurant has a huge selection of mouth watering Cantonese and Teochew cuisines.
Our latest dinner at this restaurant was together with my eldest son who was back for the holidays. We started off with the impressive platter of Four Season. They tempted our palate with the four kinds of ingredients with two having a combination of seafood and meat with the flesh of the jackfruit. It was nice to see the local fruit being used in this dish, indeed delicious.
The platter @ RM45
Innovative creation using the jack fruit in the meat pieces and seafood roll

Next was the double boiled soup which is their specialty. Each of us had an individual bowl of nutritious boiled black chicken soup which was filled with goodness. The soup was very clear and tasty with very soft and chewy sea cucumber, scallops and black mushroom. We always order this soup and I highly recommend it.
Boiled Black Chicken soup @ RM22 per individual bowl
This Sweet and Sour Pork Rib dish has the ribs coated with a tantalizing double flavor of sweet and sour glaze. Its taste is even enhanced with the accompanied pickles.
Sweet and Sour Pork Rib – RM25
We had this vegetable dish of Seong Tong Yuen Choy (spinach) with century egg and garlic – RM15. This dish has a good soup base and the nutritious vegetable was soft.
Even the chicken is different, very homestyle as it was steamed with mushroom and lots of ginger. The mushroom was full of flavor soaking right through the ginger and chicken gravy.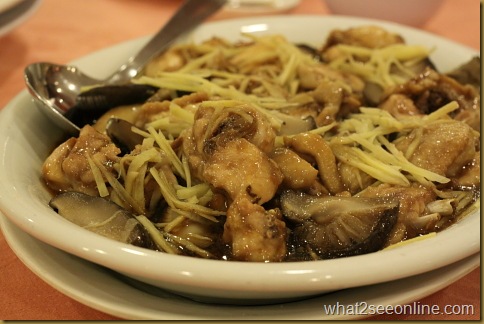 Steamed Chicken @ RM20
We help ourselves with this lovely Curry prawn dish which is one of the house favorite. The aromatic curry prawn gravy goes well with the accompanied fried bread.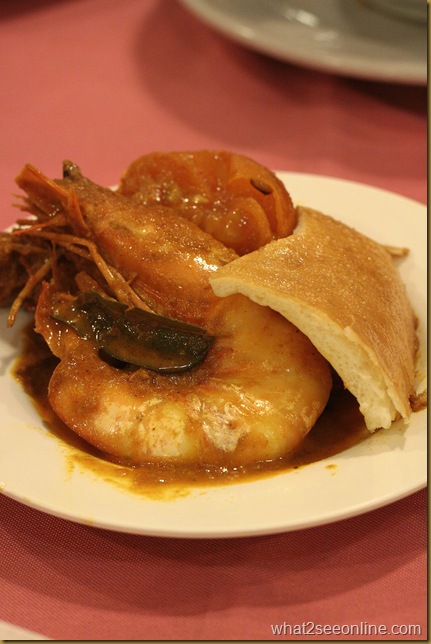 Each of us has a serving of two prawns
Steamed fish with a tasty soy sauce mixture and served garnished with plenty of spring onions and celery leaves. The gravy was perfect to go with white rice.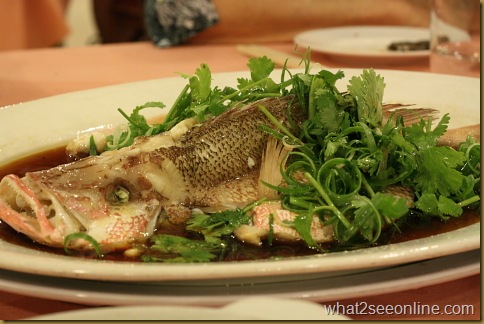 Steamed Fish @ RM32
We also had another plate of stir fried fine French beans with minced meat. I prefer this fine variety as it is crunchier and has very little seed. It goes well with the flavorful minced meat.
Stir fried French beans @ RM15
Besides being an ideal place for a simple luncheon and lavish dinners, CRC is also a delightful venue for wedding functions. Click here for the Map Location.
Chinese Recreation Club Restaurant
Jalan Padang Victoria
10400 Georgetown
Pulau Pinang
Tel: 04 2299155 & 04 2289787
Business hours : 12 noon – 2.30pm & 6pm – 10pm