Penang Food – Cintra Street Chicken & Fish Porridge
Cintra Street which starts after the junction of Kimberley Street (leading all the way towards Chulia Street) has numerous hawker food stalls and old style Chinese restaurants. Most of the food stalls  have been operating for a long time.
In fact I did a Cintra Street food crawl review a year ago covering most of the food stalls along this street except the Yee Sang Kai Chok (fish/chicken porridge) stall.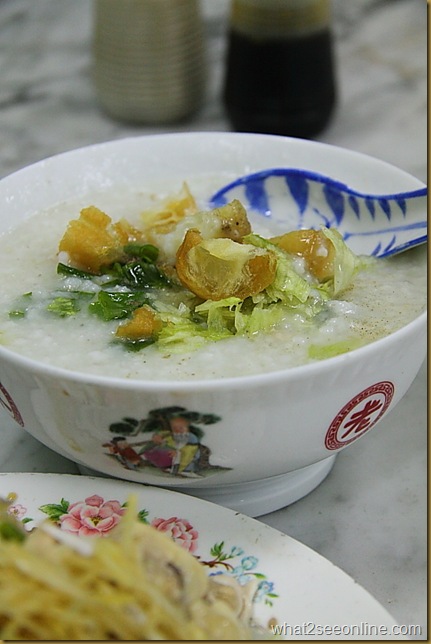 Steaming hot thick porridge
Many locals are quite familiar with this stall operating directly opposite the Cintra Food Corner selling Bak Chang (dumpling). The stall is easily spotted right in front of Sin Sun Vood coffee shop. For many years the lady owner has been serving the Chicken Porridge (Kai Chok) and Fish Porridge (Yue Chok) together with the popular steam chicken (Bak Jiam Kai).
The steamy soothing bowl of porridge is topped with ginger strips, spring onions and pieces of deep fried crullers – yau char kwai. The texture of the porridge is thick enough for my liking. It's very flavorful and tasted great with a dash of white pepper.
Additional bowl of yau char kwai
A simple add on dish of chicken is indeed a wonderful addition to the porridge. The smooth textured chicken is enjoyed with extra ginger strips. However the accompanied chili sauce is just very ordinary.
Business hours starts in the night, from 8pm. I remembered watching the owner setting up her stall early in the evening when I was having my chu char dinner at the neighboring Sun Yoon Kee Restaurant.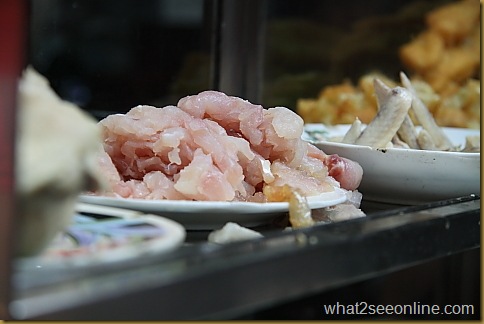 Fresh slices of  fish
Besides the chicken porridge, I also had the Yee Sang Kai Chok which has a mixture of chicken and slices of fish. This bowl of porridge with combination of chicken and fish cost RM4. The whole chicken drumstick cost RM8.
Yee Sang Kai Chok
If you fancy having some tasty chicken porridge, then head over to this stall. Click here for the Map Location, It is just behind Woo Hing (Rolex shop).
Infront of Sin Sun Vood Coffeeshop
Cintra Street
10100 Penang
Business Hour : 8pm – 11.30pm
Closed on Sunday