Penang Meatless Cafe – JenxDan Lifestyle Cafe
A non-meat cafe has just opened recently in Chow Thye Road. JenxDan Lifestyle Cafe offers its customers a variety of good and healthy dishes. The cafe name is made up from the initial of the husband and wife, Jayne and Danny. In fact Danny is also the chef who plans the dishes for the menu which is full of Western delicacies and also some Chinese delights. There are some dishes that include eggs and some well prepared 'meat replacement' foods.
I had some wonderful delights from their menu, starting with the appetizer, Italian Tomato Bruchestta. This dish comes with a topping of chopped tomato with basil in extra-virgin olive oil. It was full of flavors even though it was not served on a baguette. The healthier whole meal bread was just as good.
Italian Tomato Bruchestta with coleslaw – RM4.50

The Cheesy Mushroom Sandwich is an ideal vegetarian sandwich. It has pieces of diced stir fried mushrooms and eggplant laid on top of a very unique English muffin…indeed an interesting combination. The fruit and coleslaw compliments this dish very well.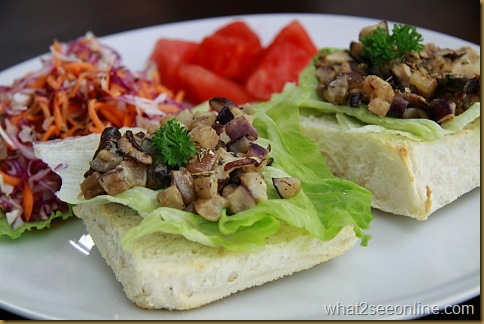 Cheesy Mushroom Sandwich – RM 7.90
The cafe offers a number of hot and cold beverages. I was delighted to have the Rosella juice – RM3.90, a refreshing drink which is rich in Vitamin C. I remembered I was introduced to this juice when I visited Yishensu Restaurant.
Another recommended drink was the Coral grass – RM3 which is rich in calcium and also high in protein and natural enzyme. The coral grass comes with a few choices of fruit juices – mango, guava, orange and apple.
Rosella and the Coral grass orange juice
A pot of Organic Earl Grey Tea which is sufficient for sharing among two people. This tea with an aromatic flavor helps in the digestion.
Organic Earl Grey Tea
I had this Pasta Carbonara. This pasta which is found in many food outlets and cafes can also be seen on the menu at JenxDan Lifestyle Cafe. The fusili had the right texture and was tossed evenly together with plenty of mushroom, peas, carrot, broccoli and cauliflower. This is indeed a simple dish with scrumptious flavor.
Pasta Carbonara – RM 7.90
A creative approach was seen in The Golden Duck. This dish has a bowl of red rice and pieces of vegetarian duck with black sesame olive oil and vinegar dressing. The sauce was slightly sweet and sour. Assorted vegetable of carrot and lady finger were including in this dish.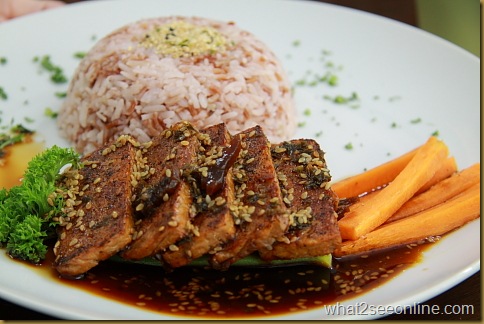 The Golden Duck – RM 7.90
They use many other ingredients to substitute for the actual ingredients. As for the desserts, it's great to see different flavors of eggless cheesecake featured in their menu. We had the Mango and the Grape Cheesecake at RM4.90 each to round out the meal.
My favorite was the Eggless Mango Cheese cake with pieces of mango sandwiched in between.
The above dishes are just some of the offerings in the menu. I am sure to return again to try the rest of the entrees. Click here for the Map Location. The cafe with simple deco has green and white as its main color, with the color green representing the color of nature.
JenxDan Lifestyle
21 Jalan Chow Thye
10050 Penang
Business Hour :
Monday-Friday
11am-2.30pm
6pm-9pm
Saturday
9am-3pm
Public Holiday
9am-3pm
Closed on Sunday
Tel : 04 2268414
H/P No : 019 4719123 (Danny Tan)
Website :  http://www.jenxdanlifestyle.com