Premier of 'Chef Daniel Boulud: One Night in Singapore' in NEO, Kuala Lumpur
The Asian Food Channel (AFC), dedicated to airing the best food and lifestyle program has recently held the exciting premier of Chef Daniel Boulud: One Night in Singapore'. The event was held in NEO, located in Jalan Sultan Ismail next to Tamarind Hill, Kuala Lumpur.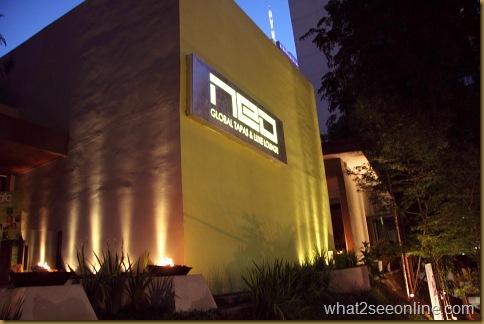 Many bloggers from all over the place attended this premier video screening. Everyone got around to socializing with each other during the event.
All of us received a warm welcome by the Co-Founder and Managing Director of AFC, Mr Hian Goh. He was on hand to mingle with us before giving an opening remark on the video.
The video title "One Night In Singapore" features Chef Daniel Boulud setting sail on his maiden voyage to South East Asia, where he tackles the heat in the kitchen of the ever famous Fullerton Hotel, Singapore.
BIO-DATA OF DANIEL BOULUD
Daniel Boulud is Chef-Owner of ten award-winning restaurants and the Feast & Fetes catering company. In addition, he has created Café Boulud Palm Beach and Daniel Boulud Brasserie at the Wynn Las Vegas Resort. In May 2008, the chef extended his culinary reach internationally, opening Maison Boulud in the Legation Quarter in Beijing, China. Daniel Boulud and his restaurant management company, The Dinex Group, have also recently formed a partnership in Vancouver where they manage the renowned Relais & Chateaux restaurant, Lumiere. Adjacent to Lumiere they have created a new DB Bistro Moderne, a sister restaurant to the one in Manhattans Midtown.
Boulud's culinary accolades include James Beard Foundation awards for Outstanding Restaurateur, Best Chef of New York City and Outstanding Chef of the Year. Restaurant DANIEL has been named one of the ten best restaurants in the world by the international Herald Tribune, received Gourmet Magazines Top Table award and a coveted four star rating from The New York Times, as well as Wine Spectators Grand Award. The Chef has authored six books and has created three seasons his After Hours with Daniel television series.
The event was also graced with the presence of Maria Brown, the Managing Director of Acquisitions & Programming for AFC.
Light refreshments and food was served before and after the hour long video. It was indeed an enjoyable evening for everyone. Many thanks to Alice George Communication, the PR Consultants to the Asian Food Channel in Malaysia for sending out the invitation.
This one hour exclusive 'documentary' will be release on the Asian Food Channel on 29th September 2009 at 9pm. It will be broadcasted on Astro Channel 703 (Malaysia) and StarHub Channel 69 (Singapore). For more info, check out their website on www.asianfoodchannel.com