Penang Food – Beef Steamboat in Kham Kee Restaurant, Tanjung Bungah
Our family went out to enjoy a sumptuous beef steamboat during the weekend. We had this steamboat at Kham Kee Restaurant located in a house along Gajah Road, Tanjung Bungah. This restaurant specialises in beef steamboat and some may recall that it was previously in Gottlieb Road, nearby Peng Hwa Chinese Girls School.
The steamboat comes in two sizes, starting from RM80 onwards to about RM100. Besides the pot, several plates of other ingredients are served separately. Among them are vegetables, beef stomach and a plate of finely sliced beef.
Three of us went for the RM80 pot. It comes with a variety of beef cuts, mainly the flavorful beef soup alongside beef balls, tendon, brisket and flank. Do check out soo sean's blog for the ingredients. They have other types of soup too besides the beef soup, if you want a change from the normal beef soup.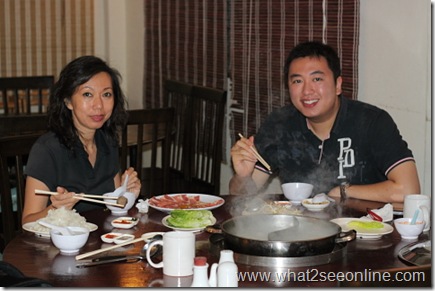 Myself enjoying the steamboat with my son
We thoroughly enjoyed it, especially the paper thin slices of beef which needed just a few seconds of dipping into the hot boiling soup! Just have to wave the meat back and forth in the bubbling soup and its done! It was awesome when accompanied with the dipping chili sauce.
There is also noodles such as Koay Teow  and bean sprouts which we added into the pot after we were almost done with the contents in the pot. As the meal progressed, the soup only turned sweeter and sweeter, and it was a joy indulging the vegetables! It was indeed delicious with the chili sauce.
For those that do not take beef, Kham Kee also serves other varieties of steamboat, with a selection of seafood, chicken, pork and lamb. We thoroughly enjoyed our meal there and I personally love such steamboats especially on a cold rainy day!
The restaurant can be seen from afar with two lanterns hanging in front of its gate. Click here for the Map Location.
Kham Khee Restaurant
45  Jalan Gajah
11200 Tg Bungah
Penang
Tel: 016 4823695 & 016 4533801
Business Hour :  6pm – 10pm (Dinner Only)
Closed on Tuesday
Category : Non-Halal
GPS Coordinates: N05 2729.2   E100 1810.2