Penang Food – Satay Ah' Basri, Expect Satisfaction from Every Cucuk!
The slogan above was printed on the menu when we visited Ah' Basri Satay outlet last night. That slogan had all of us ranting…what a way to attract customers. This outlet is located on Jalan Dato Ismail Hashim in Sungai Ara. It is diagonally opposite the Fisherman's Grill.
This place has its own unique variations of satay. We had some time selecting the type of meat to have as there were many varieties to choose from. They have even horse and ostrich meat for the more adventurous to try out.
Plate of charcoal-grilled satay
The skewers of meat were grilled over charcoal fire and the smoky charred flavor of the meat was very enticing.
Hard at work to grill out the best satay!

The satay is chunkier then what one will find from the ordinary satay stall. The skewers of meat were accompanied by the thick peanut sauce with a dollop of red chili sauce and raw onions plus cucumber.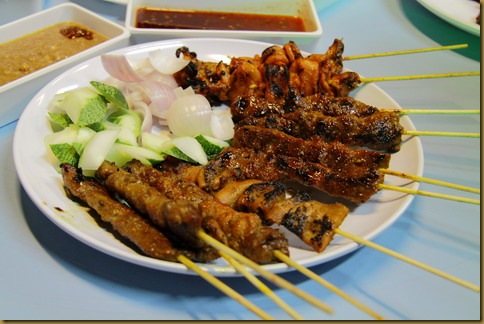 The satay was nicely presented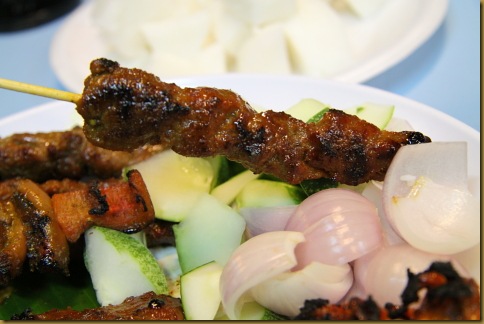 We had the following few types of meat…
Chicken – RM1 original
Beef – RM1.40 original
Beef Stomach – RM1.50
Lamb – RM1.40
Deer – RM1.50
Squid – RM2.50
Kangaroo – RM2.50
The taste was very authentic with the grilling done over charcoal fire. My personal best choice would be the tender lamb followed by the flavorful squid and chicken satay. The beef and the deer meat were rather tough. We also had the Nasi Himpit @ RM1 per portion.
The squid comes with a red chili sauce – slightly sourish and sweet
Besides the satay, we also savor various types of Wrap. It's a nice change to have the meat inside the wrap. We ordered the Lamp Wrap and Beef Wrap @ RM4.80 per wrap which has a portion of the meat, together with some satay sauce, cucumber and vegetable. Great tastes all rolled in one!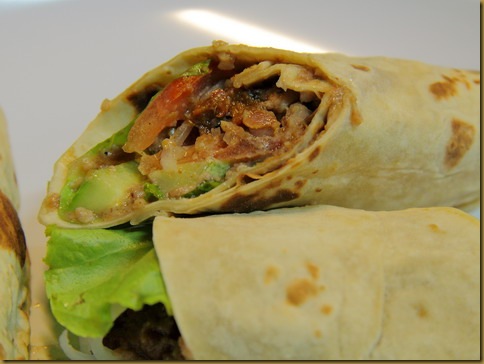 This dinner cost RM54. They do provide catering services too. More reviews of this "Non-Smoking" satay outlet can be view here and here.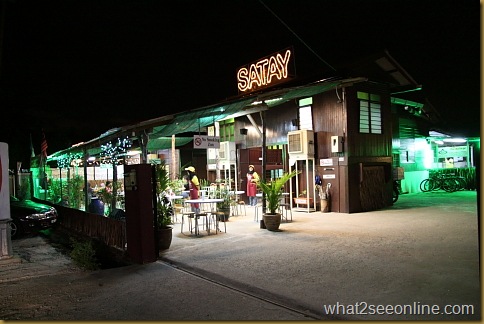 Ample car park spaces in front and inside the compound

Click here for the Map Location.
P.S. This satay house is nearby the traffic light beside Sekolah Kebangsaan Sungai Ara.
Ah' Basri Satay
115B Mukim 12
Jalan Dato Ismail Hashim
Sungai Ara
11900  Bayan Lepas
Penang
Ahmad Basri H/P No : 012  4100080
Business Hour : 5pm – 12 Midnight  (Dinner from Mon – Sun)
12noon – 2pm  (Lunch from Mon – Fri)
Category : Halal
GPS Coordinates : N05 1913.3   E100 1617.5