Singapore Food – ieat Crab Fest at Chin Huat Live Seafood
My hubby and I spent our last weekend in the neighboring country, Singapore. Our main objective of this trip was purely to meet up with our friends, having fun hunting for interesting Singapore food and joining in the ieat Crab Fest organized by Leslie of ieatishootipost!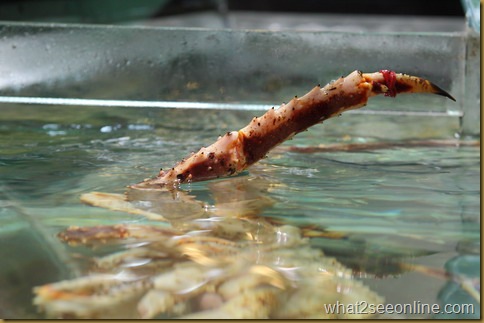 Something is lurking… 🙂
All the crab lovers were delighted with the food for the evening; featuring eight different gorgeously fresh crabs cooked in eight different ways. A very big thanks to the generosity of the charming Lao Ban Niang, Amy for giving us a chance to dine on this crabs for only $50!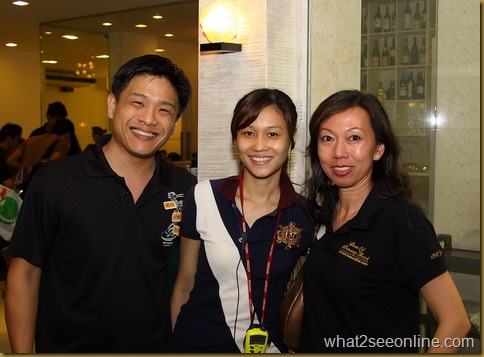 Leslie, Amy & myself
Just look at the different cooking styles that we savored in just one night! These crawlers came in many variety; some steamed, boiled and deep fried.
1 )  Alaskan King Crab steamed in Chinese wine
2 )  Black Pepper Dungeness Crab
3 )  Butter Blue Swimmer Crab
4 )  Red Flower Crab Porridge
5 )  Chili Sri Lanka Crab
6 )  Stir Fried Cromer Crab in Superior Broth served in pan fried Bee Hoon
7 )  Salted Egg Indonesia Crab
8 )  Golden Sauce Indonesia Crab
9 )  Chilled Kailan with Wasabi soya sauce
Alaskan King Crab steamed in Chinese wine – The Alaskan King Crab is a very large crab and was served in pieces steamed with Chinese wine and egg white. The long legs with plenty of meat is the best part and is easily removed with the pair of scissors.
The meat was extremely sweet and fragrant with the wine! This dish was agreed by most as the best dish for its texture and taste. This is one dish that I would love coming back for.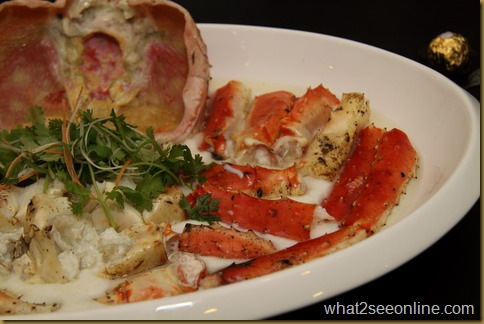 The Golden Sauce Indonesia Crab dish was also another crowd favorite of the night as many of us went for its excellent sauce which incorporates the pumpkin. It was creamy and combined very well with the crab. That special taste had us craving for more, especially when eaten with the fried Mantou. This is a must try dish when you visit Chin Huat!
We were glad that we took part in this makan-makan session. We got to know many new friends while indulging in the many types of crabs.
Besides the above mentioned two dishes, there are plenty more dishes which we enjoyed that evening, and you can catch it in the slide show below!
DO ENJOY THE REST OF THE FEST IN THE SLIDE SHOW BELOW!
Last but not least, the crab fest ended on a successful note with a very beautiful dessert. This four-type dessert was a great surprise for all of us as it was not stated in the menu.
If you are ever in the Lion City, do drop by Chin Huat Live Seafood as it is a highly recommended place for seafood. Click here for the Map Location.
Chin Huat Live Seafood
Blk 105 #01-30
Clementi St 12 (Sunset Way)
Singapore 120105
Tel : 6775 7348 & 6778 7198
Business Hour :
Lunch :  11.30am – 2.30pm
Dinner : 5.30pm – 11pm