Coffee Lane, Penang – Something is Brewing in the Cafe!
…where Coffee is Freshly Ground, Freshly Brewed and Freshly Served!
Coffee Lane is a brew-to-order cafe which offers varieties of coffee and chocolate drinks with a few brewing methods including the syphon brewers. It is among the first few growing crop of cafes in Penang having the coffee prepared in a glass flask.
Being coffee lovers, hubby and I drove down town to seek out this latest trendy brew. The cafe situated in King Street, the same road as The Sire Museum Restaurant is own by Terry Beh, a person truly passionate about coffee.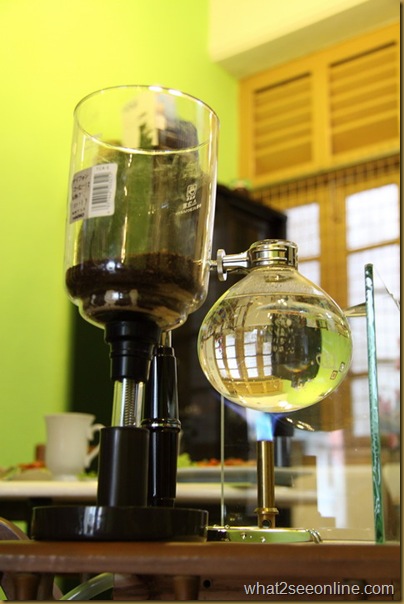 Syphon Brewing Coffee
This is my first time witnessing a barista demonstrating his brewing skill using the syphon brewing method The apparatus used is something that you would have seen and used in your high school science laboratory…bunsen burner and glass flasks!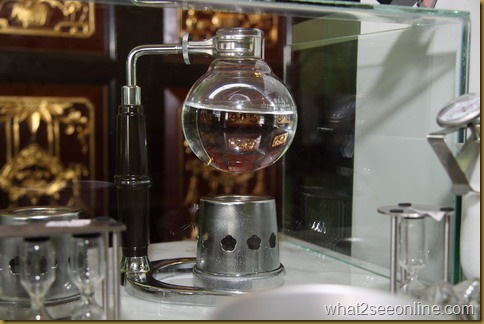 Step 1 : The high quality Italian coffee beans are weighed and freshly grounded on the spot.
Step 2 : Coffee powder is poured into the stem of the coffee container with a filter attached.
Step 3 : Water (170ml) is heated to a boil in the glass carafe.
Step 4 : The coffee container is then inserted into the top of the glass carafe.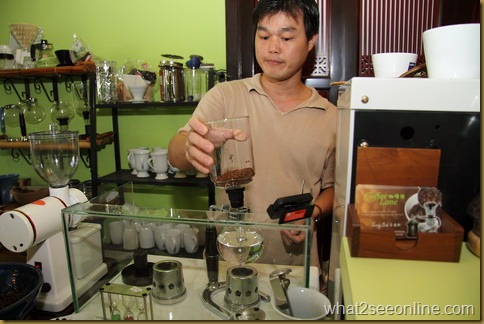 Step 5 : The boiling water makes its way up the stem of the carafe into the coffee ground container. It is then stirred for one minute.
Step 6 : At this point, the coffee has been fully brewed, but still contains the coffee grounds. The glass carafe is taken off of the heated surface. The brewed coffee is sucked through the filter of the coffee ground container down into the glass carafe.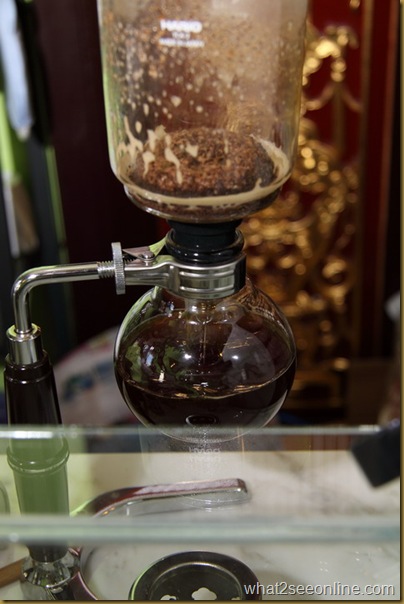 According to Terry, the syphon method actually brings out the essence of the beans.