Hainanese Delights Restaurant @ 1926 Heritage Hotel Penang
During the weekend I enjoyed a wonderful lunch with friends in the newly opened Hainanese Delights Restaurant in Penang. This place is located in the low rise 1926 Heritage Hotel on Burma Road, and emerges as the newest addition to the number of Hainanese restaurant in town. This restaurant is operated by a Hainanese, while the food is cooked by a Hainanese chef too. The menu of this restaurant brings a selection of Hainanese specialties and some western-style dishes.
The nostalgic Hainanese cuisine, Macaroni Pie…
Straight to the cuisines we indulged that day!
Macaroni Pie – I was delighted to see the Macaroni Pie in their menu. This is one memorable dish for me as I have only tasted this specialty from a handful of restaurants that served this dish in the eighties. Now there are hardly restaurants around town that serve this authentic Hainanese dish. The last one that I had was a year ago at The Bungalow in Lone Pine Hotel. The younger generations will now be able to enjoy this type of pie at Hainanese Delights. The pie with macaroni, chicken, carrots and button mushroom has a topping crust made with meringue.
RM25 for the beautiful Macaroni pie!
Chicken Pie – The pie with a beautifully browned crispy crust was filled with a smooth and creamy mixture of chicken, vegetable and other ingredients. Everyone loves it and ended up ordering another one. For this pie dishes, it is better to pre-order to avoid disappointment.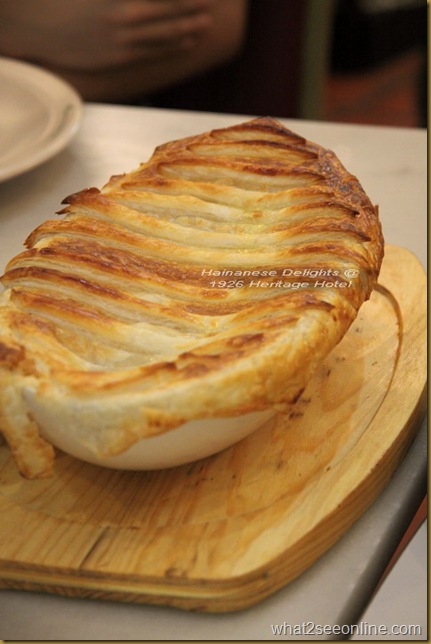 Perfectly baked crust to top off the pie…
RM25 for the Chicken pie

The next dish was the Braised Lamb with Lady's Fingers – The thick pieces of tastefully braised New Zealand Lamb cook in Hainanese style served with lady's finger was absolutely mouth watering. Perfect to go with rice or just eaten on its own! Yummy!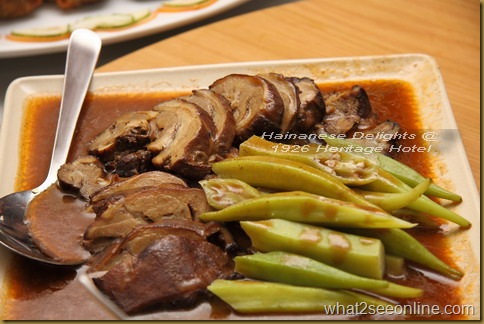 RM18 per portion
Hainanese Chicken Rice – This noted dish from the Hainanese cuisine has poached chicken with chicken innards accompanied with condiments of minced ginger and spicy chili sauce. The rice was very aromatic according to some of our friends. I personally enjoyed it very much for its authenticity, the gravy was really flavorful coupled with the sauces.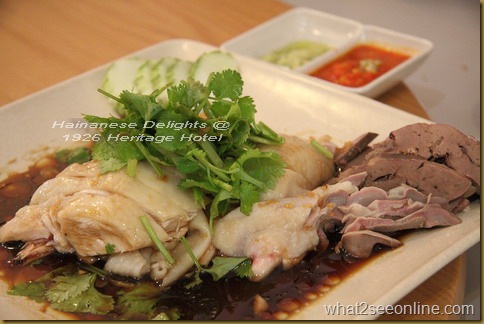 RM10 per portion

The following three dishes have flavors of Nyonya cooking infused in it.
Choon Piah (Hainanese Spring Roll) – Big size deep fried spring rolls filled with strips of  turnip (mengkuang), cabbage, Chinese mushroom and crab meat. The rolls were served along with the special "east meets west" Worcester dipping sauce. Perfect accompliments to our meal that afternoon!
RM6 Per Roll
Inche Kabin (Deep Fried Marinated Chicken) – I was still pondering as to the originality of the Inche Kabin as whether it is a Nyonya dish or Hainanese dish. Apparently according to the owner, Mr Wong, though this maybe a Hainanese dish but it is greatly influenced by the flavors of the Nyonya's. Thanks to him for sharing some insight into this dish. Coupled with the Worcester sauce, this is really a dish to savor!
RM15 Per Portion

Chicken Curry Kapitan – There are more than one way of preparing this dish and this restaurant has it made using their own specially flavored curry sauce. The curry is savory with the aromatic of the spices on the lighter side.
RM12 Per Portion