Italian @ Cugini Trattoria Pizzeria, Singapore
A lovely impression of Squid Ink Fettuccine!
During my Singapore trip, I got the chance to taste some mouthwatering pasta when Dr. Leslie Tay brought the few of us to his favorite Italian restaurant, Cugini which is known for serving authentic and delicious Italian food. Cugini is the Italian word for 'cousins', which refers to the two Italian owners, Chefs Gerri Sottile and Mauro Muroni.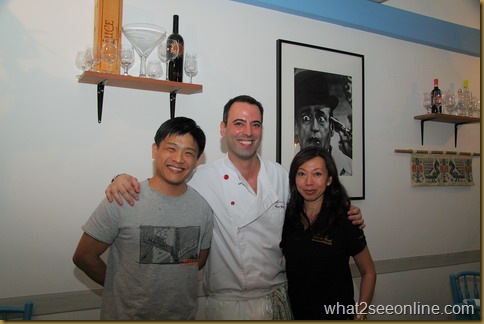 Get to meet up with Chef Mauro
Cugini, a cozy family trattoria is housed in an old charming double storey conserved shop house with an Italian theme. The center of the restaurant has a canopy of glass which provides the restaurant with extra sunlight. The outdoor sitting area is a nice place as it offers diners the street view of the narrow Club Street.
Byron, me & Leslie in front of the charming restaurant!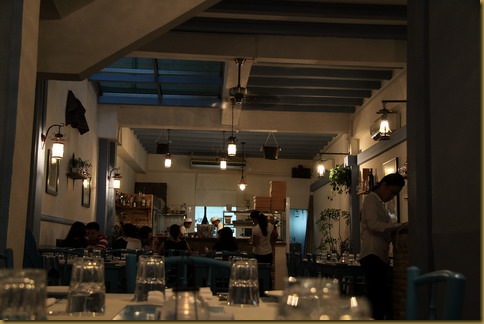 A relaxed and inviting dining area…
Chefs Gerri Sottile and Mauro Muroni combined their expertise in running Cugini. The menu featured appetizers, soups and mains with many authentic Southern Italian cuisine & handmade pastas, right up to dessert which are personally prepared by them. On that evening, the kitchen was lead by charming Chef Mauro.
Leslie introduces the pasta meal and recommended two pasta dishes cooked with different types of sauces. The special of the night was the freshly made squid ink fettuccine with baby cuttlefish, fresh pea and mullet roe. I have been searching high and low for it in Penang for quite some time and was delighted to find it in Cugini.
In this recipe, fresh pasta was used by Chef Mauro. The freshly-made fettuccine was colored by the ink extracted from the squid and the combination was remarkable.
The pasta was cooked until al dente, tender yet with a firm texture. It was a perfect black treat with deep flavor of the sea.  It really takes some guts to try eating black fettuccine but trust me; you will love it after the first bite. It was a real treat as the fresh pasta have a taste that makes me rethink notions of what good pasta really is.
The star of the evening!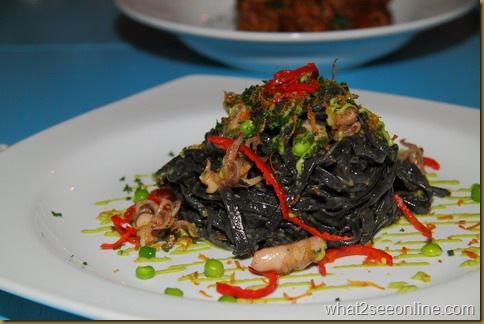 I had a good view of Chef Mauro cooking in the kitchen when he graciously allowed me to visit the kitchen.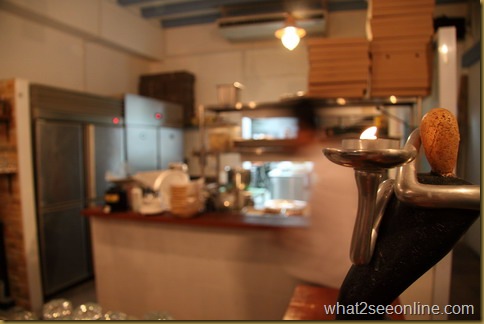 Chef at work!
This is one of the other pasta dishes. This spaghetti was a delight, served with generous amount of seafood and a subtle sauce which had me drooling. The sprinkled parsley brings extra flavor.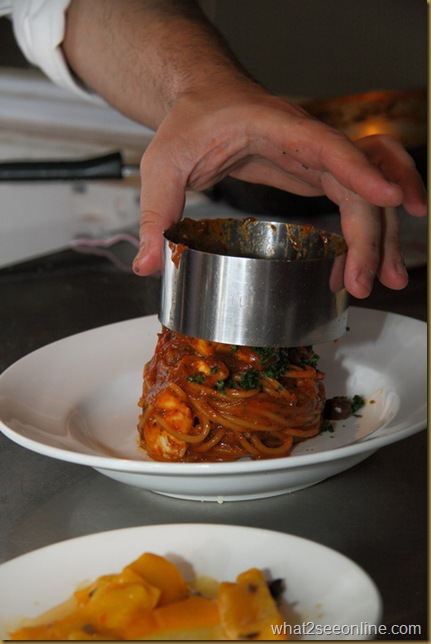 Another visit to this pleasant Italian restaurant would be warranted to try out more of their dishes. I definitely would be bringing a big appetite when I do so! Thanks to Chef Mauro for taking his time away from his work station to mingle with us.
Cugini Trattoria Pizzeria
87 Club Street
#01-01 Singapore 069455
Mangiatutto Pte Ltd
Tel : (65) 6221 3791
Business Hours :
Lunch : 12pm – 2.45pm
Dinner : 6.30pm – 10.30pm
Closed for Saturday lunch
Website: http://www.cugini.com.sg