Grand Palace Restaurant @ Pavilion – Celebrating Chinese New Year
In ushering the Year of the Tiger, I had the privilege to indulge in a traditional yet superb Cantonese delights prepared by Executive Chef Jason Tong at the Grand Palace Restaurant @ Pavilion Kuala Lumpur!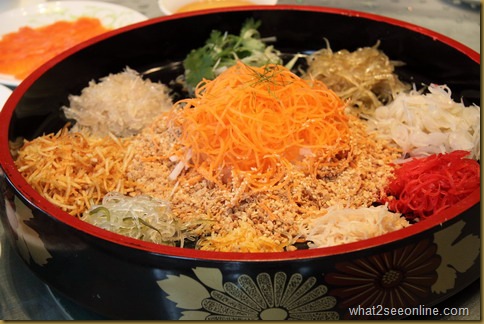 Grand Palace's Special 'Yee Sang' with Salmon
The restaurant's set menu has festive items like Yee Sang, Buddha Jumps Over The Wall and Steamed Rice with Assorted Wax Meat.
Executive Chef Jason Tong is in charge of the Grand Palace Restaurant of the Palace Group which has three other restaurants including Imbi Palace, Klang Palace and Jaya Palace. His specialties have always been stewing and braising.
Sticking to the tradition, the first dish of the Chinese New Year meal was the auspicious dish, Grand Palace's Special 'Yee Sang' with Salmon. The multi colored assorted salads and ingredients were sliced thicker which gives more bite. The salad was then tossed with crispy crackers and the sweet sour plum sauce which coated the ingredients evenly.
Diners can choose to have the large serving of the Special 'Yee Sang' with Salmon at RM 68 or the small  portion at RM 48. If Salmon aren't your favorite, Chef Jason can prepare other choices of Yee Sang including the Abalone Yee Sang which is priced at RM128.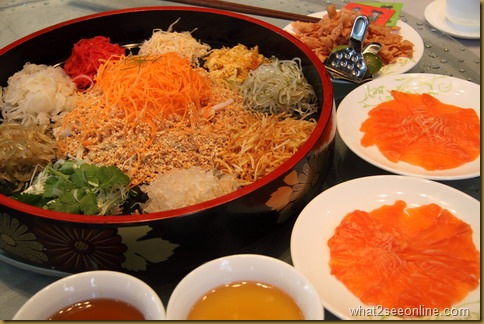 Pan Fried Pomfret Fish With Soya Sauce – The double serving of Pomfret was fried and served separately with the soya sauce and garnished with cilantro and scallion.
Fresh Pomfret with an excellent bite!
One of the expensive dishes on the menu was the Palace Style Buddha Jump Over The Wall. The soup was fabulous with a thick piece of abalone, shark fin and fish maw. It was double boiled, with a fantastic earthy aroma in an individual bowl.
What impressed me the most about this dish is that the fin comes in whole slab and not in strands. I love this warm hearty soup and finished it up within minutes.
Chef Jason has designed this special Chinese New Year menu incorporating the restaurant's all-time favorite dish. His clay pot of Braised Sea Cucumber with Village Chicken comes along with a twist. He uses the farm chicken for a more enhanced taste.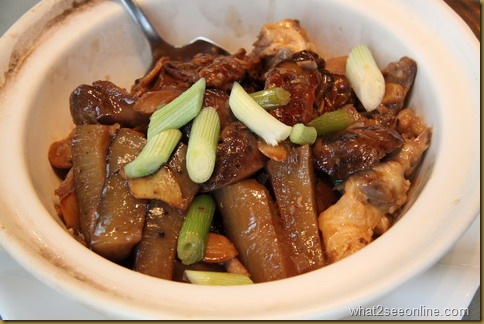 All the braised ingredients were bursting with flavor!
My personal favorite dish is their Steamed Rice with Assorted Wax Meat In Claypot. It has chunky pieces of waxed duck, liver sausage, pork sausage and waxed meat with fats that streaked within it, slightly fatty but yummy. I love the rice which included the amazing delicious gravy from the assorted wax meat.
Not to be missed is the Superior Soup With Seasonal Vegetable…indeed a light dish to balance up the meal.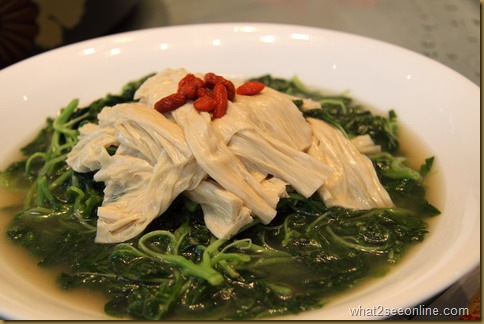 The Dessert of Red Bean rounded up the meal very well with fragrance from the preserved orange peel 'chan pei'. The sweetness was just right, not overly sweet.