Beoy Chong Kee Restaurant, off Cintra Street Penang
Beoy Chong Kee Restaurant is an old eatery tucked behind the bustling Cintra Street. This restaurant is a great place for a hearty home cooked meal! It has been occupying the ground floor of the People's Court for a number of decades, with a set up of just a couple of tables. Our family do enjoy eating at this place from time to time.
One of our favorite dish that keeps us coming back for more is the specialty stir fried mixed beef parts (ngau chap).
All the ingredients were stir-fried with strips of ginger, spring onions and runny egg. The beef slices were tender and went well with the ginger. Beef lovers should try out this mouth-watering dish as it is rarely found in Penang.
Fried Mushroom –  A good combination of different types of mushroom with mixed vegetables. They were delicious, stir-fried with lots of wok hei and with the tasty dark gravy sealed in it. Don't be fooled by its appearance!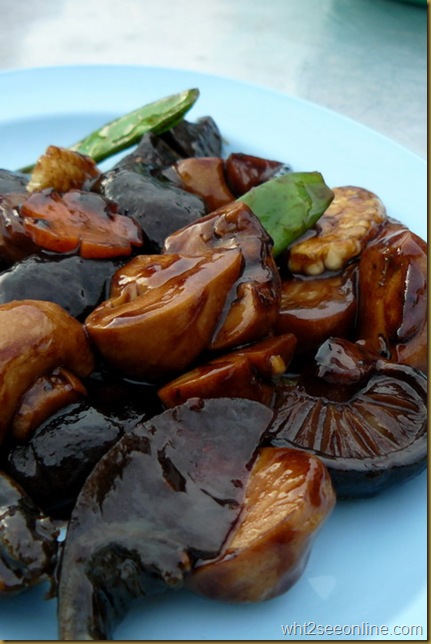 The fried egg came served with Chinese lettuce. This simple egg dish complemented the rest of our flavorful dishes very well.
Kong Pao Chicken stir-fried with dried chilies, onions and spring onions in a thick and concentrated black sauce. The flavorful pieces of chicken with the onions was extremely appetizing, which calls for additional bowl of rice!
Hoong Siew Fish Head – The most basic ingredient for this dish is the deep fried fish head, which also includes taufoo, leek as well as mushroom. It has a good flavor combination and the fish was really fresh.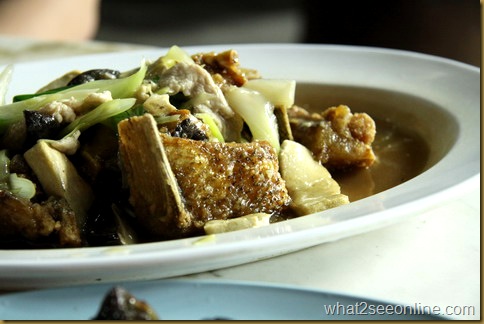 We topped off the meal with the delicious Beef Hor Fun. The beef fried with Hor Fun was done with strong  heat from the wok.
This restaurant has been around for many decades, with the quality and taste of the food still remaining top notch. A place for a simple home cooked meal where diners can opt for the seats inside the small quaint restaurant or the seats on the roadside for some open air.
It is just two shops away from the famous traditional Chinese baker, Leong Chee Kee. Click here for the Map Location.
Beoy Chong Kee Restaurant
C-6, People's Court
off Cintra Street
Penang
Tel : 04 2617672
GPS Coordinates : N05.41726   E100.33379