Sunshine Bay Seafood Restaurant in Tanjung Bungah, Penang
A visit to Sunshine Bay for dinner had the few of us indulging in several types of seafood dishes. This eatery, located in Kedai Kopi Sin Eng Huat at Tanjung Bungah is just right beside the traffic light junction, directly opposite  the famous Penang Tanjung Bunga Goreng Pisang stall. The place looks quite a bit run down with the fluorescent lightnings going on and off during our visit on a rainy day. Anyway, the food was awesome!
I am sharing the scrumptious noodle dishes first. The Kappa Mee Suah and the Stir Fried Noodles with Crab are two lovely choices. The meesuah was smooth and extremely flavorful with the egg and fresh kappa.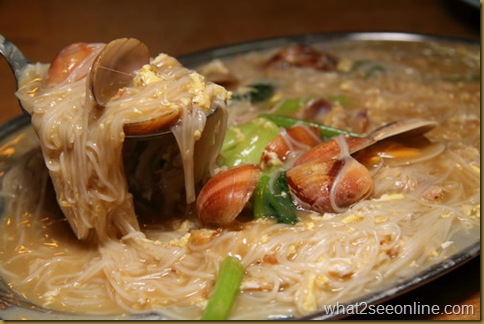 On the other hand, the yellow noodles stir-fried with crab, is robust with the crustacean juices. The noodles are best left absorbing the gravy as it tends to get slightly moist and more flavorful. I could not resist a second helping of the noodles! The crab flesh was juicy, and with the gravy coating it, the dish was heavenly!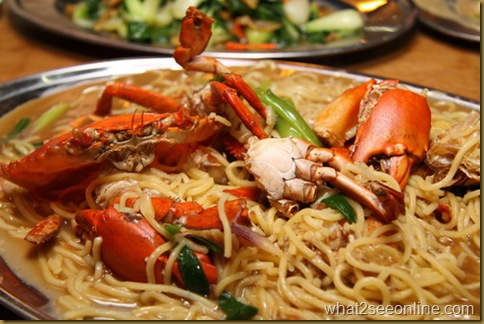 The main dishes we ordered to complement the delicious noodles!
Guinness stout is usually cook with pork and it is a great having it cooked with chicken. The dosage of Guinness used in marinating the chicken is just right. It added extra earthiness to the chicken. A definite must-order on your visit. The chicken pieces are tender and juicy.
Moving on to another seafood, which is prawns! The prawns are stir-fried with thick black sauce till they are evenly coated with the gravy. The chef prepared it just right, without overcooking the prawns!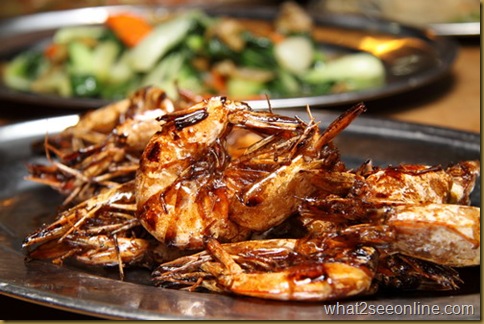 The next dish will undoubtedly impress fish lovers. The steam stingray with lemon is served with generous squeezes of lemon, garlic, ginger and chili which added spiciness and flavor to this mouthwatering dish. This texture of this particular piece of fish is very smooth and is suitable for many as it has only several big bones.
The fried vegetable with pieces of pee uu (dried sole) rounded off the meal. The many pieces of pee hu gave great flavor to the bland vegetable. Great dish to end the meal!
With its fresh and generously portioned food with reasonable prices (RM112 for our meal), we will definitely be back for more. Click here for the Map Location.
Sunshine Bay Seafood Restaurant
569-B Jalan Tanjung Bungah
11200 Penang
Business Hours: 6.30pm – 10.30pm
Closed on Tuesday
Tel : 012 4737276 & 016 4689168
GPS Coordinates : N5 27.972   E100 16.807
**Updated  June 2011** – The new location is located diagonally opposite the road…
Sunshine Bay Seafood Restaurant
584-B Jalan Tanjung Bungah
11200 Penang