Leos "Wok For Love" Cooking Competition
Just wanted to share with everyone the fun filled weekend I spent at the Region 1 Leos Club "Wok for Love" cooking competition. The event took place in Komtar Walk, being sponsored by Digi and Pacific Departmental Store. This competition was open to Leo Club members aged from twelve to thirty from school based and open based Leo Club members.
A panel of guest judges was invited to judge the competition including yours truly, who also happens to be the guest of honor too. It was truly a privilege to be invited to this event.
The competition involves fourteen teams with participants from school based and open based Leo Club members. Each team consists of four members. They were tested for their culinary skills and their ability to dish up a five course according to a pre-set list of rules within three hours. The menu featured local food of rice, chicken, vegetable, seafood, dessert and drink.
I got to the venue much earlier and went around observing these "young inspiring culinary" preparing their dishes. The place was bustling with each team members sweating it out preparing the meal.
The participants use different kinds of cooking techniques such as steaming, sautéing, deep-frying during the competition. It was really very creative of them, and I particularly enjoyed witnessing these young chefs brimming with potential!
The organizing committee invited Baki Zainal, 8TV's Step Forward & Celebrity Chat Host and he assisted the SMJK Union team to prepare a fascinating Nasi Lemak. As usual he was all witting and provided great laughter throughout the session.
Baki Zainal busy decorating the food together with the SMJK Union team
When the time was up, each team displayed and decorated the food on the table for judging. We started walking around all the tables to judge each dish based on :
1. Taste of the food
2. Presentation
3. Decoration
4. Teamwork showed during the competition
All of us, the judges were absolutely amazed and impressed with most of the participants, firstly in their meticulously effort and secondly with the dishes they managed to dish out in terms of tastiness and presentation.
The participants stood by the side glaring intently as we tasted each dish and they interacted with us, explaining the ingredients and method of preparation. They were searching for our subtle expressions to give them clues to our thoughts on the food that we sampled!
I must say the pressure was intense at the start but gradually claim down with laughter and jokes taking away the intensity.
I was very impressed with the participants and the job they have done. They definitely put in their very best effort and dedication to dish out the best for the afternoon.
Judges & Guests
1st District Vic President (DVP) Leo District 308 B2, Malaysia- Leo Ch'ng Kok Sheng
Special Guest 2nd Vice District Governor – Lion Shawn Lee
Organising Chairperson -Leo Teh Tict Chyn
Region Committee Chairperson for Leo Clubs Region 1 Lion Ong Lai Peng
Guest of Honor – CK Lam
Guest Participants of the cooking competition included Baki Zainal, 8TV's Step Forward & Celebrity Chat Host & Miss Zenny Lyn, Champion from Biggest Loser Asia on Astro's Hallmark Channel.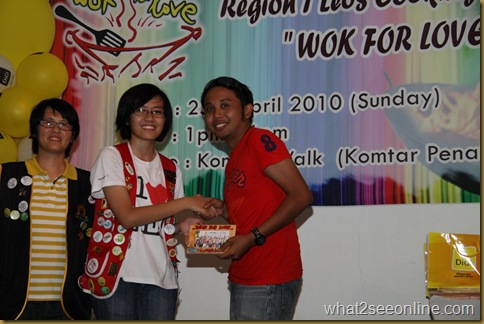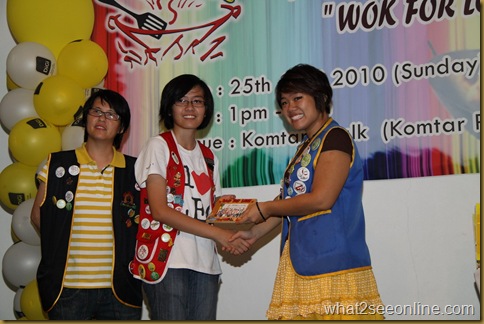 The event concluded with the prize giving with prizes worth RM 100 to a maximum of RM250. I guess you must be itching to know the judges decision. Here goes:
Results
Champions – Team Name: The Capsicon
Lions Club of New Century Ipoh Metro & Leo Club of Penang Chinese Girls' High School
1.DC Alan Thoo
2.Joanna Lim
3.Teow Pei Chia
4.Teoh Gini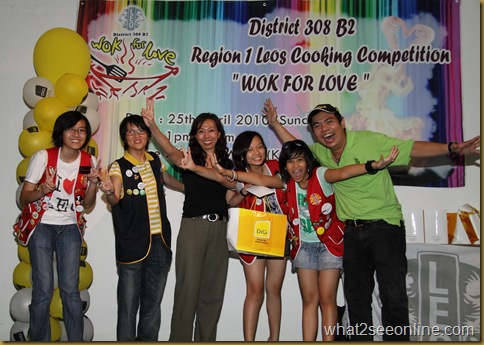 1st Runner Up- Team Name: Ahem~!!
Leo Club of Chung Ling High School
1.Soon Chen Ying
2.Hong Jin Yang
3.Kua Zi Xun
4. Eric Tan Leong Yi
2nd Runner Up – Team Name: Sence of Melodies
Leo Club of Tunku Puan Habsah
1.Noor Ahuhada Binti Kamaruddin
2.Noor Zulaikha Binti Zulkiflee
3.Noor Faradila Hazwani Binti Mohd Nur Hadi
4.Shamira Parvin Binti Abdul Aziz
Best Decoration Award – Team Name: Scrumptious Quatto
Leo Club of Chung Ling High School
1.Luk Chee Cheng
2.Lim Chun Num
3.Khaw Chen Kai
4.Teoh Kai Wen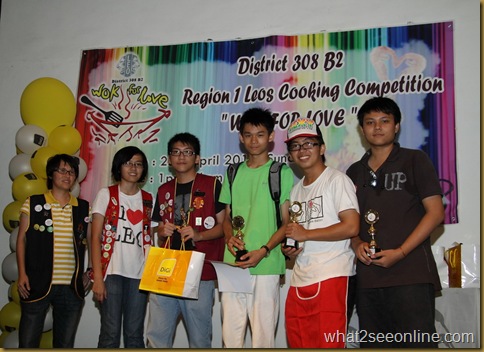 WOK FOR LOVE Region 1 Leos Cooking Competition is jointly organized by 6 Leo Clubs namely :
Leo Club of Penang (City)
Leo Club of George Town Mutiara
Leo Club of Penang Chinese Girls' High School (PCGHS)
Leo Club of Chung Ling High School
Leo Club of Union High School
Leo Club of Han Chiang High School
I truly relished the contestant and organiser in their effort in making this event a success. I wish to offer my sincere gratitude to the Leo Club for inviting me to this culinary competition.