Jewel Of Muscat in Penang
Sigi's Bar and Grill On The Beach was abuzz with excitement last Monday when it hosted a surprise birthday celebration for Captain Saleh Al Jabri of The Jewel of Muscat. The captain and his crew members arrived at Sigi's dressed up in their traditional Omani uniform.
Captain Saleh cutting the birthday cake presented to him by Sigi's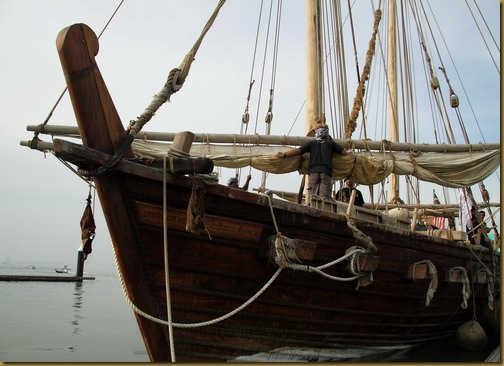 The Jewel of Muscat
For those who are unfamiliar with The Jewel of Muscat, the ship is a replica of a ninth century Omani ship and is a gift from the Sultanate of Oman to the republic of Singapore. The 18 metres-long ship has been built  without nails and the planks hand-sewn together using coconut fibre.  More interesting info of the ship can be view here.
Jewel of Muscat set sail from Muscat in early 2010 under the guidance of Captain Saleh Al Jabri, travelling along the trade routes down through the Arabian Sea, along the western coast of India, around Sri Lanka before sailing into Tanjung City Marina, Penang.
It was a sparkling evening with plenty of food and fun for everyone. The guests were served with appetizers before the meal.
A memorable shot with Captain Saleh Al Jabri and Chan Lilian
Executive Sous Chef John Brock and his culinary team specially prepared a sumptuous spread of Middle Eastern favorites for the guests. One such favorite was the Mezze platter and the tabouleh salad.
Chef at work!
Belly dancers were on hand to lend a festive air to the celebration captivating everyone with their colorful belly dancing costumes and their feminine expression and movements.
Captain Saleh Al Jabri joins in the dance much to the delight of everyone.
*****
This celebration is one of the many celebrations Golden Sands Resort has in conjunction with the Middle East holiday season in Penang. Mark your calendar as Sigi's Bar & Grill will be organizing its first beach party themed An Arabian Night on 25th June 2010. There is a lot of fun, with many exciting activities such as belly dancing, snake charmer session and fire juggling together with a Middle Eastern buffet spread. Put on your best Arabian costume or your most comfortable beach casual (there's a prize for Best Arabian theme wear too).

For more information on Sigi's Arabian Night party and reservations, please contact 04 8861852. The ticket priced at RM138 ++ per person includes free flow of soft drinks, wine and beer. Early birds that get their tickets before 19th June is entitled to a 20% discount. Lucky winners will walk away with games prizes including hotel stays in Dubai, Muscat and Abu Dhabi!
*****
Coming back to the The Jewel of Muscat…the ship set sail from Penang on the 18th of June to Port Klang and is expected to arrive in Singapore on 3rd July. Golden Sands Resort hosted the bon voyage celebration with kompang performances for the captain and his crew. There was a great atmosphere at the port.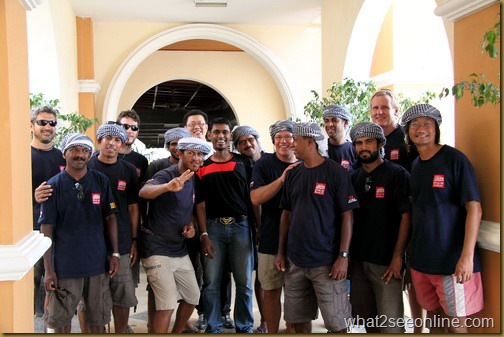 Together present in the event was the Deputy Head of Mission of the Embassy of the Sultanate of Oman Mr Ali Ahmed Salim Al-Shanfari, Malaysian Association of Hotels (MAH) Penang chapter chairman Mr Marco Battistotti, Golden Sands Resort General Manager Mr Bruno Cristol and officials from Penang Port and Opal Asia.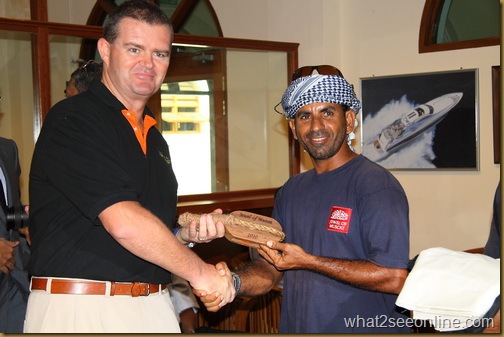 Captain Saleh Al Jabri presenting a memento to Mr Bruno Cristol
The farewell breakfast includes a selection of pastries with the servings of quiche Lorraine, smoked salmon croissant and chicken pita bread and many hot local breakfast items.
Mr Ali Ahmed Salim Al-Shanfari having a chat with the crew
Selection of pastries – quiche Lorraine, smoked salmon croissant & chicken pita bread
Captain Saleh Al Jabri accorded Mr Burno Cristol the honour of lifting the ship's anchor as part of the sending off ceremony. He was accompanied by Mr Ali Ahmed Salim Al-Shanfari and Mr Marco Battistotti.
Everyone that was present bids bon voyage to the Captain and his crew as the ship head out to the sea on to their final destination to Singapore with a stopover in Port Klang.
The departure of the Jewel of Muscat indeed brings a memorable day for Penang!