Irish Cheese and Wine Party by Shangri-La's Rasa Sayang Resort and Spa
An amazing night with delicious cheese and wine, friends and adorable dogs!
Recently I had the pleasure of attending the 'Irish Cheese and Wine Party' hosted by the General Manager of Shangri-La's Rasa Sayang Resort and Spa, Mr Desmond Hatton at his personal residence. This annual get-together event sees the presence of elite members of Penang's corporate community, leaders of the hospitality and travel trade industry, and special friends of the Shangri-La.
Champagne, anyone?
The night provides a range of Irish Farmhouse cheeses currently not available in Malaysia specially flown in from Ireland, and complementary fine vintages of red and white wines from Australia and New Zealand to entice all wine and cheese lovers.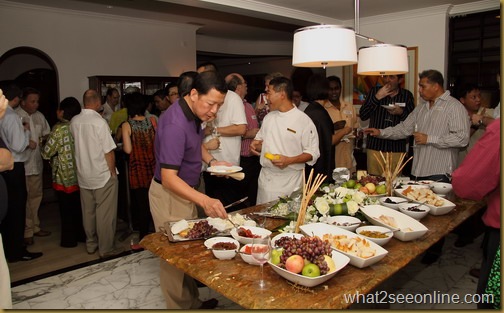 The six types of farmhouse cheese from Ireland are supplied in Malaysia by Pikzern Marketing. At the cheese section, I found some new and interesting flavor, each with different degrees of texture and aroma, from rich buttery cheese to the creamy Cashel Blue cheese. I especially love the creamy texture of this blue cheese!
The exceptional Wicklow Blue cheese which had claimed gold, silver and bronze awards and was recently awarded Best Irish Cheese in the World Cheese Awards in Dublin. This creamy blue veined brie cheese is made using pasteurized cow's milk and vegetarian rennet.
Next up was the Carrigaline smoked cheese, which presented a smooth finish to the palate with a rich and buttery flavour. Well complemented with crackers or even eaten on its own!
The Chulchoill cheese was made from fresh and pasteurized goat's milk. The creamy milk simply melted in my mouth, an absolute delight!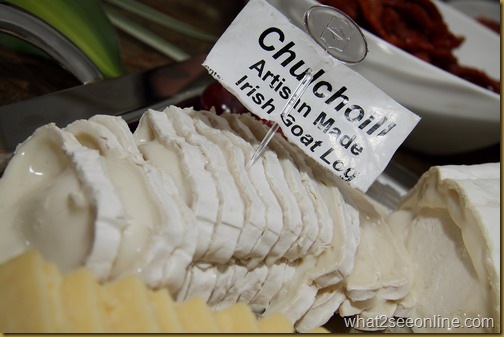 The full-flavored Killowen vintage cheddar from Southwest Ireland had the full flavored of cheddar, a great bite on its own.  All the cheeses were served on various trays, garnished with grapes and cherries.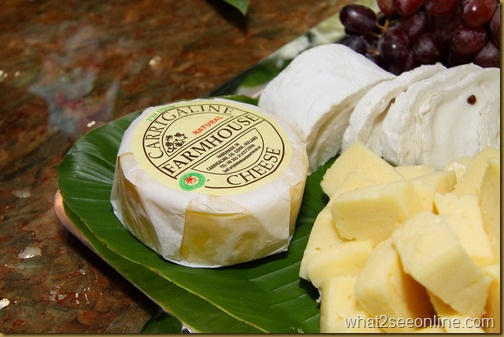 The sumptuous cheese spread were enjoyed with a variety of white and red wines; Cranswick Lakefield Shiraz Cabernet, Cranswick Estate Semillon Sauvignon Blanc, Cranswick Sarus Shiraz Barossa Valley, Mussel Bay Marlborough Sauvignon Blanc and Chandon NV Brut, sponsored by leading wine suppliers Riche Monde and The Wine Shop by Giant Estates.
On the dining table, selection of delights prepared by the resort's chefs were served; from bread, crackers, marinated olives, fruit chutney and vegetable antipasto along with smoked salmon with horseradish.
Wide selection of delights for the guests to nibble on
Besides that, there was also a wide array of desserts of tiramisu, cheese cakes, raspberry and cheese tarts, chocolate tarts and Ricotta cheese cakes.
Mr Hatton honestly couldn't have chosen a more better venue which has a great outdoor and a warm and intimate indoor ambience. All the guests were entertained with a graceful performance by synchronized swimmers.
Impressive performance with gracefulness
Hatton, William, Maggie, Leigh, Amee Philips, Ann Marie & Sunny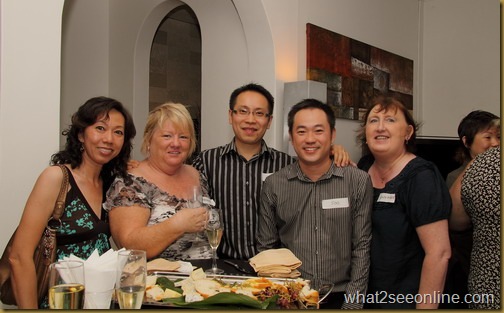 Me, Maggie, Edmund, Soo & Ann Marie
Mr Hatton had two of his dogs, Habibi and Lucky 2, joining that evening. The two lovely dogs mingled around the house, drawing adoration and admiration from the guests.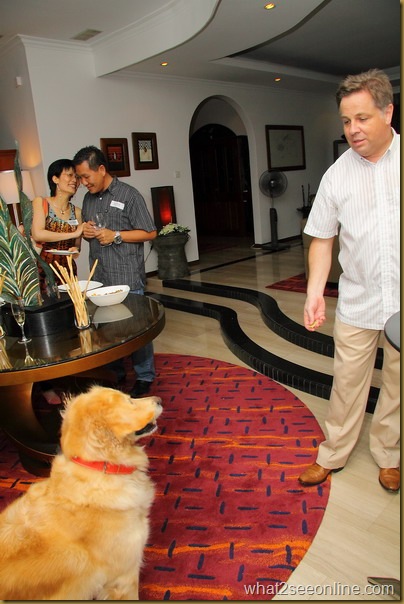 Habibi and Lucky 2, simply adorable dogs!
On the whole it was an enjoyable party, complete with delicious Irish Cheese & Wine, coupled with a wonderful atmosphere.