Oyster Porridge in Perak Road, Penang
We began a weekend morning with a warm and filling bowl of oyster porridge, or better known as orh moi at Kedai Makanan Liang Seng in Perak Road, Jelutong. Penang. It is one of the local's favorite choice of breakfast. The stall starts business early in the morning serving breakfast, right till lunch hour.
The eatery draws in quite a crowd, with the place packed with customers. Many are seen waiting for their take-aways while others are busy slurping down their porridge.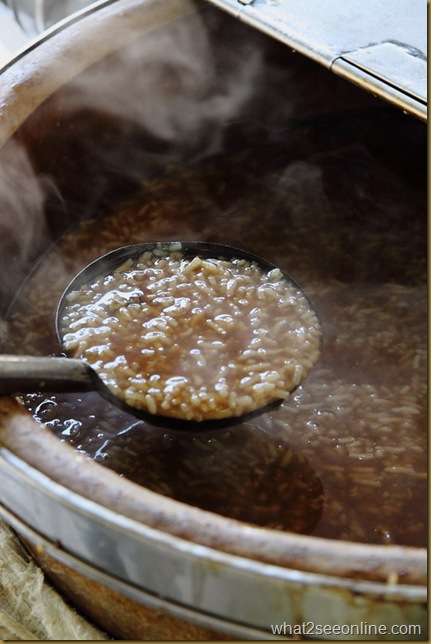 Huge pot of oyster porridge
The charcoal boiled oyster porridge is indeed different, and the flavor is naturally sweet. The porridge with coarser grain texture is boiled with a rich combination of flavors using a variety of ingredients – Chinese black mushrooms, dried oysters and pork.
A customized bowl of porridge is topped with strips of braised pork, deep-fried shallots, spring onions and generous serving of eel flakes.

There are many varieties of side dishes for customers to pick and order. Popular accompaniments are the tender braised pig innards, beancurd, pork and egg. Also good is the smooth textured pig skin.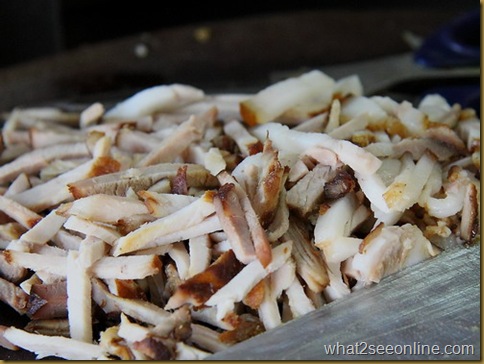 Braised meat
We absolutely loved the pig skin

The meat and the intestines are braised with soy sauce till tender, with hint of sweetness and saltiness.
A bowl of armp (porridge broth) is served together with the meal. You can add in a few spoons of the armp to lighten the porridge. Besides it is great for dunking the crispy deep-fried crullers into it.
The eel flakes greatly enhanced the porridge. The taste really stands out and warrant a second helping.
Bowl of porridge with additional eel flakes
You can consider checking out this place. Order a customized bowl of porridge and add-on some side dishes. It is advisable to go early as most of the side dishes sell out quickly.
Click here for the Map Location.
Kedai Makanan Liang Seng
336C Perak Road
Penang
Business Hour : Around 7am – 3pm
Closed on every 1st and 15th day of the lunar calendar.
***Updates: The eatery has since shifted to nearby 336 Lintang Slim, Taman Desa Green, George Town, 11600 Penang