Malaysia International Gourmet Festival (MIGF) 2010 Gala Launch
The Gala Launch of the Malaysia International Gourmet Festival 2010 (MIGF) was held in the Grand Ballroom, Pyramid One of the Sunway Convention Centre recently. It was a privilege to participate in this gourmet celebration, which is now running for the 10th year!
MIGF is back again!
The Festival theme for 2010 ~ "Magical Chefs" has 30 restaurants taking part in the month long MIGF that runs throughout October. It was great successful event with a group of chefs from fine dining restaurants, all gathering and work together for mutual benefit.

Festive Master Chefs hands-on with their pots and pans were well received by the applause and cheering from the crowd.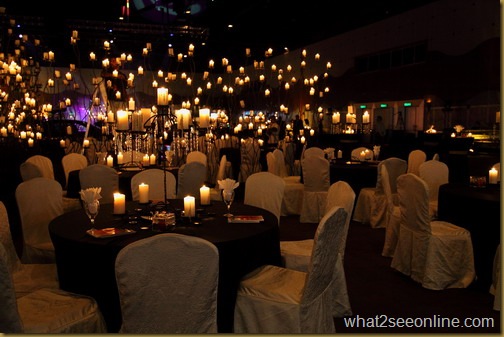 The ballroom was lit up beautifully with candles
All the Master Chefs presented the food with their personalities, tastes and combination of ingredients. It was a treat seeing the selected cold and hot food, drinks and dessert displayed and decorated in their respective stations. VIP guests made their way touring the restaurants stations, savoring the food.
All the chefs from the 30 participating restaurants, showcased their creative fine dining capabilities with a display of creative dishes. Among them were…
LAI PO HEEN @ MANDARIN ORIENTAL KUALA LUMPUR
For an assortment of the most sumptuous contemporary dim sum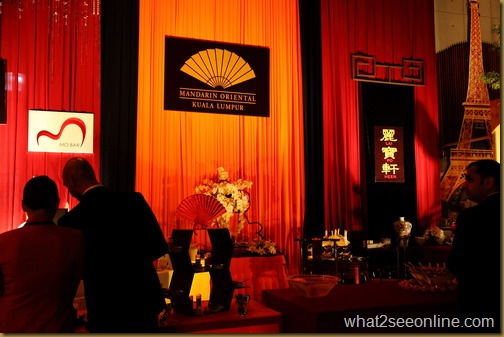 MANDARIN GRILL @ MANDARIN ORIENTAL KUALA LUMPUR
An exclusive and contemporary grill restaurant. Looking forward to try the dessert consisting of Chocolate, Guanaja Namelaka, Green Tea Soil, Raspberry Coil and Yoghurt Sorbet.
Chef Holger of Mandarin Oriental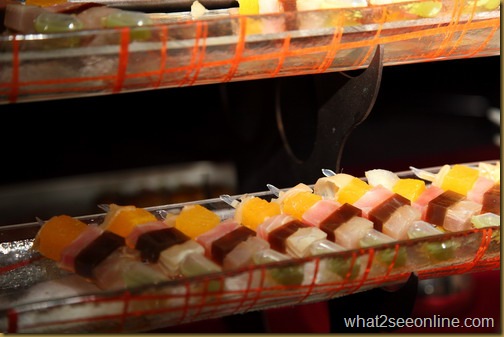 TAMARIND SPRINGS SAMADHI RETREATS SDN BHD
A heavenly oasis of culinary delights
FU-RIN @ HOLIDAY INN GLENMARIE KUALA LUMPUR
Classic Japanese cuisine in exquisite surrounds
ZING @ GRAND MILLENNIUM KUALA LUMPUR
A fine blend of contemporary and classic cuisine
VILLA DANIELI @ SHERATON IMPERIAL KUALA LUMPUR
Italian rustic cooking to entice the senses
Chef Mohd Kamaruddin showcasing his creations
CHALET @ THE HOTEL EQUATORIAL KUALA LUMPUR
Swiss continental specialties and cultural heritage all in one
THE RESTAURANT @ THE CLUB AT THE SAUJANA
Delightful cuisine served in understated elegance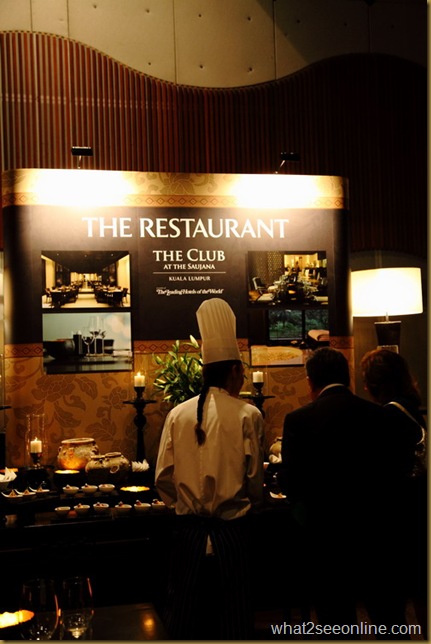 NEO TAMARIND – SAMADHI RETREATS SDN BHD
Dine and lounge in luxury
AL-AMAR LEBANESE CUISINE
Authentic, Lebanese cuisine for the Malaysian dining scene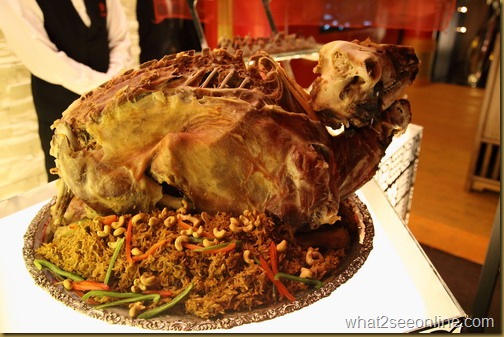 THE POMELO
Exquisite dining amidst nature
SENSES @ HILTON KUALA LUMPUR
Delighting taste buds in luxurious surrounds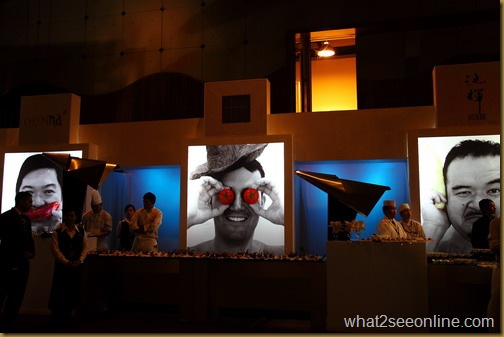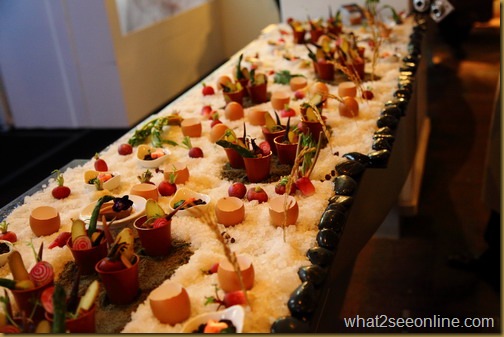 CHYNNA @ HILTON KUALA LUMPUR
Cutting-edge Chinese cuisine that inspire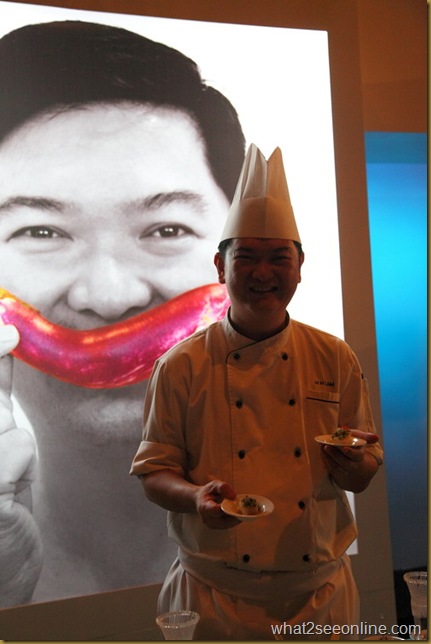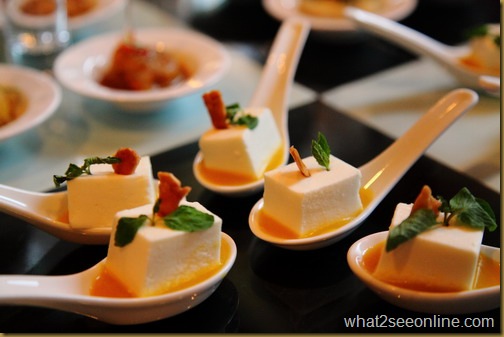 Creation by Chef Lam Hock Hin of Chynna
IKETERU @ HILTON KUALA LUMPUR
An authentic taste of Japan, and among their displays are delicious bowls of smooth steamed egg custard, with prawn and tai sea bream topped with crab meat sauce.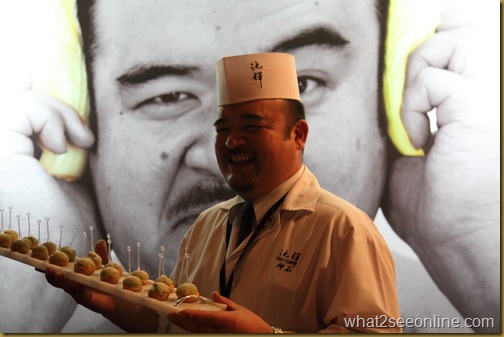 Chef Ricky Kamiishi of Iketeru
CELADON S.E.A. CUISINE
Celebrate authenticity in Thai cuisine
MAKAN KITCHEN @ DOUBLETREE BY HILTON KUALA LUMPUR
A showcase of Malaysia's diverse cuisines under one roof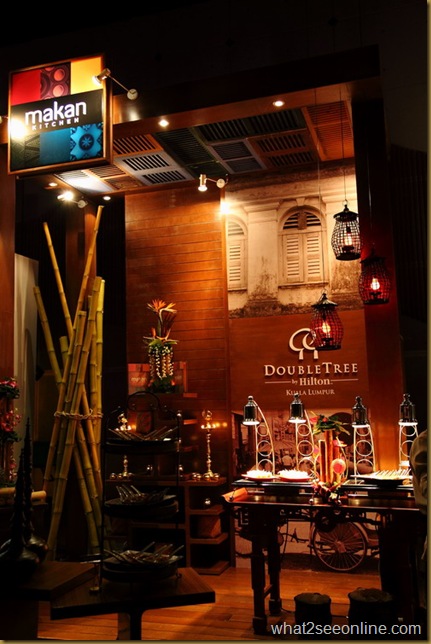 An interesting dish of beef cheek rendang
NEROVIVO – NERO GROUP
For the best in Northern and Southern Italian cuisine
HIGH TIDE RESTAURANT – NERO GROUP
The city's premier fine-dining seafood restaurant
VANSH – RANG MAHAL PTE LTD
The best of Indian cuisine for an enticing experience
DYNASTY @ RENAISSANCE KUALA LUMPUR HOTEL
Tantalising traditional Cantonese fare.
MED.@MARCHé-LIVE @ RENAISSANCE KUALA LUMPUR HOTEL
The finest of Italian cuisine
SAGANO @ RENAISSANCE KUALA LUMPUR HOTEL
Japanese cuisine in sheer elegance
THE OLIVE – MAXIMS GENTING
The very best continental selections to tease your palate
Portobello Mushroom Carpaccio Tartufo Nero, Pecorino, Porcini Grissini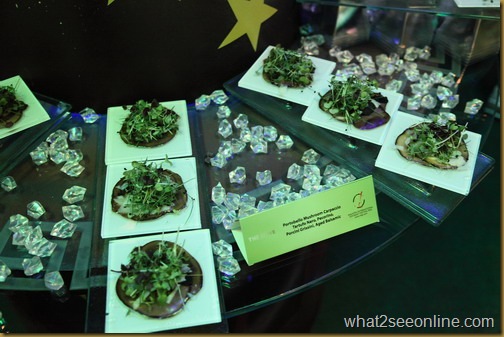 SHANG PALACE @ SHANGRI-LA HOTEL KUALA LUMPUR
Cantonese cuisine at its finest served amidst traditional Chinese grandeur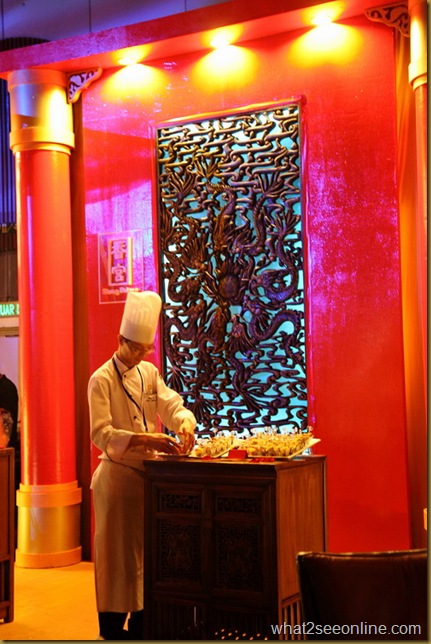 LAFITE @ SHANGRI-LA HOTEL KUALA LUMPUR
Cuisine and ambience in perfect balance
ZIPANGU @ SHANGRI-LA HOTEL KUALA LUMPUR
The city's most avant-garde restaurant combining aesthetics and culinary flair
BUNGA EMAS @ THE ROYAL CHULAN KUALA LUMPUR
Malay fine-dining at its best
CHINA TREASURES SIME DARBY CONVENTION CENTRE
Delicate treasure trove of Oriental recipes
L'HERITAGE @ THE ROYAL CHULAN KUALA LUMPUR
For exquisite French and Continental flavors
SEASONAL TASTES @ THE WESTIN LANGKAWI RESORT & SPA
Theme-buffets to satiate the palate
I enjoyed this gastronomic evening, sampling world class international cuisine under one roof presented by 30 Master Chefs! Some of the cuisines were subtly balanced while others stronger in flavor. Even the beverages were rather unique. I am looking forward to trying a few interesting menus this year.
Charming  ladies show-casing the beverages
A media conference was held in the later part of the evening with speeches by Yang Bahagia Dato' Steve Day, MIGF Organising Chairman & YB Datuk Dr James Dawos Mamit, Deputy Minister of Tourism.
All the restaurants will be serving up special menus at special Festival prices throughout the month of October. Do not miss out these once-in-a-year signature menus and also the Master Chef Cooking Classes where you can get up close and personal with your favorite Festival Master Chefs.
More information can be found at the MIGF website.
What2seeonline had been  invited to this event by AsiaReach Events.