Yut Kee Restaurant – Hainanese Cuisine Kopitiam Style
*Yut Kee Restaurant has since shifted a few doors down the road
Yut Kee Restaurant, located in Jalan Dang Wangi Kuala Lumpur, is an old school Hainanese restaurant that has been operating since 1928. The place offering traditional kopitiam fare and variety of Hainanese food is a hit with locals and foreigners alike.
Breakfast fare
My visit was timed somewhere suitable for brunch! The place was packed with people but the efficient owner got us into sharing a table in a matter of minutes, indeed fast and friendly service. Thus, for starters, I had two soft boiled eggs. The eggs  turned out perfect. A sprinkle of pepper powder and a dash of soy sauce and it is good to go for any day.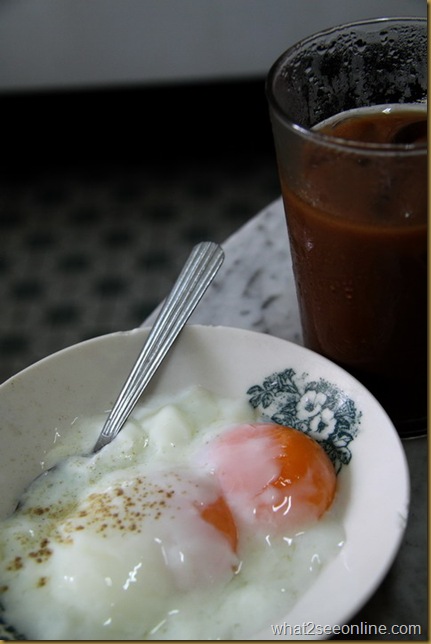 An excellent complement to the soft boiled eggs was the Toast Bread. The eggs paired well with the crunchiness of the hot toast bread, or more affectionately known as Roti Bakar.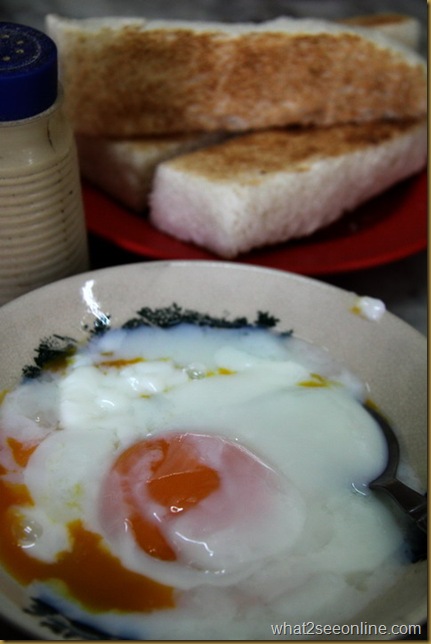 Toast bread & soft boiled egg, excellent combination!
Another option is the toast bread with a side of homemade kaya. The kaya spread infused with the aroma of the egg and coconut milk with really thick texture is a popular takeaway item!
Their kaya has been a hit for decades!
A good snack to indulge is the freshly baked kaya roll (kai tan koe). Baked golden brown and filled with the flavorful homemade kaya, the light and spongy cake was one of the most delicious we have ever tried beside the ones sold in Lai Foong restaurant in Jalan Tun HS Lee.
Kaya roll @ RM0.80 per piece
Yut Kee still has its charm. Brightly lit and reasonably clean, the interior of this restaurant houses many old photos and newspaper articles on the walls. Yut Kee has been featured in the press plenty of times over the decades!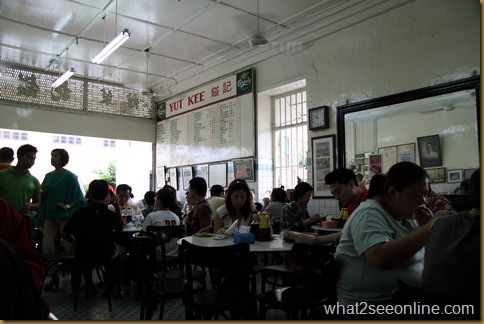 Overhead ceiling fan cools the place
Preparation and serving of food is done efficiently by foreign workers
Plenty of delicious Hainanese Cuisine at Yut Kee!
The restaurant is also a great place to drop by for the Hainanese cuisine. The Hainanese Chops of pork and chicken are very popular in Yut Kee. Both were served with lots of potato wedges, onions and mixed vegetable in a flavorful brown sauce. It has a unique taste, and is entirely different from those that I had in Sin Keng Aun, Penang. The two varieties of chops comes with Lea & Perrins Worcestershire sauce.  My choice was the pork chop as the chicken was a slightly bland experience to me.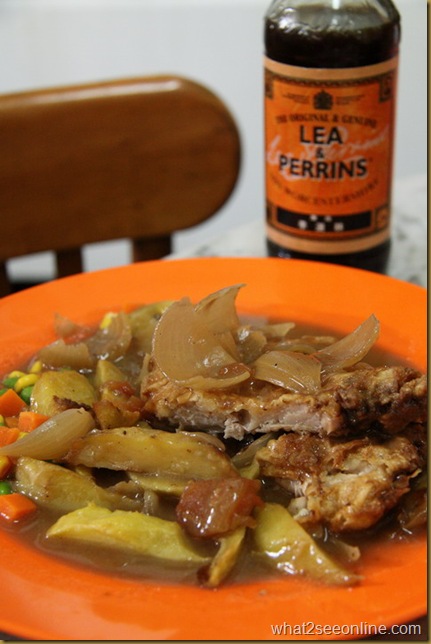 Next up was the dry Yut Kee beef noodles (kon loe ngau lam mee), which came in an adequately aromatic and tasty beefy soup with well tenderized beef pieces and tripe. Spring onions and roasted peanuts nestled on top of the thick yellow noodle. The noodle was deliciously spiced up with the homemade chili sauce.
I never pass up the chance to savor Yut Kee's Roast Pork which is available only on Friday, Saturday and Sunday. The roast pork was roasted with stuffing of chopped sage, apricots and pistachios.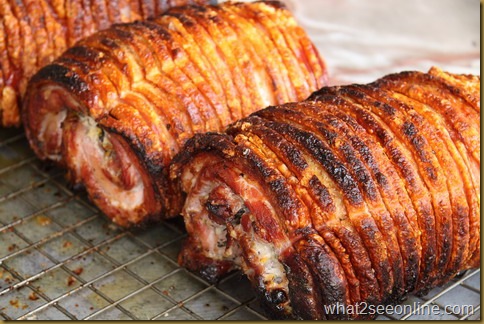 The delicious aroma wafting from the meat was awesome. The skin was crunchy and the meat tender with a bit of fat. It was served with the sweet sourish apple sauce.
Half a roll of the roast pork cost RM70, while one whole roll cost RM130. Evidently it was a reasonable price to pay for good roast pork, with a long queue of customers standing by waiting for their eat-in and takeaway orders. It is best to call up to reserve the pork roll.
I would drop by this restaurant for a bite whenever I am in Kuala Lumpur. My personal favorite is the roast pork, and I do buy a roll back whenever I can. Click here for the Map Location.
Parking will be much convenient before the hungry lunch time horde rushes in. There is a large pay parking compound further down the restaurant. Do not take chances of parking illegally as I have seen traffic police patrolling the place frequently.
Yut Kee Restaurant
35 Jalan Dang Wangi
50100 Kuala Lumpur
Tel: 03 2698 8108
Business Hour : 8am till 5pm
Closed on Monday
GPS Coordinates : N03 09371   E101 41999