CK Lam judging MediaCorp TV Singapore program – Chef Apprentice
BY CK Lam
It was a great opportunity appointed by MediaCorp TV Singapore as one of the judges in their New Chinese Variety Program – Chef Apprentice 名厨实习生. The program, hosted by popular TV host – Kym Ng, was filmed at the Culinary Arts Centre, located in Harbor Trade Centre, Penang.
The 10-episode program created a chance for apprentice Andrew Chua Kia Hong and apprentice Eugene Tan Chun Hao. Both received up close personal coaching and guidance from Executive Chef Sunny Sia of Grand Park City Hall Hotel Singapore and Executive Chef Eric Teo of Mandarin Oriental Hotel Singapore.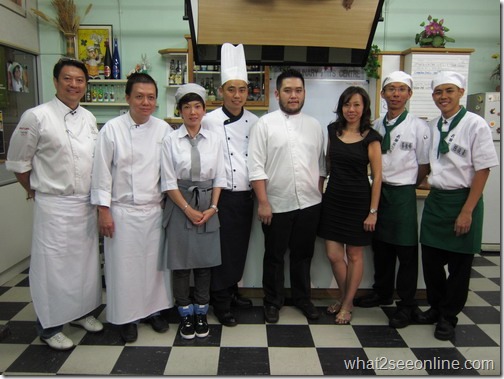 The cooking competition pitted the two apprentices together, with both displaying their skill and creativeness in preparing the dishes using one main ingredient.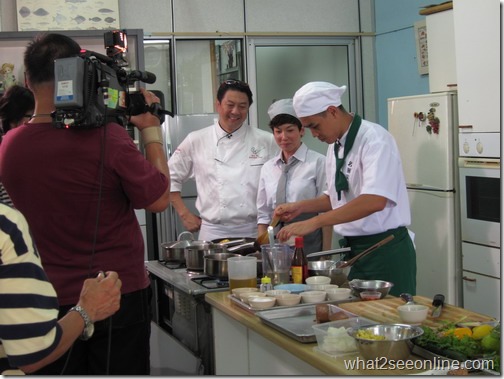 Apprentice Eugene Tan Chun Hao led by Chef Eric Teo
Apprentice Andrew Chua Kia Hong under the guidance of Chef Sunny Sia
The dishes were evaluated  based on its own merit for creativity, theme and taste. The panel of judges for the cooking competition included Lim Soon Leong, Executive Chef of Eastin Hotel, Chef Beh Weng Chia of Cassis Restaurant and myself.
From left: Chef Lim Soon Leong, myself and Chef Beh Weng Chia
(photo by Lee Choo)
It was an interesting experience, watching both the apprentice dishing out magnificent creations, stretching the boundaries of culinary creativity.
For more information, food photos and the winner of the competition, do check out the final of The Chef Apprentice! It debuts on Channel 8 (Singapore), starting from 2nd May 2011.
* Many thanks to MediaCorp TV Singapore for laying on this invitation.