Nyonya Breeze Desire – Peranakan Cuisine in Straits Quay
BY CK Lam

The recently opened Nyonya Breeze Desire restaurant in Straits Quay carries on the tradition of Peranakan cuisine associated with Penang. The food are similar to that at its outlet in Abu Siti Lane.
Cooking Nyonya food has always been a meticulous affair and Nyonya Breeze Desire had the cuisine prepared with great attention to detail, balancing flavours and taste. The impressive range of dishes include nasi ulam, inche kabin, sambal goreng, asam pedas and braised meat.
The dishes came in large and small portions. I chose the latter. The starter was a plateful of jiu hu char or stir-fried sengkuang (RM13.90) served with fresh lettuce and sambal belacan. The gravy had hints of mushroom, carrot and dried squid. All in all, a perfect dish.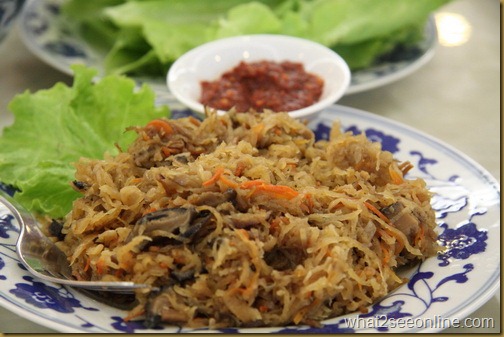 Kari Kapitan is a classic chicken curry with emphasis on lemongrass, kaffir lime leaves and coconut milk. The rich full-bodied gravy was not too spicy, and it was an excellent complement to white rice.
A Nyonya meal is not complete without soup. Pepper too tor t'ng, (pig's stomach soup) was served with ginkgo nuts and tender pieces of pig stomach and chicken.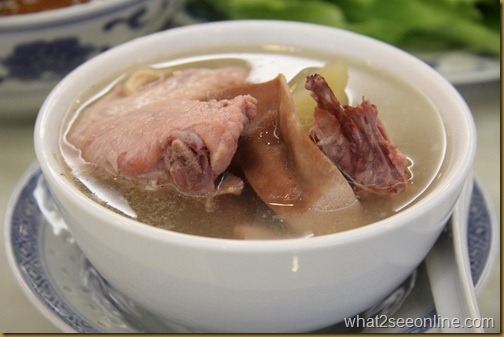 The deep fried spring rolls (RM8.90), also known as choon peah were complemented by Worcestershire sauce. The stuffing of minced chicken, sengkuang (yambean) and carrot tasted doubly flavourful with the sauce.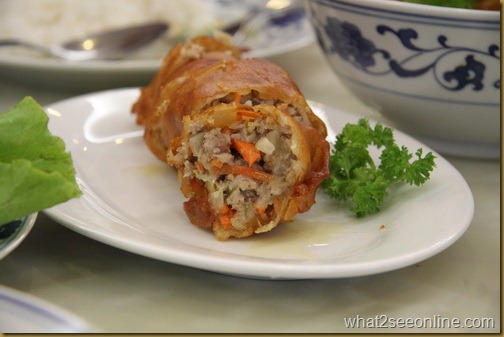 Tau eu bak (pork in soya sauce) was braised for several hours to make the meat flavourful, with the gravy complementing it well. However, the meat was a bit tough as most of the pieces were lean.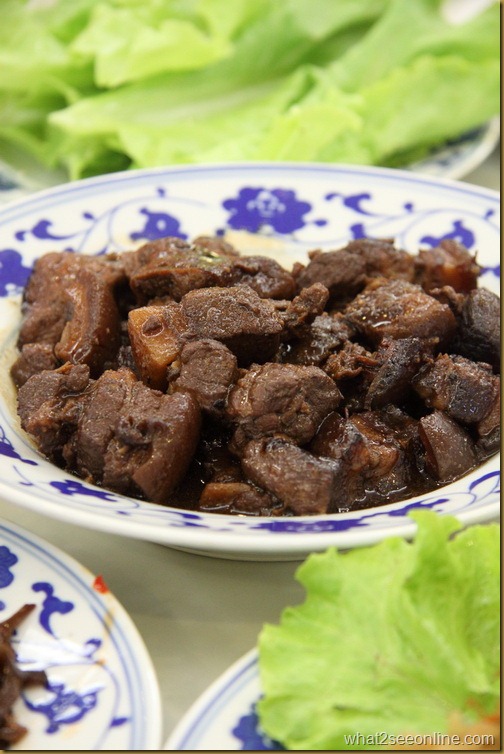 Another must-try is perut ikan (RM11.90). Literally translated as Fish's Stomach, this is a signature Nyonya specialty. The very thought of it sets stomachs rumbling! Perut ikan is a curry-like dish with vegetables, aromatic herbs and fermented fish's stomach in the bath of rich, savoury, sweet, sour, and spicy goodness. Every spoonful of the soup was simply orgasmic.
The meal ended with a serving of fragrant nasi ulam, which is a combination of cooked rice with toasted grated coconut, toasted belacan (dried shrimp paste) powder, fried salted fish, dried shrimp and finely chopped fresh herbs including daun kaduk (betel leaf).
Nyonya Breeze Desire is open daily. Located on the first floor of Straits Quay, the restaurant has a gorgeous sea view. The decor is that of a modern simple cafe. Its outlet in Abu Siti Lane closes on Tuesday.
Nyonya Breeze Desire
(non-halal)
3A-1-7 Straits Quay
Tanjung Tokong
Penang
Tel: 04 8999058
Nyonya Breeze
50 Lorong Abu Siti
Penang
Tel: 04 2279646
* This article was published in the New Straits Times (Life & Times) on 12th July 2011.