The Cape @Pulau Tikus, Penang
 * This outlet has since closed down in 2012.
If you are looking for simple, wholesome meals in Pulau Tikus, a good choice would be The Cape. The restaurant which was once located in Gurney Plaza has since shifted to a two storey shoplot, at the junction of Burma Road and Cantonment Road.
The menu offers healthy dishes cooked with chicken, fish, and pork. For starters, we had the aromatic garlic meat dumpling and the Mansion ham rolls (RM6.90). The pan-fried dumpling was good dipped in the soy sauce vinegar mixture with ginger strips. The Mansion ham rolls had the ham wrapped up in a meat parcel. One serving comes with four large pieces and a dipping sauce.
Mansion ham rolls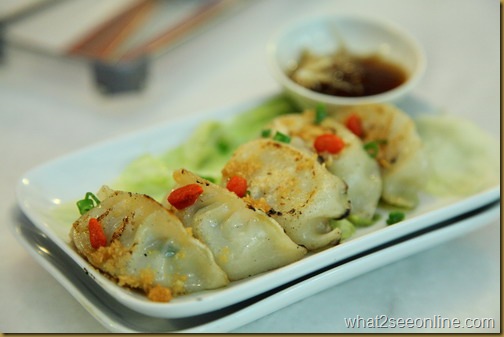 Another popular appetizer is the deep-fried five-spiced calamari 五香椒盐炸墨斗 priced at RM12.90. Cut into bite sizes, the calamari rings were crunchy. It is delicious with the fragrant five-spice mixture and lots of chopped red chilies.
The main dishes were similar to home-cooked dishes. Our first dish was steamed wine chicken and Chinese sausage 老酒蒸鸡 (RM11.90). The steaming hot chicken with Chinese sausage had a hint of Chinese wine.
It was followed by the Chinese Barbeque sauce pork ribs 烧汁排骨粥 (RM14.90). The pieces of meat, coated with a mix of sweet and tangy thick sauce, was perfect with white rice.
The Cape also offers a wide selection of vegetable dishes. The wok fried french beans is popular with the patrons. The beans, sauteed with minced pork and kei chee, also known as wolfberry, were flavourful.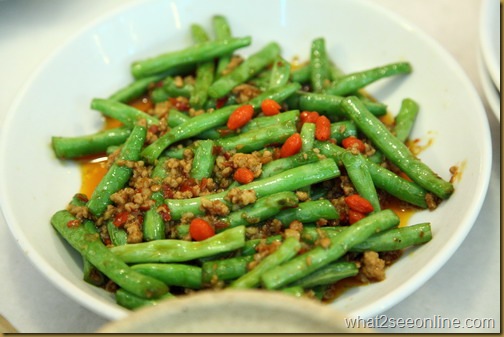 Make a point to try the steamed white bait, with Chinese cabbage. It is an unusual combination, but nevertheless a tasty one. The tiny fish added a hint of saltiness to the greens. This dish is a crowd favorite!
The meal was served with warm seaweed (RM6.90) and pork rib soup, boiled with kei chee which gives the soup added nutrition, and sweetness, while its reddish tint gives colour to the soup.
The restaurant has a unique way of presenting their rice dishes. Even the simple white rice comes in individual mini claypots. Its specialty is steamed rice with dishes served in either a wooden barrel or bamboo. The steamed rice in the wooden barrel comes with a selection of toppings, including seafood, spare ribs in black pepper sauce, and mixed roast meat.
The drink and dessert menu offers soft drinks, iced coffee, iced tea, soy bean, almond tea, and red tea, among others.
The non-halal restaurant with simple deco is open daily. Click here for the Map Location.
The Cape 海角红楼
381 Jalan Burma
10350 Penang
Tel : 04 2293228
Business Hour: 11am till 11pm