Dim Sum at De Tai Tong on Cintra Street, Penang
Dim Sum at De Tai Tong on Cintra Street, Penang
Located at Cintra Street in downtown Penang is De Tai Tong Cafe. This corner coffeeshop is a favorite food venue for it offers an extensive variety of dim sum and dozens of rice and noodle dishes.
Dim sum is breakfast and dinner fare at De Tai Tong. It is one of the places in town with trolley service. The workers offer the dim sum to the customers from the push carts.
There are plenty of options to choose from the steamed items. There are siew mai (pork dumpling), har gau (prawn dumpling), black beans pork rib, fish balls, seaweed dumpling, glutinous rice in lotus leaf, all served in metal trays. All the dumplings are plump with ingredients.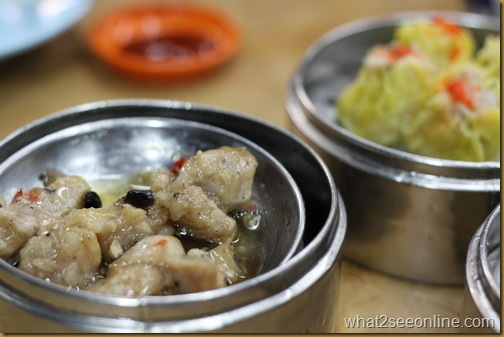 Black beans pork rib
De Tai Tong handmade pau has a soft and chewy texture. The many variety of steamed pau is kept hot in the steamed cart. You will find pau with lotus paste, red bean paste and moist barbeque pork filling.
One of the popular steamed pau is the Wong Ti Pau : big pau made stuffed with loh mai kai (savory glutinous rice topped with mushroom, chicken and minced barbeque pork). This pau always gets customers coming back for more.
Loh Mai Kai
Pau with savory and sweet filling – barbeque pork and lotus paste with salted egg yolk
There are also desserts and Chinese pastries. There is the sweet Longan Tau Fu Fa and baked barbeque pork bun, egg tarts, char siew soh, spring rolls and yam puffs with webby crust. The char siew soh with flaky pastry and barbeque bun has filling of barbeque pork.
Baked barbeque pork bun
De Tai Tong draws the lunch time crowd with its ala carte menu of rice and noodle dishes. For dinner, the similar menu with addition of dim sum is available. The chicken with sour ginger cubes is a popular dish.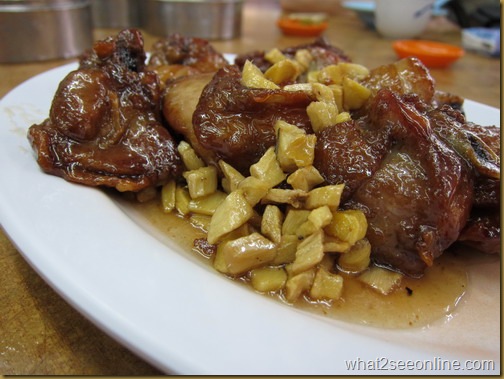 Noodle lovers will find the many varieties of noodles inviting – including the fishhead beehoon, pork rib noodle and wat tan hor fun (flat rice noodle with egg gravy) and the signature hong toh noodles. The fishhead beehoon comes with fresh pieces of fried fish cooked in a delicious sweet soup accompanied by slices of ginger.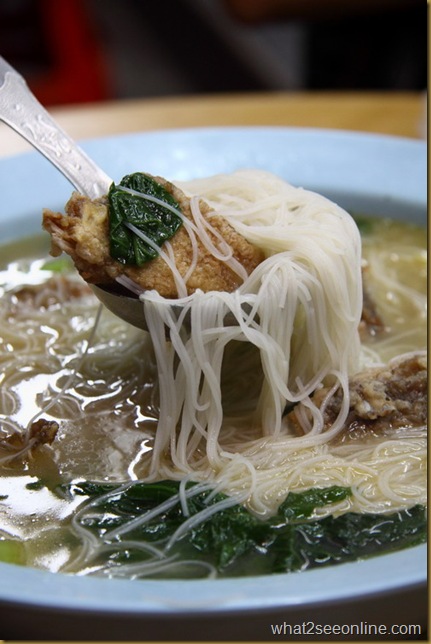 Fishhead beehoon
Pork rib noodle
Wat Tan Hor Fun (flat rice noodle with egg gravy)
Dim sum meal is always accompanied with drinking of Chinese tea (Yum Cha). De Tai Tong offers many tea leaves including Shui Xian, Tie Guan Yin and Pu' er. Water is top-up for free for the teapots. The type of tea and the number of dishes is recorded on the table card.
Dim sum is available from 6am till 12pm, and ala carte menu from 12pm till 3pm. Dinner starts from 6.30pm till 11pm. The outlet is open daily and closed on every alternate Mondays.
Finding parking in the busy Cintra Street can be a bit difficult at times but you are bound to find one at the neighbouring streets.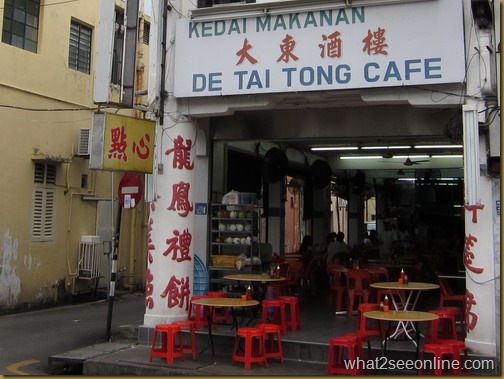 De Tai Tong, one of the many food venues in Cintra Street

De Tai Tong Cafe
45 Cintra Street
10100 Penang
Tel: 04 2636625