Nasi Campur at Secret Alley Cafe
BY CK Lam
Secret Alley Cafe is a cozy outdoor cafe located at the ground floor of Bayview Hotel Georgetown Penang. This pork free cafe is gaining popularity from the surrounding office workers, with an interesting menu of nasi campur (economy rice). There are more than 30 dishes of fresh home-style healthy dishes at reasonable prices, with varieties of Chinese, Malay and Indian dishes.
Cost of the meal depends on your choice of dishes. In general, the concept is more akin to an affordable place for economy rice, yet it is housed in a comfortable environment. With its wide variety of ingredients comprising of fish, chicken, seafood and vegetables, the prices of the items are reasonable, staring from RM1 to RM5.
There is an array of tempting dishes. Some were light starters of spicy kerabu, many greens, curries and several hearty ones which include ayam bbq sos, kari ayam (curry chicken), ikan lemon sos (lemon fish) and sambal ikan.
The notable ones were the ayam goreng (fried chicken) and aromatic kari ikan (fish curry). The food is delicious over steaming hot rice, complimentary savory soup and sambal belacan. The spiciness of the sambal belacan and the raw salad makes them an excellent complement for the meal.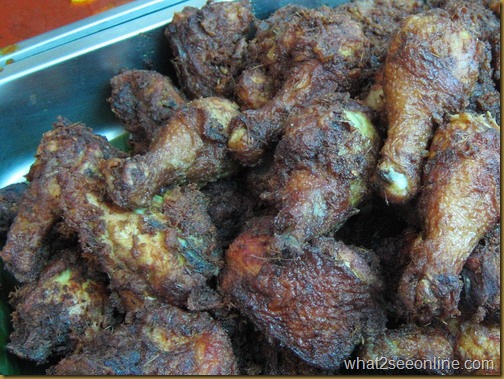 Dishes are on rotation. Porridge is available on Mondays, Wednesdays and Fridays; fried noodles on Tuesdays and Thursdays. Besides that, the aromatic flavored rice of nasi lemak, nasi minyak or nasi tomato is available on Fridays only. On top of that, there are beverages of coffee, tea, fresh juices and bottled drinks which go well with the food.
If you are up for a comfortable cooling dining area, warm service and prices without tax, Secret Alley Cafe would be a great choice. Being located on the alley facing the road, diners can access the cafe through its side entrance, sparing from having to enter through the hotel.
You can get a takeout box for the food too! The Nasi Campur promotion starts at 11am until 2.30pm from Mondays till Fridays except public holidays.
Secret Alley Cafe
Bayview Hotel Georgetown Penang
Bayview Beach Resort
Penang
Tel : 04 2633161 begin_of_the_skype_highlighting              04 2633161      end_of_the_skype_highlighting