Go for Anglo-Indian Brunch Tiffin Menu at Suffolk House
By CK Lam
Suffolk House located at Jalan Air Itam in Penang launches another interesting menu. The new Anglo-Indian Brunch Tiffin menu was designed and created by Executive Chef Wan Helmi Zazalee and his team in honour of Suffolk House's unique Anglo-Indian past. It reflects the dining sense and style of the Governors' (including Captain Francis Light) who once lived in Penang's first Great House.
Chef Wan Helmi made alterations to the Anglo-Indian specialties fare by substituting various Indian spices, together with yogurt and coconut milk to create a distinctive flavor of its own. The brunch tiffin menu features three dishes for starter, soup, six main dishes and dessert served in Rijsttafel (nasi padang) style.
Starters consist of fish cakes, egg moilee and sweet cucumber in cold yoghurt. The refreshing flavors of the sweet cucumber in cold yoghurt balances with the chili heat of the egg moilee and deep-fried fish cakes made from fish, mashed potato and peas. These three dishes are perfect appetizers to share.
Fish cakes

Egg Moilee and sweet cucumber in cold yoghurt
 The menu offers the interesting Mulligatawny soup, a curry-flavored chicken based soup with green apple, celery, carrot, potato, rice cracker and chicken. The sourish green apple complements the curry flavors. Flavorful with herbs of thyme, oregano, mustard seeds and Indian spices, this hearty soup is great especially with the warm homemade bun.
Mulligatawny soup garnished with deep-fried onions
The main courses came up with a chicken and fish dish together with tomato chutney. The  Anglo-Indian chicken curry cooked with an abundance of spices is fragrant, not too hot and pleases the palate.
Anglo-Indian chicken curry fragrant with fresh spices
The juicy fish is shallow-fried in coriander and tamarind sauce. Its sweet and sour taste is delicious with lime juice.
Vegetable Korma and the stir-fried Indian courgette are the vegetable dishes. Particularly interesting is the courgette with dense flesh. The relatively mild and fragrant vegetable korma is comforting with its soft creamy texture. These two dishes looked simple, but come with robust flavor from a combination of ingredients.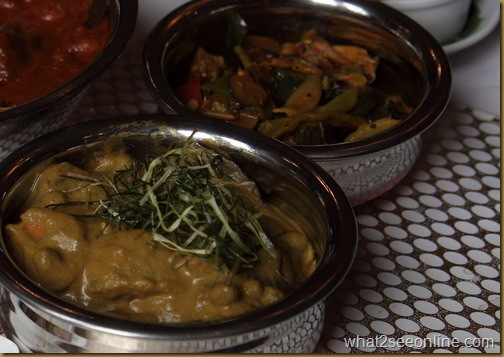 There is also plenty of fragrant lime rice to go with all the dishes. Chef Wan Helmi quoted that the taste of the rice is kept mild to complement the bright flavors of the dishes.
The dessert is very addictive, with the caramel custard, almond chocolate fudge and ice-cream with fruits. The almond chocolate fudge came pairing with raspberry coulis.
This new brunch menu is available on every first Sunday of the month at an introduction price of RM50nett for one person (a minimum order of two persons). Lunch hours are from 11am to 2.30pm. Click here for the Map Location.
Suffolk House Restaurant
Suffolk House
250 Jalan Air Itam
10460 Penang
Tel : 04 2283930
* Many thanks to Suffolk House for laying on this invitation.