Media FAM Trip to Kuching by Sarawak Tourism & AirAsia – Day 2
By CK Lam
We were up early the next morning and hit the road to Semenggoh Wildlife Center, situated within the boundaries of the Semenggoh Nature Reserve. The caring center set up, in hope of caring for the wild animals is especially famous for its orang utan rehabilitation programme.
The visit to this center is indeed an experience. We get to see the orang utan, also known as the 'Man of the Forest' in the feeding platform. The feeding time is between 9am and 10am & between 3pm and 3.30pm daily.
From the Semenggoh Wildlife Center, we travel up to the Borneo Highlands Resort. The exclusive resort sits 1,000 meters above sea level, on the Penrissen Range. There is the spectacular Hornbill Golf Course, and accommodation of 30 rooms at the clubhouse and 10 rooms at the jungle cabins.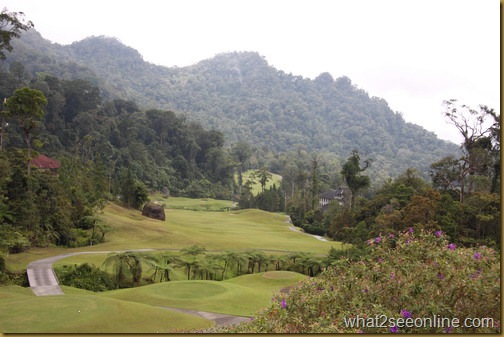 Magnificent view of the golf course
It is a place with Mother Nature. There are many activities to immerse in, such as rainforest walk, guided highlands tour, horseback riding, organic farming, jungle trekking and spa treatment. Attractions include the Kalimantan View Point, bird watching, and visit to the Horticulture nursery.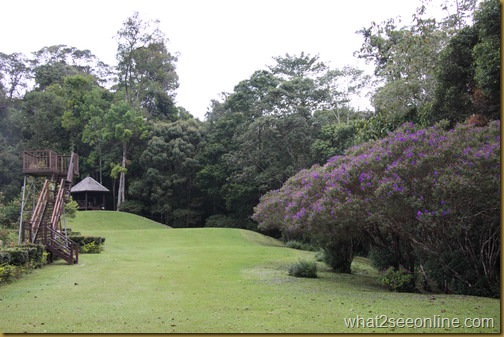 Beautiful plants in the nursery
We spent a delightful lunch hour at the Annah Rais Cafe in the resort. The cafe menu embraces the resort local organic produce with many healthy and delicious dishes.
The remaining afternoon had us exploring the Annah Rais Longhouse. We enjoyed the architecture of the Bidayuh longhouses, which were built mostly by bamboo. One interesting attraction is the Baruk (head house). Inside you will see human skulls displayed above the fire place.
The next stop after Annah Rais Longhouse is the local market, located in the city center. It is the best place to try out the local street food. Besides rows of vendors selling food and vegetables, there are also stalls selling flowers, animals and much more. From the vegetable stalls, two ingredients that are especially popular is the bamboo shoot and the midin leaves.
The food stalls ranges from selling grilled fish and lemang to putu and skewers of meat and seafood. We 'ta pau' (take away) several, including the crispy peanut pancake.
The evening continued with a visit to Dayang Salhah, a popular kek lapis (layer cake) shop. We took a short boat ride to the shop, located in a Malay kampong on the other side of Sarawak River. The single storey shop sells an enormous selection of layer cake, from the traditional to cheese. A wide variety is on display for customers to sample before buying.