Spice up your Ramadan at G Cafe
BY CK Lam
During this holy Ramadan month, G Hotel presents a special buka puasa dinner with traditional kampong styled dishes at the G Cafe. Chef Hamizi, the sous chef presents local Malay delights and international delicacies coupled with succulent barbeque selection in rotating menus.
The ulam-ulam comes with healthy greens of kacang botol, timun, kacang panjang and petai together with salted egg and fried salted fish. Variety of spicy and zesty condiments include sambal belacan, cincaluk, acar limau, budu, kuah kacang, ikan bilis goreng, cili padi kicap, air assam and durian tempoyak. Most enjoyable is the durian tempoyak, with its distinct flavor and creamy texture.
Besides the ulam, there are also salads of kacang botol and acar rampai, myriad of buah jeruk (preserved fruits) and deep-fried crackers.
The mains feature an array of meat and seafood in aromatic curries, with selection of dishes like curry telur burung puyuh, daging masak kicap, gulai ikan, ayam madu, ketam cili, sambal sotong petai, pajeri nenas and soto ayam soup. You can also enjoy the dishes with flavourful  nasi minyak, white rice or the pandan herbal rice which is rice steamed with pandan water.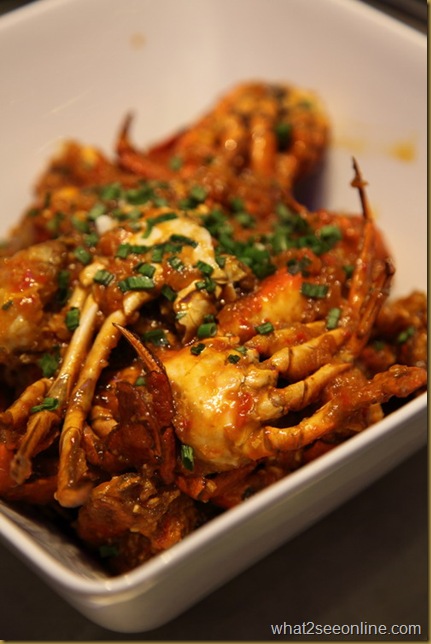 Ketam cili
Gulai ikan
Nasi minyak
Curry telur burung puyuh, daging masak kicap and ayam madu
The roti canai, bubur lambuk, deep-fried fritters and barbeque stations have chef on hand to freshly prepare the food. At the barbeque stations,  the meat and seafood are charcoal grilled. Rotating menu will see ikan panggang (grilled fish) and lamb kebab marinated with ginger flower, nutmeg powder and cinnamon.
The buffet features traditional Malay kuih and desserts. Besides the unlimited serving of Baskin Robbins ice-cream and the chocolate fountain, there are a number of all time favorites Malay kuih such as the sago gula Melaka, kuih lapis and onde-onde.
The Buka Puasa Special Buffet Dinner is available from 6.30pm to 10pm starting from 21 July to 18 August 2012 and priced at RM 88++ per adult and RM 44++ per child (7-12 years). Kids six years old and younger will get to eat for free. Diners can dine in the air-conditioned area or on the outdoor terrace.
G Hotel
168A Persiaran Gurney
10250 Penang
For reservations, call 04 2380209
* Many thanks to G Hotel for laying on this invitation.