Chef Matthias Tretbar at Feringgi Grill in Shangri-La's Rasa Sayang Resort and Spa
BY CK Lam
Since 1993, Feringgi Grill has been nominated by the readers of Malaysia Tatler as one of Malaysia's Best Restaurants for its exceptional cuisine and service. The restaurant with its exquisitely prepared modern grill cuisine, wide range of vintage wines and fine cigars was recently listed in first annual "101 Best Hotel Restaurants Around The World" by The Daily Meal, New York.
Today, the restaurant is helmed by German chef de cuisine, Matthias Tretbar, who focus on grilled dishes. He has 12 years of experience working in his home ground in Munich, West Germany before moving to Muscat, Oman in the Middle East and most recently in Bangkok, Thailand.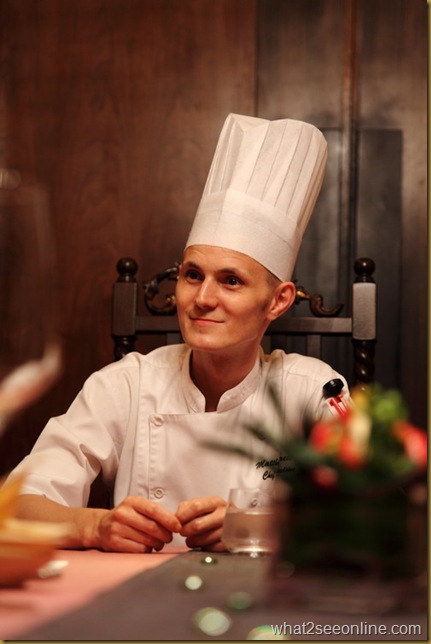 Chef Matthias is offering guests at Feringgi Grill a dining experience through a five-course degustation dinner menu priced at RM185++ per person. He uses colorful fresh ingredients and interesting preparations in creating a well balanced meal. The degustation creations indeed delighted our senses on our visit to Feringgi Grill.
The dinner begin with bread and butter, followed by an amuse bouche. On this visit, the amuse bouche has a soft boiled quail egg nestled on mircro green salad with pumpkin seeds and sunflower seeds. Chef Matthias made it interesting by injecting truffle oil into the tiny size egg and scattered dry tomato powder over it. Needless to say, the combination of flavors for this simple dish was indeed special.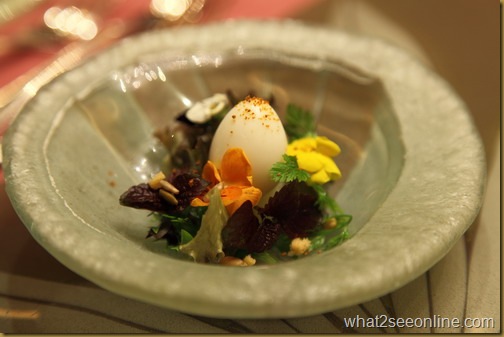 Next up was the seafood delights. The dish came with teriyaki prawn, scallop, squid, tuna, chili, wasabi and roe. My favourite was the seared tuna loin marinated with Dijon mustard and grinded spices. Chef Matthias stacked up the pieces of tuna and topped it off with delightful wasabi mayonnaise.
The dish truly shines with the accumulating flavors of the tuna, teriyaki prawn, scallop with carrot jus and the grilled squid with coriander chili dressing.
The curry butternut cappuccino soup topped with vanilla foam was served with parmesan cheese stick. Chef Matthias gave a vibrant twist to the earthy yellow pumpkin soup by adding in cinnamon, cumin, curry powder and caramelized with brown sugar.
Next on the degustation menu was the oxtail ravioli generously filled with slow cooked shredded oxtail meat. Slow braised and tenderized for several hours on its own sauce and Shiraz, the meat has a robust and savory flavor. The topping of arugula added a layer of crunch and freshness to this wholesome dish served with semi-dried tomato, rosemary thyme and rich gravy.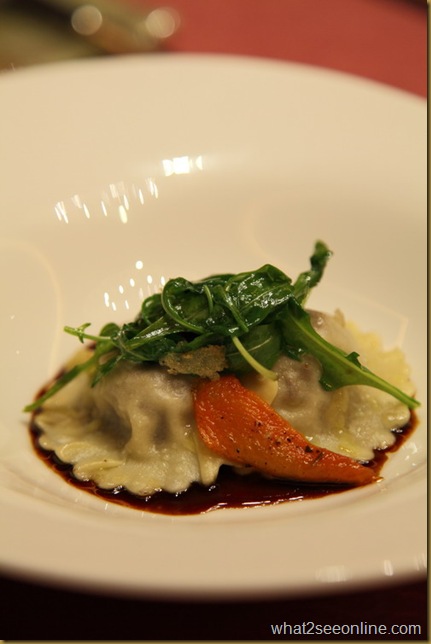 A refreshing sorbet was served to refresh the palate before the main dish.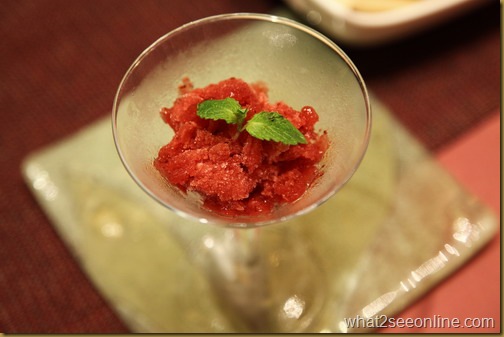 The main course presentation of poached halibut was garnished with herbs and chili. The gently poached fish with smooth moist texture was served in a reduction of lemon butter notch, chili  and sweet soy sauce with accompanied wilted greens, capsicum mash and mushroom dust.
I liked the way the vegetables were done, slight soft but still crunchy. The vegetables together with the sauces complemented the fish.
After the main dish, it was the serving of the mango texture. Chef Matthias serves this dessert with a combination of jelly stick, truffle and sorbet raspberry verbena glace. The dessert was nicely presented with harmony of flavors and bites from the crunchy sesame crisp and chocolate with pistachio. Besides the mango texture, petite fours are included in this degustation menu.
We enjoyed the meal and looking forward to experience Chef Matthias's cuisine in the ala carte menu.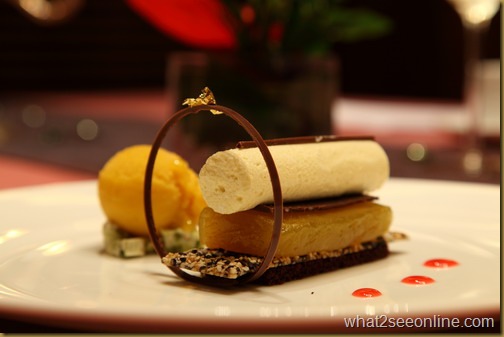 The restaurant opens daily from 6.30pm to 10.30pm.
Feringgi Grill
Shangri-La's Rasa Sayang Resort and Spa
Batu Feringgi Beach
11100 Penang
Tel: 04 8888888
* Many thanks to Shangri-La's Rasa Sayang Resort and Spa for laying on this invitation.