Artistry of Spices Program in Promoting Culture, Heritage and Cuisines at the invitation by The United States Ambassador to Malaysia
BY CK Lam
The start of 2013 had me travelling down to Kuala Lumpur to attend the Artistry of Spices programme at the invitation of The United States Ambassador to Malaysia, Datuk Paul W. Jones, and wife, Catherine Jones.
Many food enthusiasts and friends were there to celebrate the programme held at their official residence in Jalan Langgak Golf.
The Artistry of Spices programme in Malaysia includes visits to spice gardens and markets in Penang, a children's workshop, and a spice feast cooking demonstrations.
Catherine Jones and acclaimed New York artist Brookie Maxwell worked together and travelled to Penang and Melaka to paint, photograph and collect spices. Brookie Maxwell used turmeric, cloves, cinnamon, chili and Chinese five spices as pigments in her artworks which were showcased during the event. "The paintings not only look good but smells great too," Brookie Maxwell said.
The cooking demonstrations by Catherine and three local chefs comprising Rohani Jelani, Manju Saigal and Amy Beh featured cooking menus with entrées, main course and desserts rich in spices, herbs and flavorings.
Datuk Paul W. Jones, Catherine Jones, Brookie Maxwell, Amy Beh, Manjul Saigal & Rohani Jelani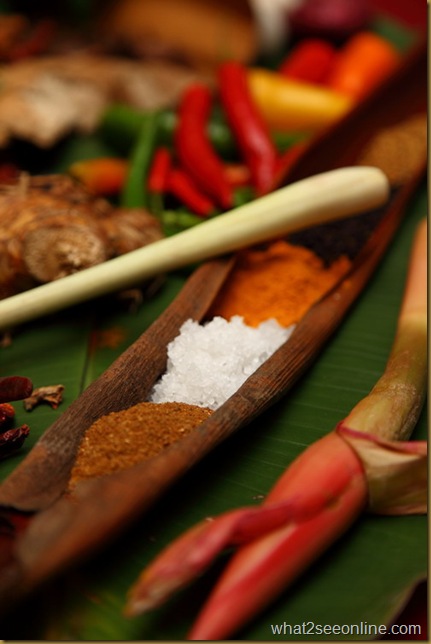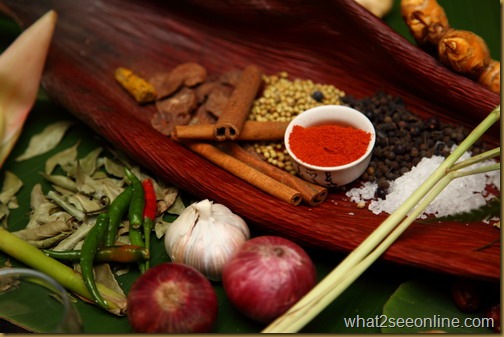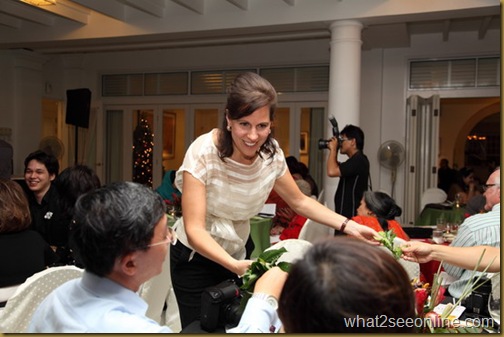 Catherine introducing the guests to the daun kaduk & daun limau perut
We sampled the artistry of all the four chefs.  Manju Saiga who specializes in Indian cooking introduced us to the icy cold drink of nimbu pani (roasted zeera), achari sabzi (pickled vegetables), lemon rice, kesari murg (saffron chicken) and sheek kebabs.
The achari sabzi is a robust crowd-pleaser, full of textures and flavored with a specific combination of spices and herbs. Ingredients of lotus root, bangkuang, carrots, green chilies, ginger and cauliflower was prepared with pickling spices of fenugreek, nigella seeds, fennel seeds, cumin seeds, turmeric, chili powder and distilled white vinegar.
The kesari murg infused with spices, yogurt and milk has comforting chili heat and it paired well with the pungent lemon rice.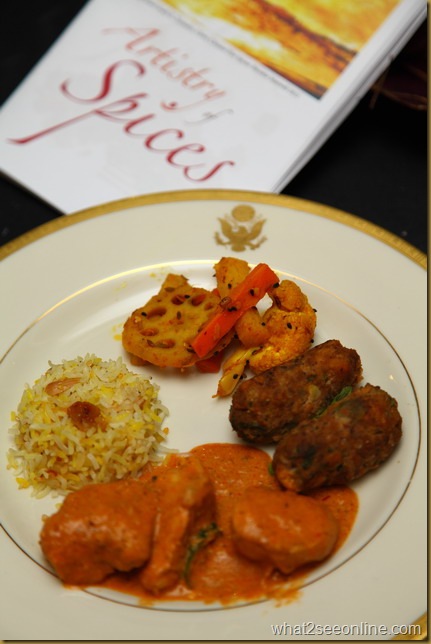 The evening progressed with a round of clear soups by Amy Beh. The choices included kiam chye ark (duck and salted mustard green soup) and chit kut teh (vegetarian herbal spiced soup). Other dishes include otak-otak (spicy fish custard) and bee koh (white glutinous rice).
The vegetarian herbal spiced soup was boiled with fragrant Chinese herbs, a mixture of peppercorns and spices of cumin seeds, fennel seeds, cloves, star anise and cinnamon stick.  Ingredients include mock meat, fried bean curd cubes and various types of mushrooms – enoki mushrooms, shimeji mushrooms, dried mushrooms and fresh button mushrooms. The deliciously light soup was certainly one of the better vegetarian soups I have tasted.
This was soon followed with a delicious platter of chicken rendang on nasi kunyit (turmeric flavored glutinous rice), udang masak lemak dengan nenas (prawns and pineapple in coconut milk) and onde-onde by Rohani Jelani.
The chicken rendang with lots of taste was a delight paired with the turmeric flavored glutinous rice. Rohani used galangal, turmeric, lemon grass and kaffir lime leaves to perked-up the taste of the rendang dish.
The onde-onde made with glutinous rice flour and pandan juice, and with filling of fragrant palm sugar was as good as you would want for dessert.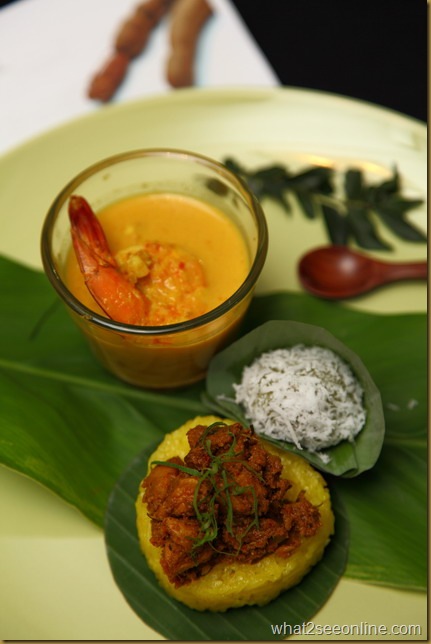 Catherine Jones, on the other hand, introduced us to several mouth-watering desserts. Curry ice-cream was among some of the other desserts on the menu: apple mincemeat crisp, oatmeal raisin spice cookies, chocolate cookies, coconut macaroons and chocolate pots with garam masala.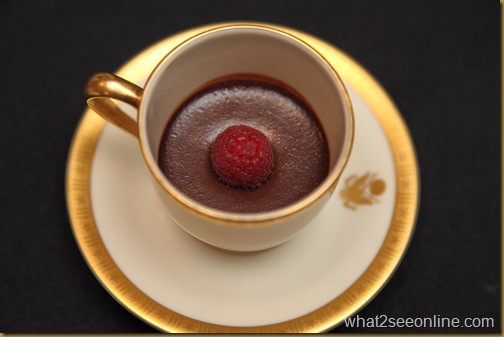 Chocolate pots with garam masala
The apple mincemeat crisp had nice texture. Baked with layers of Granny Smith apples, toasted chopped walnuts and mincemeat, this warm dessert had hints of cinnamon, cloves and ground nutmeg.
The creamy curry ice-cream infused with vanilla flavor, chili powder and curry powder was delicious. Cold and spicy in all the right places, the curry ice-cream was the most outstanding dessert.
Apple mincemeat crisp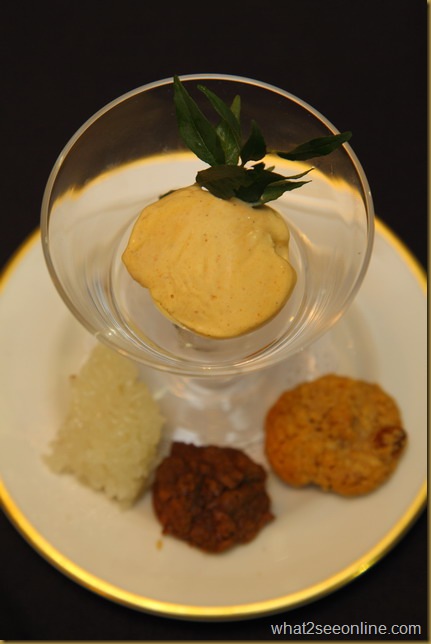 Curry ice-cream
The event was a truly one-of-a-kind experience, enabling us to experience the hospitality of the Ambassador and his family, indulged in a spiced meal and met some really amazing people.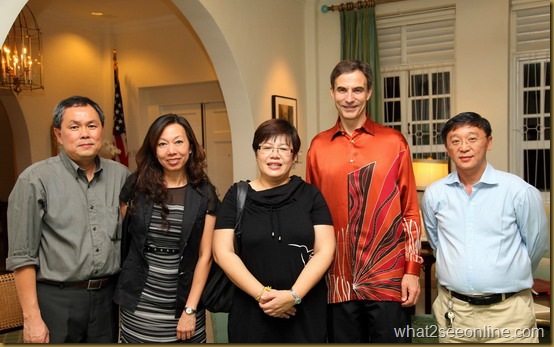 Teo Ee Siew, me, Alice Yong, Datuk Paul Jones and Ching Yee Sing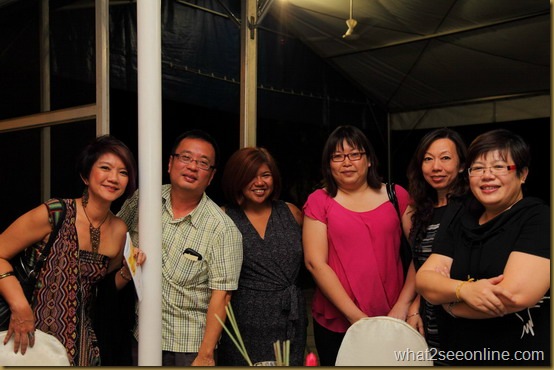 Ming Ho, Cheng Yi, Meena, Khang Yi, me and Alice Yong
A light moment at the welcoming festive entrance of The Residence.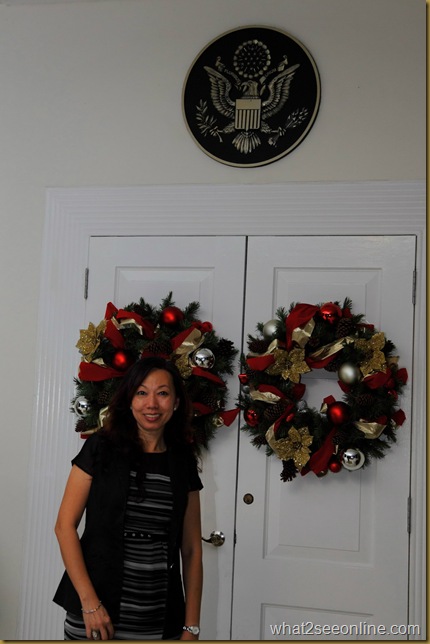 Many thanks to Datuk Paul W. Jones and Catherine Jones for laying on this invitation.