Le Cordon Bleu Culinary Education Seminar & Cooking Demo in Penang
BY CK Lam
Le Cordon Bleu Malaysia – Sunway Institute of Culinary Arts has brought culinary education to Malaysia in their school located in Bandar Sunway, Petaling Jaya, Selangor. Representatives from the school and Le Cordon Bleu New Zealand was up in Traders Hotel Penang recently to conduct a seminar.
Attendees at the seminar had an educational afternoon experiencing 'campus life'. Besides gaining more info on the culinary programmes from both campuses, they also enjoyed a cooking demonstration on the recipe Bonbonnière Au Chocolat – Chocolate Box and Assorted Pralines.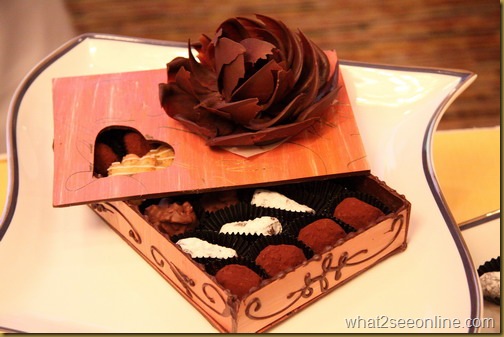 BONBONNIÈRE AU CHOCOLAT
Chocolate box and assorted praline
 "The Le Cordon Bleu certificate & diploma programmes are offered at Sunway Le Cordon Bleu (SLCB). The certificate programmes either in cuisine or patisserie will lead to a certificate award and a higher level of study within each discipline. Having successfully complete all three levels of each programme, students will earn a Diplome De Cuisine or Diplome De Patisserie," SLCB Marketing Executive Sheryln Lee said.
Le Cordon Bleu New Zealand (LCBNZ) is the newest of the Le Cordon Bleu institutes to open its doors, with an approach to combine the very best of new world innovation with the artistry of French traditions. "The Grand Diplôme Le Cordon Bleu, the Cuisine and Pâtisserie Diplomas and 10-week certificate courses are offered at the Le Cordon Bleu New Zealand. To complement the culinary training, wine education modules certified by the WSET will be also proposed. Le Cordon Bleu New Zealand will launch two three-year bachelor programs: New Zealand's first Bachelor of Culinary Arts and Business and a Bachelor of Hospitality Management. Students studying at this campus situated in Wellington can expect to experience world-class restaurants and wineries and an abundance of fresh, local produce," LCBNZ Marketing Manager Genevieve Rousseau Cung said.
Participants also picked up tips at the culinary demonstration by Chef Thierry Lerallu, Head Pastry Chef Instructor of Le Cordon Bleu Malaysia.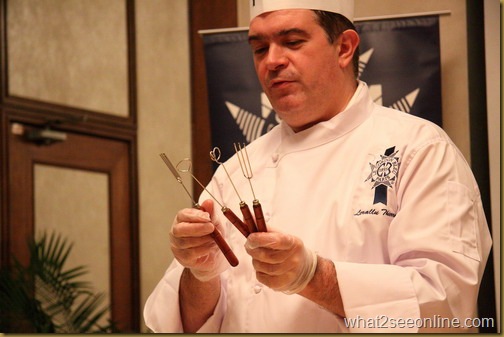 Born in France, Thierry Lerallu started his apprenticeship as a baker, Patissier, chocolatier and confiseur in Normandy well-known for the fresh cream, milk product, cheese and apple.

After receiving his Diploma from CFA, Alencon France he ventured out to see the world and had set foot in Malaysia in the early nineties where he worked for several 5 star international hotels. It was in Malaysia where he discovered the Malaysian, Chinese and Indian cuisine.

After having worked in Malaysia for several years, his addiction to travel took him to Seoul in South Korea where he become an executive pastry chef in a 5 star hotel.

In 2003 he joined Constance hotel and Constance Academy and Mauritius IVTB in Mauritius whereby he had shared his professional knowledge with young Mauritian apprentices where he trains via an intensive Pâtisserie programme.
Chef Thierry Lerallu prepared the Bonbonnière Au Chocolat which included chocolate truffles with honey ganache, almond rochers with chocolate milk, coconut sablée and muscadine.
Almond rochers with chocolate milk
400 g almond stick
100 g sugar
15 g water
250 g couverture chocolate milk
1. Melt chocolate milk in very low heat
2. Roast the almonds and chopped them to rough pieces
3. Make a caramel mixture using almond stick, sugar and water.
4. Pour the caramel mixture over the crushed almonds.
5. Mix it together before cutting into pieces. Leave to cool.
6.Coat the pieces of almond rockers with the milk chocolate mixture.
Almond rochers with chocolate milk

Chocolate truffles

Muscadine
Attendees of the seminar left with plenty info on the Le Cordon Bleu programmes after speaking to the representatives, besides sampling all the chocolate delights.

More information on both campuses can be view at:
Le Cordon Bleu New Zealand  http://www.lecordonbleu.co.nz
Le Condon Bleu Malaysia – Sunway Institute of Culinary Arts http://sunway.edu.my/slcb
* Many thanks to Le Cordon Bleu Malaysia – Sunway Institute of Culinary Arts for laying on this invitation.