Dishes of Yesteryear at Feringgi Grill, Penang
BY CK Lam
As part of the Shangri-La's Rasa Sayang Resort and Spa, Penang 40th Anniversary Celebrations, the resort's award-winning Feringgi Grill restaurant, will be introducing the retro menu called the Blast From The Past.
Feringgi Grill's Chef De Cuisine Matthias Tretbar reconstruct the restaurant's culinary past from old recipes. He delights guests with classic dishes from the early 1970s with bundles of flavor and texture. The deco is straight forward, reflecting the era where presentation is kept simple and to the minimum.
We tasted couple of appetizers, main dishes and desserts. Starters include the Lightly Smoked Scottish Salmon, Beef Carpaccio, Sesame and Coriander Marinated Duck Magret and Maine Lobster Cocktail. Simplicity itself, the smoked Scottish salmon on baked blinis is matched with capers and zingy lime dressing.
Lightly smoked Scottish salmon
Experience the succulent taste of duck in the Sesame and Coriander Marinated Duck Magret. Tretbar has the rosy Magret duck breast meat sharing the plate with garlic croutons, aubergine caviar and few leaves of salad. The soft puree aubergine caviar with smokey flavor is well appreciated in this dish.
  Sesame and coriander marinated duck Magret
There are the welcome comfort soups of Original French Onion Soup and Lobster Bisque. The rich and creamy smooth lobster bisque is not to be missed. Pieces of lobster are served on the bowl, and seafood stock flavored with tarragon is poured over it.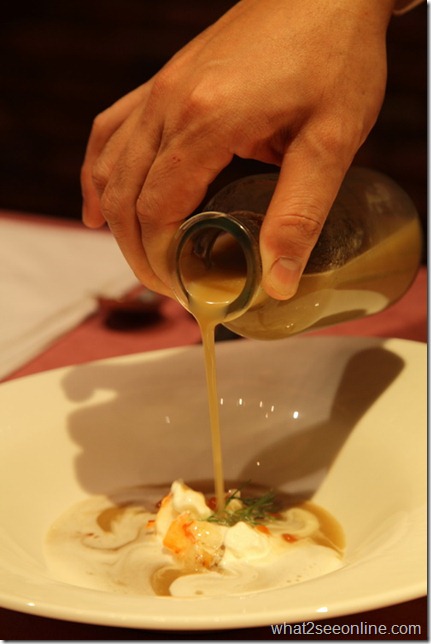 Thick slices of cheese croutons delivered creaminess to the plate of Original French Onion Soup with caramelized onion flavor.
Glasses of house-made rich strawberry sorbet followed before the main courses. There are many enticing main dishes and be prepared to indulge in exciting choices such as Baked Garoupa, Whole Lobster, Rack of Lamb "Provencale", Baked Fillet of Halibut and French Pepper Steak Flambe.
It is the French Pepper Steak Flambe and the Baked Fillet of Halibut for us. The fish with sides of tomatoes, cauliflower, asparagus and steamed yabbies is typically pleasing, baked moist with firmness.
The signature French Pepper Steak Flambe is an irresistible take on the beef, perfectly seared and cooked with tenderness. The juicy steak is teamed with a savory sauce with depth of brandy flavor. Presented tableside, the dish comes with onions, cauliflower, couple of green peas and sauteed potatoes.
The dishes are paired with glasses of bubbles…
Desserts and coffee are served at the end of the meal. We got to choose between the Strawberry Cheese Cake, Parfait Sweet Dream, and Tiramisu Cake or fresh Maccaron "Nougatine".
We go with Parfait Sweet Dream, done with a creamy-smooth texture and the Strawberry Cheese Cake which comes with a nice balance of fresh strawberries and chocolate.
Parfait sweet dream
Strawberry cheese cake
"Many luminaries have dined at Feringgi Grill and return again and again. Recently Datuk Jimmy Choo sampled some of the classic dishes on the "Blast From The Past" menu. This menu promotion will be ongoing every Sunday throughout 2013," said communications manager Stephanie Lee.
Feringgi Grill
Shangri-La's Rasa Sayang Resort and Spa
Batu Feringgi Beach
11100 Penang
Tel: 04 8888888

* Many thanks to Shangri-La's Rasa Sayang Resort and Spa for laying on this invitation.