Sushi Zento at Precinct 10, Penang
Tucked away in Precinct 10, Sushi Zento has been serving up Japanese meal with pork besides other meats. The restaurant has two seating area, with an outdoor air-conditioned area with cosy setting. The other area has a Kaiten belt which services a number of tables and a teppanyaki section with an open kitchen concept.
Shake Toro Sashimi RM38
Renowned for its sushi, yakitori and teppanyaki, other dishes include selection of ramen, sashimi and other assorted dishes.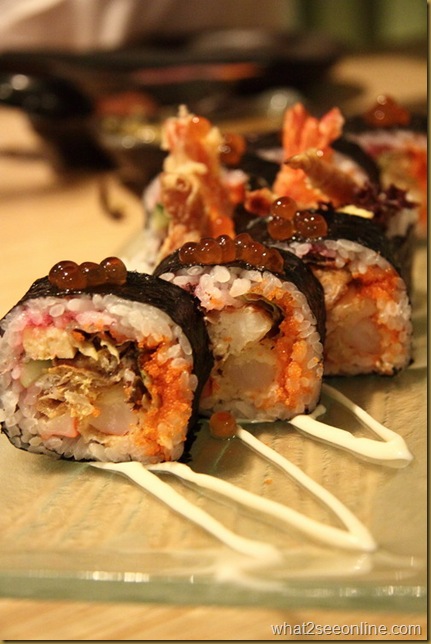 Rolls Royce Roll RM28
At Sushi Zento, the udon made fresh with Japanese flour comes with rich pork broth and pieces of roasted pork belly; the Kushu ramen (RM18) to mention just one. It comes with a rich pork broth and topped with roasted pork belly, flavored egg and black fungus.
Another interesting ramen is the Kyu N Kim. Priced at RM22, the noodle comes in a huge bowl with two separate and different types of soup.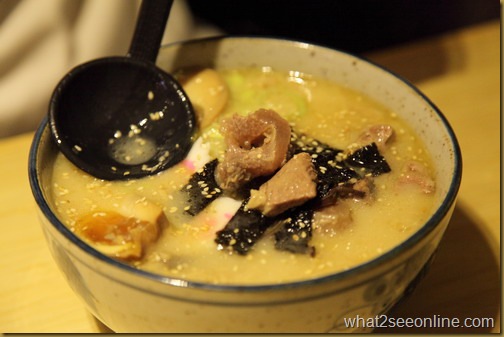 Kyushu Ramen
Kyu N Kim ramen with two different types of soup
Also not to be missed is the Charshu Chahan (RM10), a fried rice dish with roast pork belly.
Charshu Chahan – roast pork belly fried rice
On top of that, there are also several grilled dishes and a crowd favourite here is the Buta Amiyaki – grilled sliced pork served with amiyaki sauce and sesame seeds (RM19).
Grilled sliced pork with Amiyaki sauce
Moving over to the hot plates of teppanyaki, the chef prepares a dish of wagyu beef teppanyaki (RM58). The lightly grilled cubes of wagyu beef had intense grilled flavors while the high marbling count ensured that the meat is tender.
Moving over to the yakitori, pork selections to tempt your palate are a plenty and particularly interesting is the tuna belly wrapped with pork bacon. The meat has intense grilled flavours and matches well with the succulent tuna belly. Other selections to tempt your palate include Butabara (pork belly), beef and chicken skin.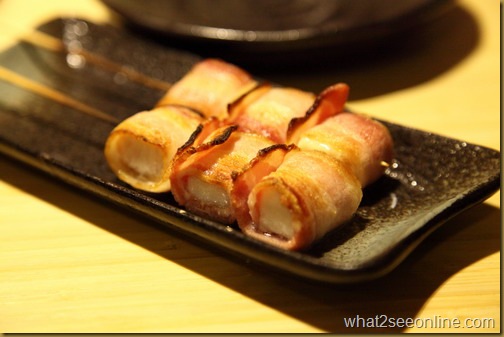 Yakitori selection of tuna belly wrapped with pork bacon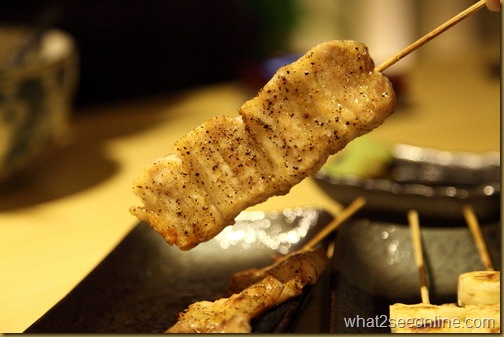 Butabara – pork belly
For pork side dishes, the pan-fried gyoza is delicious, filled with a mix of minced pork, cabbage, onions, chives and Japanese leeks! Apart from the pan-fried gyoza, there is the ebi gyoza (RM25 for 5 gyoza) which comes with large prawn.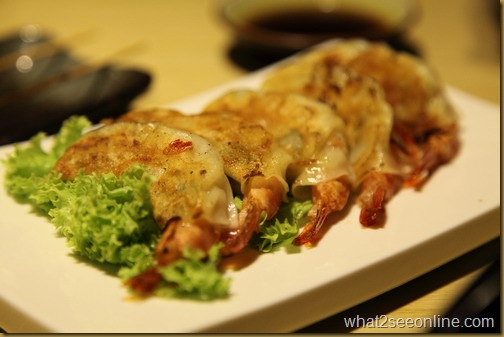 On the beverage list, there are hot and cold sake, variety of Japanese beers, shochu and a pleasing all-time favourite green tea. For desserts, choose from the traditional ice-cream such as green tea or black sesame.
Green tea and black sesame ice-cream
Diners will have a pleasant experience of dining at Sushi Zento with its comprehensive and innovative menu of appetisers, salads, soups, sushi, set dinners, bento box set meals, yakitori, teppanyaki and lunch specials.
Sushi Zento
10-A-11 & 12, Precinct 10
Jalan Tanjung Tokong
10470 Penang
Tel: 04- 8992725
Business Hours:
Monday to Thursday
11:30am to 3.00pm
6.00pm to 10:30pm
Friday to Sunday or Public Holidays
11:30am to 10:30pm
* This is a reproduction of my article published in Makansutra