Five27 delivers Modern Nordic Inspired Specialties
BY CK Lam
Named after its global positioning satellite coordinates location (GPS) in the dockside lifestyle hub of Straits Quay in Penang, Five27 Bistro Lounge Dining has been charming diners with cool tastes of modern Nordic inspired specialties.
The kitchen is helmed by Executive Chef and General Manager Nizar Achmad. With his Indonesian culinary roots and Swedish and French influences, he crafted a menu that uses fresh quality produce and balanced flavors. Dishes are garnished with local and organic options whenever available.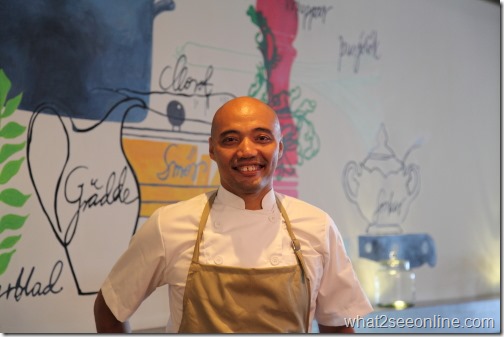 Five27 serves up a hearty bowl of Mushroom Soup with freshly baked bread and flavored butter. The soup with pleasing mushroom earthiness is made with a combination of selected mushrooms, cream, parmesan shavings and truffle oil.
Other choices of soup in the menu include Leek & Potato Soup and Indonesian Oxtail Soup. The latter is done with clear texture and served with accompaniments of sweet black sauce, pickled cucumber & carrot and homemade green chili sauce.
Seafood made an appearance in the Lightly Salt Cured Salmon dish (RM45). The dish featured a piece of nicely seared salmon in honey and dill mustard sauce. Crunch from the thinly sliced cucumber went well with the delicate tones of the fish.
The next course is the Beef Burger (RM25) which is sandwiched between a well textured bun. The chef had it served on a wooden board. On one side is a generous pile of house-made French fries that are amazingly light and crisp. The taste of the well-rounded burger balanced well with the caramelized onions, pineapple and rosemary salsa.
For people who enjoy meatball, the dish of Swedish meatballs (RM39) served with buttery creamed potato may just be the choice. The meatballs are well spiced and come with brown sauce, lingonberry jam, slices of cheese and generous amount of micro cilantro which delivered distinctive fresh flavor.
The meatballs and creamed potato contributed hearty portion to this dish, so it's best to share.
The Bœuf Bourguignon in luscious thick sauce is served with steaming white rice. Slow-stewed for several hours in red wine with carrot, thyme and bay leaves, the beef is undeniably tender. The beetroot added nice contrast and taste to this traditional French stew which is prominently on the set lunch menu.
Tuck into the Braised Beef Ribs (RM52) served with mashed almond, pumpkin & potato and parsnip sauce. The aromatic flavor of the moist texture rib is heightened by the beetroot & chili salad.
The Shitake Mushroom Lasagne is a lighter selection than the braised beef ribs. Made with cheese, chopped mushroom and thin layers of filo pastry, this vegetarian lasagna is served bubbling hot with truffle sauce (RM36).
Delight yourself with choice in desserts (up to six). The Chocolate Cake is a sweet treat made with dark rich chocolate. While the smooth and light Raspberry Panacota is sourish appetizing, the chocolate cake with flavorful depth of dark chocolate with just the right amount of creaminess is fast gaining popularity.
Chocolate Cake RM10
Raspberry Panacota RM10
If you need to take coffee, a cup of aromatic Illy is the way to go. It arrives on a wooden board edged by a piece of cookie.
There is essentially two dining area: a spacious indoor area and alfresco space with warm breeze and breathtaking view of the private yacht dock. Click here for the google Map Location.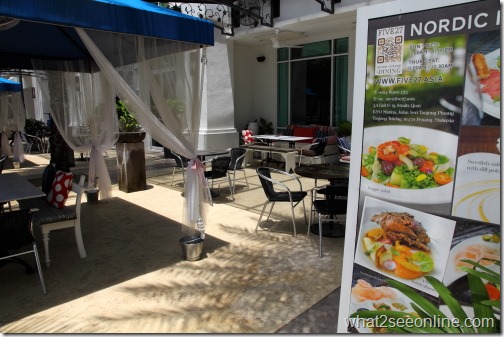 This newly opened restaurant (in January 2013) has since attracted many famous friends that included Busta Rhymes, LMFAO and Ludacris.
Five27 Bistro Lounge Dining
3AG18-19 Straits Quay
E&O Marina
Jalan Seri Tanjung Pinang
Tanjung Tokong
10470 Penang
Tel: 04-8900435
Business Hours: 11am – 11pm
* Many thanks to Five27 Bistro Lounge Dining for laying on this invitation.
 ***Updated on January 2014 – Five27 will be reopening soon at 357 Chulia Street.