Italian Buffet at Eastin Hotel Penang
BY CK Lam
May is the month to savor Italian cuisine at Swez Brasserie, located at Eastin Hotel Penang. Delectable spread of Italian cuisine from the Land of Michelangelo is available during lunch, hi-tea and dinner throughout the month.
Cheese lovers will enjoy the panzanella salad. Made with fresh tomatoes, Mozarella cheese, crusty bread and crisp greens, the salad comes with condiment of olive oil and vinaigrette. Another appetizer is the bruschetta. The version is covered with toppings of chopped mushroom, chicken and seafood.
The cream of tomato soup has a remarkably pure tomato flavor, with the right tomato's acidity, basil oil and cream. There is a rotation of soup, with choices of minestrone soup and seafood cream soup.
Having a couple pieces of the Chicken Milanese is a must. This main course dish is well prepared, wonderfully moist on the inside. A side of tomato rice give an interesting filling touch to the dish.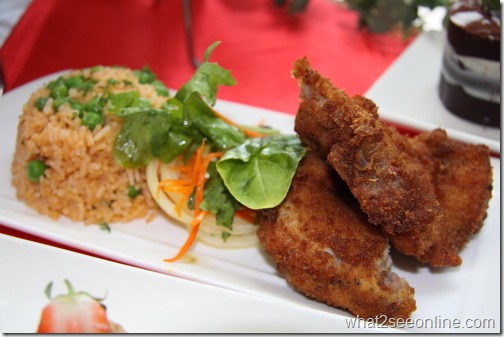 The capuccina style cabbage prepared with boiled purple cabbage, carrots and tomatoes is tossed in parsley, butter, Parmesan cheese and anchovies. It also include crunchy toasted almond flakes. This dish is undoubtedly pleasing with the many ingredients melding together. The only shortcoming is the taste which is exceptionally salty.
The semi buffet dinner has several selection of main dishes and diners can load the plates with choices of beef meat balls, lagsagna al pesto and braised osso bucco. Served in bright tomato sauce, the texture of the beef meat balls prepared with herbs is formidable, however there is a touch of saltiness with more distribution of cheese.
The lagsagna al pesto featured vegetarian preparation with layers of flat lasagne noodles baked with alternating layer of spinach, pesto sauce, spinach, cheese and olive oil. My first bite on this cheesy goodness is on the tough side as it is layered with whole spinach leaves. The lasagna will taste much better if it is layered with chopped bites of spinach.
Don't miss out on the braised osso bucco. Braised for several hours, this well executed comfort dish with wonderful taste and tender texture goes well with the adornments of asparagus and carrots.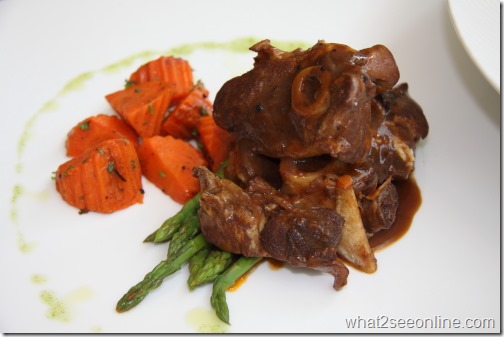 The dessert section offers sweet offerings of banana pudding and tiramisu. The banana pudding is a pleasurably light item, with sweetness rounded up by fillings of ripe banana.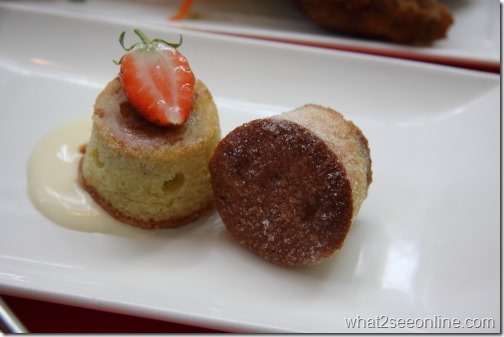 Banana pudding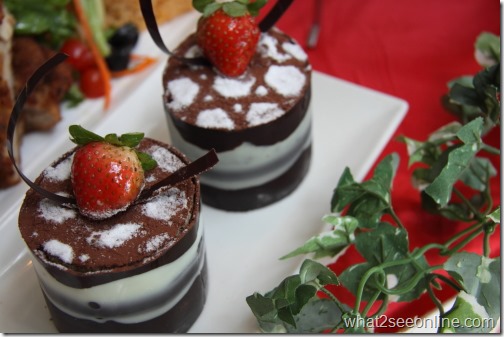 Tiramisu
Swez Brasserie's Italian Flair by Jr. Sous Chef Kelvin Cheong and Chef de Partie, Chef Rizal Bin Hashim is available for lunch, from Monday to Friday. The buffet is priced at RM48++ per adult and RM24++ per child. The Semi Buffet Dinner at RM48++ per person is available only from Sunday to Thursday.
The hi-tea which is available on Saturday and Sunday (from 12pm – 3pm) is priced at RM55++ per adult and RM28++ per child.
Currently, there is a 15% discount promotion for Maybankard, Standard Chartered Bank, OCBC Bank, CIMB Bank and Citibank card members for the Italian Flair Semi Buffet Dinner which is available from Monday to Thursday and Weekend Buffet Dinner (Friday & Saturday) from 6.30pm till 10pm.
For reservations, call 04-612 1128.
Eastin Hotel Penang
1 Solok Bayan Indah, Queensbay
11900 Bayan Lepas
Penang
* Many thanks to Eastin Hotel for laying on this invitation.