Cheesecakes at Rasa Deli, Rasa Sayang Resort and Spa, Penang
BY CK Lam
Rasa Deli at Shangri-La's Rasa Sayang Resort and Spa, Penang is introducing mouthwatering variety of cheesecakes in the month of July. Cheesecake lovers will rejoice with variations such as Red Velvet Cheese Cake, Marble Cheese Cake, Green Tea Cheese Cake, Butterscotch Mascarpone Cheese Cake, Coconut Pandan Cheese Cake and Signature Cheese Cake.
New executive pastry chef, Dino Wan Teik Boon who has graced many prestigious events with his creations spent the afternoon sharing the cakes with us in the Spice Market Cafe. He serves them into plates, starting with the Signature Cheese Cake. This non-bake cheesecake made with yogurt is light and has a velvety smooth texture. The recipe for this cheesecake had it baked over a crunchy cracker crust.
The Marble Cheese Cake made with a combination of Philadelphia cheese and gelatine leans towards a bouncy and light texture with good dashes of crushed chocolate. The cake decorated with fresh strawberries and cream is addictive with aroma of chocolate.
Chef Dino also takes on the ingredients of santan (coconut milk) and fragrant pandan leaves (screwpine leaves) in making the Coconut Pandan Cheese Cake.
The light pandan flavored cheesecake tailored to suit the Asian palate offers spongy texture and taste of the Malaysian Nyonya kuih.
  Coconut Pandan Cheese Cake
The Red Velvet Cheese Cake with an Oreo crust is prettily marbled in red. "Many people are curious about this cake and after trying it, many are impressed. It is velvety and teases the tastebuds without being too creamy," says chef Dino.
While not as brightly attractive as the Red Velvet Cheese Cake, the Butterscotch Mascarpone Cheese Cake made with a mix of butterscotch, mascarpone and cream cheese is lusciously creamy with touches of sweetness.
Chef Dino even has a Green Tea Cheese Cake! The cake with a light and moist pudding texture sans the usual green tea. The subtle green tea flavored cheesecake is pleasing with the chocolate topping.
Photo of Chef Dino via Rasa Sayang
Whole cheesecakes are sold daily at the Rasa Deli starting from 1st July 2013 and can be picked up 48 hours after orders are placed.   The cheesecakes are priced from RM80+ per one kg.
Apart from cheesecakes, Rasa Deli also offers a wide variety of freshly baked muffins, pastries, cookies, eclairs, macaroons and artisan bread.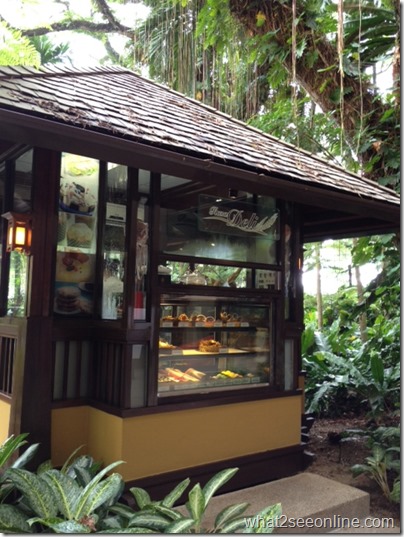 Rasa Deli is located at the Garden Wing
Rasa Deli
Shangri-La's Rasa Sayang Resort and Spa
Batu Ferringhi
Penang
Tel: 04 888 8788
Business Hour: 11am till 6.30pm (Daily)
* Many thanks to Shangri-La's Rasa Sayang Resort and Spa for laying on this invitation.