Hairy Crabs from Yangcheng Lake, China Returns to Dragon-i
BY CK Lam
From mid-October to December 2013, Dragon-i Group of Restaurants will be airflying the seasonal delicacy hairy crabs twice weekly from Yangcheng Lake located to the northeast of Suzhou, China.
Dragon-i seems to have the China's most cherished crustaceans recipe for success, having offering the crustacean for the past five years. I had the pleasure of savoring the gentle crustaceans at the Dragon-i Hairy Crab Premium Set Menu Promotion Press Conference held at its Sunway Pyramid outlet.
Hairy crab from Yangcheng Lake
Dragon-i Group of Restaurants Sdn Bhd, Chief Executive Officer Mr Henry Yip said, "Hairy crabs with furry growth on their pincers are also known as tai jap hai in Cantonese. This seasonal delicacy is welcomed by many for its great taste and the amazing texture. Freshest and genuine products are assured, with the hairy crabs certified by the China Entry-Exit Inspection, Quarantine Animal Healthcare Department and the Hong Kong Food Hygiene Quality Control Department before they are being shipped to Malaysia."
Hairy crab 大闸蟹 has furry growth of hair on their pincers
The bigger sized male crabs have a triangular segment at the bottom of their body while the females have a rather circular segment. Both crabs have soft and delicious flesh, with the female crabs highly prized for its intense rich flavoured roes.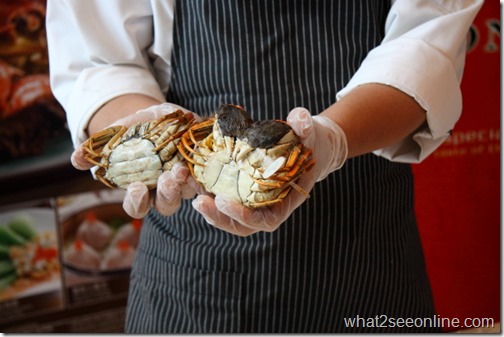 The star of the meal for the afternoon is of course the hairy crab with succulent natural sweetness. Dragon-i make the process of eating the hairy crab enjoyable by providing diners with the right tools to extract the meat – a pair of scissors and a crab pick.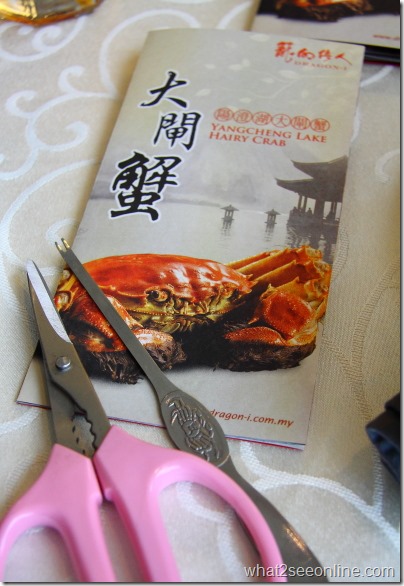 Once the body is pulled out of the shell, the gills are removed. The hairy crab bulging with creamy roe is truly a seafood delight, and is best eaten as it is. As for the meat, it is recommended to complement it with premium black vinegar combined with julienne fresh ginger condiment.
Due to the 'cool' yin in the crustaceans, the hairy crab is paired with the 'hot' yang ginger tea.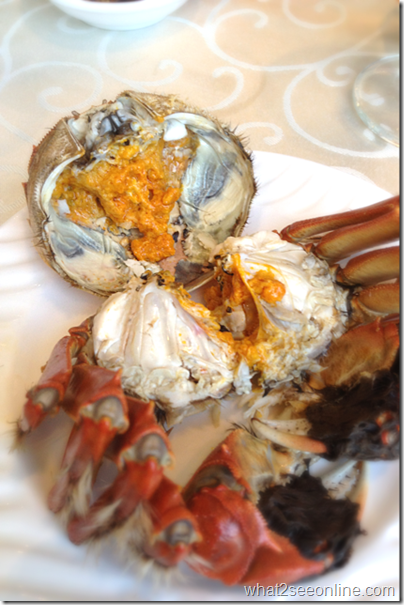 The rest of the dishes are the four combination appetizer, Double-boiled Chicken Soup with Fish Maw, Braised Roasted Pork with Tianjin Chestnut, Sauteed Prawns in Szechuan style, Stir-fried Yun Nam Pea Sprouts and Yang Zhou Fried Rice.
The appetizer dish came with four combinations: Trio Egg Yang Zhou Style, Marinated Jelly Fish with Black Vinegar, Japanese Cucumber with Minced Garlic and Crispy Caramelized Eel. Particularly interesting is the jelly fish dish, prepared with 'jelly fish head' dressed in a fragrant black vinegar sauce. This delicacy with crunchy and slightly harder texture is way more delicious than that of its body.
Trio Egg Yang Zhou Style
Dragon-i also introduced several new dishes including the Braised Pork with Tianjin Chestnuts and Stir-fried Yun Nam Pea Sprouts (Dou Miao). The hand-picked sprouts imported from Yun Nam are stir-fried, where by only the tips of the vegetable are used.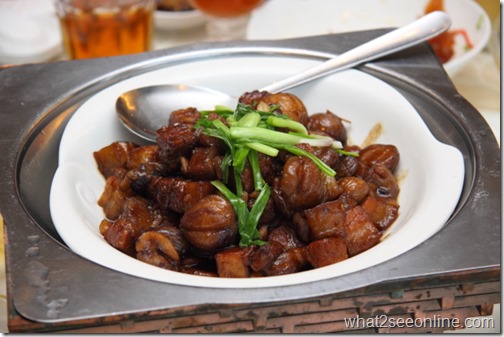 Braised pork with Tianjin chestnut
  Stir-fried Yun Nam Pea Sprouts
Apart from the above mentioned dishes, the two desserts are the Yin Yang Walnut Buns and the Glutinous Balls with Chrysanthemum and Sweet Potato in Wine Soup. I enjoyed the latter, with its glutinous balls filled with smooth sesame paste in a sweetly perfumed soup. I can't help thinking of how much better it would be if there are more glutinous balls.
Hairy Crab Premium Set
Dragon-i Group of Restaurants is showcasing the best of the hairy crab, with the Hairy Crab Premium Set in all its outlets. The sumptuous six-course Shanghainese meal for RM178++ per pax (RM148++ per pax for Dragon-i members) a minimum two pax, is available from Monday to Friday, excluding Saturday, Sunday & public holidays.
The highlight of the menu is the two Steamed Whole Hairy Crabs. Apart from the entree, other Shanghainese delicacies include Dragon-i's signature Steamed Shanghainese Dumplings with Hairy Crab Roe, Double-boiled Chicken Soup with Fish Maw, Sauteed Pea Sprouts, Fried Rice with Dried Scallops, Hairy Crab Meat and Roe, and Sesame Dumpling with Ginger Soup.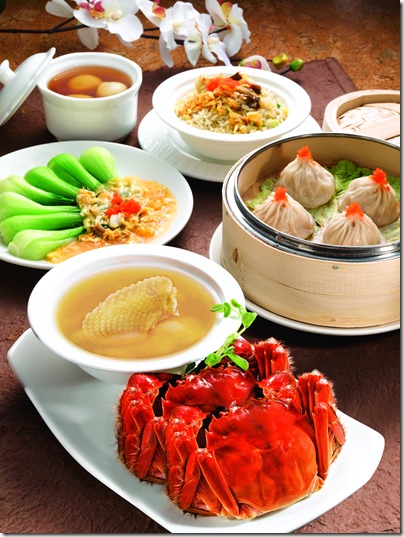 The Hairy Crab Premium Set is big enough to fill you up
Hairy Crab Gift Box
Hairy Crab Gift Box is available for customers to share this new and exciting experience with their families and friends at home. The "Buy 3 Free 1" Hairy Crab Gift Box promotion is prized at just RM198+ per gift box for all Dragon-i and HSBC Credit and Debit Card members. Its normal price is RM272+.
The Hairy Crab Gift Box is available from Monday to Friday excluding Saturday, Sunday & public holidays. It comes with a set of Hairy Crab scissors, a packet of shredded ginger, a bottle of premium black vinegar and two packets of cooling bags.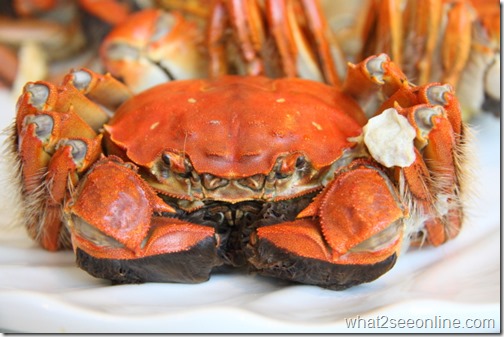 Be sure not to miss the chance to try the mouth-watering hairy crabs. You will find Dragon-i's outlets all over Malaysia, including two in Penang – Gurney Plaza and Queensbay Mall.
* Many thanks to Dragon-i Group of Restaurants for laying on this invitation.