Jamie's Italian in Perth, Western Australia
BY CK Lam
It was a great day chilling out at Jamie's Italian during my Perth holiday trip.
The William Street eatery is welcoming with its wide selection of wines, and a menu with balance between pasta, cold meals, antipasto dishes and desserts. I pretty much love its casual and lively ambiance.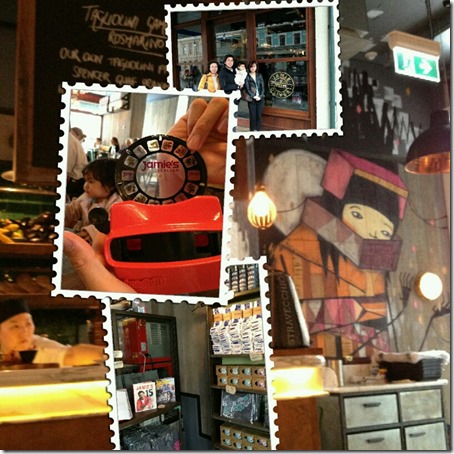 As the place was packed during lunch hour, the queue was long. The waiting time with a pager was around an hour. The food arrived 20 minutes after we ordered it.
We were served with a selection (on the house) of rosemary focaccia, Italian grissini, ciabatta, along with Rylstone extra virgin oil & aged balsamic.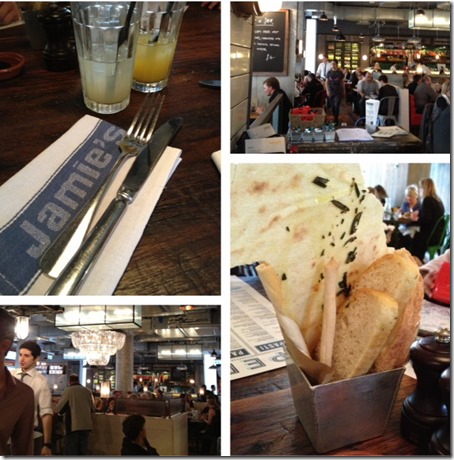 The atmosphere is fairly relaxed
Pastas are made daily on site. We sample the many dishes like:
Black Angel Spaghetti $14 – squid ink pasta with juicy scallops, capers, garlic, anchovies and hint of chilli and white wine.
Wild Rabbit Tagliolini $14.50 – slow-cooked rabbit ragu with garlic and herbs, mascarpone and lemon flavor. The dish was an interesting discovery but its flavor was rather bland for our palette.
Seaafood Bucatini $29.50 – tubular spaghetti steamed in a bag with crab, mussels, clams, squid, scallops, capers, chilli, garlic, white wine and juicy sweet tomatoes.
Seaafood Bucatini
Wild Rabbit Tagliolini  & Black Angel Spaghetti
We were tempted by the other many antipasti. Our choice was the Fish. Priced at $12.50 per person, the dish comes with a combination of:
Cured & crispy fish – beetroot-cured salmon & roasted shell fish, smoked mackerel pate.
Italian cheese – aged pecorino with crispy bread and chili jam.
Pickles – very nice pickles, green chillies, green olives and caper berries.
Crunchy salad – made of shaved carrot and beets with lemon and mint (flavorful & nicely fried).
As for the mains, there are plenty to choose from. The Veal Flash Steak priced at $28.50 has a huge serving of Aussie veal prepared pounded with sage and prosciutto. The meat was served with spicy tomato salsa.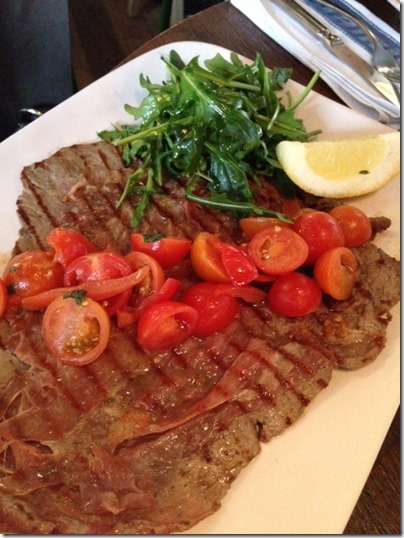 Colouring sheets and crayons and view finders are provided to keep the young ones occupied and dishes to impress are the potato chips and wild truffle risotto ($13.50) which comes with finely minced black truffle.
The potato chips varieties include funky chips, posh chips and polenta chips.
If you are looking for comforting food with hearty combination in Perth, do drop by Jamie's Italian.
Jamie's Italian
140 William Street
Perth CBD
Western Australia 6000
Tel: +61 8 9363 8600
Business Hour: 11am until late (Daily)