Japan Sweets Fair in Isetan with Iron Chef Hiroyuki Sakai and Chef Toshihiko Yoroizuka
BY CK Lam
The Japan Sweets Fair event held in Isetan KLCC in Kuala Lumpur is a sweet extravaganza, featuring lots of Japanese sweets. I had the opportunity to attend the fair which runs in the concourse floor from 18th October to 30th October 2013.
The event is capped off with the special appearance of Iron Chef Hiroyuki Sakai who specializes in French cuisine. Another special guests is none other than patissiers Chef Toshihiko Yoroizuka, who has made headlines for designing hats, bags, shoes and dresses that are not only good to look at but also good enough to eat.
Chef Yoroizuka and Chef Sakai 
The Japan Sweets Fair offers just about as many sweet "food" as it does on beverage and ice-cream. Many of us invited to the event had first-hand shots on the food and with the chefs.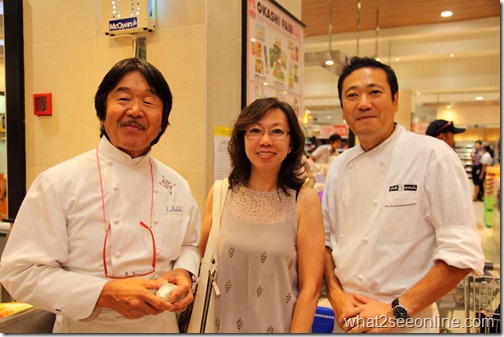 Chef Sakai, myself and Chef Yoroizuka
The event unveiled its line of sweet treats including Dango, Okowa, Anmitsu, Daikufu, Crackers, Scone, Cheese Cake, cool Ice Candy and Aragoshi Sake. With so many choices and flavors, the biggest decision is what to try.
Japanese style cheese cake and scone
The Aragoshi Sake has four flavors and I personally enjoyed the Umeshu with Ume fruit of Nara and the dessert liqueur with Hakuto Peach.
Aragoshi Sake
A skewer of Sanshoku Dango comes in three delightful colors.  Made with rice flour the traditional Japanese dumplings come with three sweet fillings. I liked the one with black sesame seed paste.
The Daikufu come with sweet filling of azuki red bean paste. The combination with pounded rice cake is indeed different.
The savory crispy crackers come with many different addictive flavors such as black bean, shrimp, squid, salty wasabi and many more.
The Anmitsu with agar-agar, azuki red bean and fruits is refreshing sweet and it had me going back for another serving.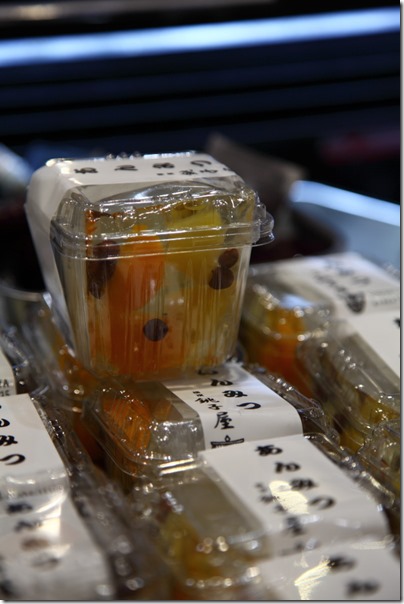 The ice candy and caramel ice-cream are two icy cold treats.
The event is not just about desserts. There is also the warm Okowa wrapped in bamboo leaves. The fragrant sticky glutinous rice mixed with seasonal ingredients and vegetables is definitely worth a try.
The chefs trying the okowa
It is a wonderful morning, sampling sweets of all kinds and meeting top-notch chefs from Japan. For more information of the currently ongoing Japan Sweets Fair, do visit: Isetan.com.my
* Many thanks to Ryosuke Sakuma for laying on this invitation.