Chinese New Year Feasting at Four Points by Sheraton Penang
BY CK Lam
Officially opened on 30th October 2013, Four Points by Sheraton Penang is getting on with the Chinese New Year themed banquets at its location in Tanjung Tokong.
The hotel is offering Chinese New Year lunch and dinner menus from 30th January till 13th February 2014. The six course traditional set menu B priced at RM850.00+ per table for 10 persons comes with the Yee Sang dish and also a range of Asian and Chinese cuisine.
Attention is centered on the first dish of Yee Sang. The Prosperous Yee Sang Platter which symbolises abundance and prosperity comes with a choice of salmon or tuna, multi-coloured shredded vegetables, crackers, sauces and seasonings.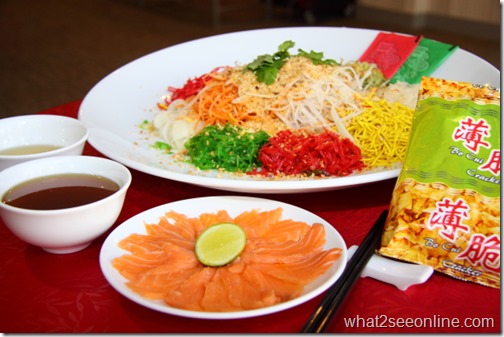 风生水起 (三文鱼生)
The second course is the Braised Superior Soup with Crab meat and Dry Scallop. Chef Elliot Wong prepared this soup in a thicker texture but no less flavorful with plenty of dried scallop and crab meat. You will want to drizzle on some black vinegar for more flavor.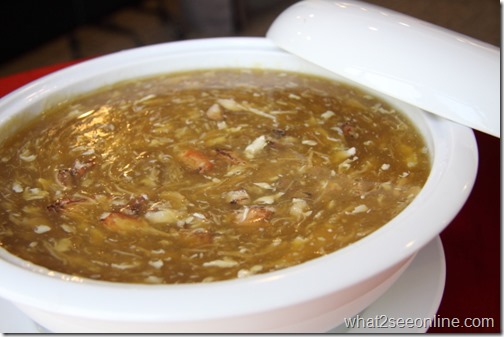 财通四海 (干贝蟹肉羹)
The Roasted Chicken is served with Plum Sauce and crunchy crackers. With crispy skin and tender meat, this dish is absolutely welcoming without dipping in the accompanied thick plum sauce.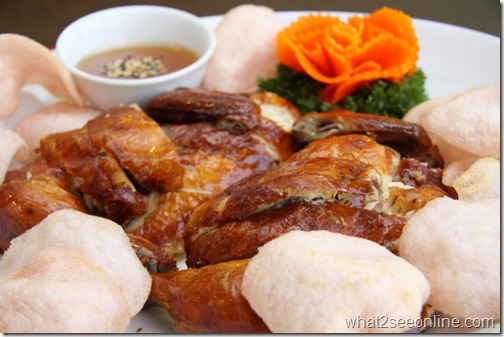 凤凰报喜(梅酱烧鸡)
The next dish is Steamed Sea Bass with Superior Soya Sauce. The chef takes a different approach in preparing the dish by omitting fresh ginger. The steamed whole fish comes with delicate flesh but is less flavorful, without the aroma and fragrance of ginger.
年年有余 (清蒸石甲鱼)
To balance the flavors, there is a serving of Braised Black Mushrooms and gluten with broccoli florets. This classic Chinese banquet dish comes with combination of wonderful texture.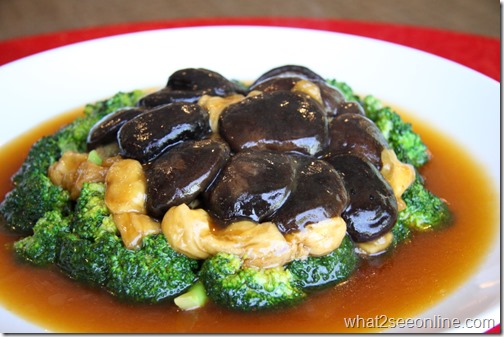 万事如意 (冬菇,豆根,时蔬)
The Tiger Prawns stir-fried with Chef Special Sauce are delicately balanced with light touch of sweetness and spicy heat.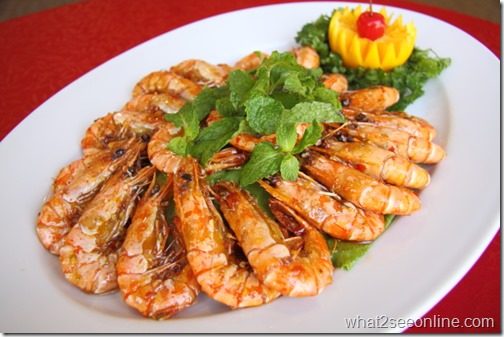 笑口常开 (特式炒虾)
The last savory dish in the menu is the New Year Fried Rice with Silver Anchovies. This rice dish garnished with crispy baby anchovies turns out to be very ordinary.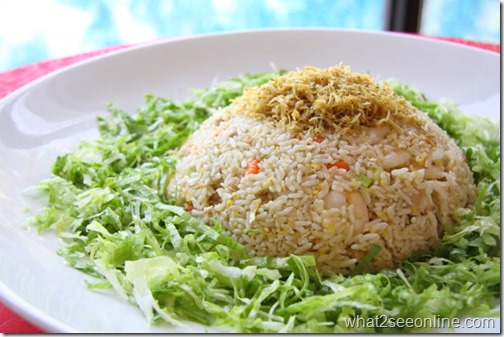 遍地黄金 (新年炒饭)
As for dessert, the hotel will be serving the Warm Sea Coconut and White Fungus with Red Dates and Honey Syrup. This dessert however is brought together with an over balanced of ingredients, resulting in a sour aftertaste.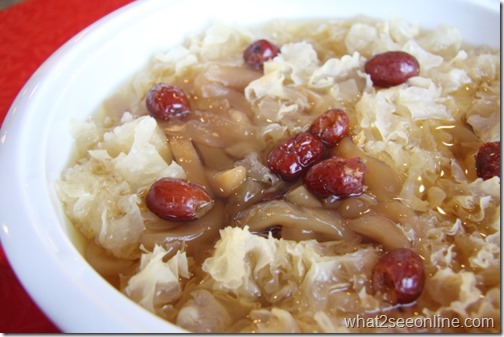 新年快乐 (蜜汁雪耳海底椰)
The hotel is offering the Prosperous Yee Sang Platter with Salmon for takeaways, priced at RM58+ for 10 persons. The offer will be available until the 15thday of Chinese New Year.
Other Chinese New Year Dining Offers at Four Points is the Chinese New Year Buffet Dinner. Priced at RM88.00+ per person, the buffet is available from 30 January till 1 February 2014, from 6pm till 10pm
Four Points by Sheraton Penang
505 Jalan Tanjung Tokong
11200 Penang
Tel: 04- 3718888
* Many thanks to Four Points by Sheraton Penang for extending this invitation.