Marshmallows Have Gone Gourmet at Huey & Wah in Straits Quay, Penang
BY CK Lam
If you are craving for gourmet marshmallows, the place to stop in is Huey and Wah Cafe. Over the last two years, owners Huey and Wah has been making the marshmallows from scratch at their humble little cafe at Straits Quay, Penang.
The light and spongy marshmallows come with choices of natural fruit, chocolate and coffee flavors. Its menu features vanilla, chocolate, lemon, passion fruit, rose, espresso and stout marshmallows. The price range is from RM11.90 to RM18.90.
Gelatin, sugar and corn syrup are just some of the basic ingredients. As no artificial flavoring and preservatives are used, the marshmallows can be stored up to only two weeks in an air-tight container.
Fruit spread and cookies
The marshmallows are wonderful when served with beverages. The cafe offers selected beverages to pair with the marshmallows: Milo, milk, coffee, tea, hot cocoa and green tea.
Dunking espresso marshmallow into the cup of black coffee is a way of consuming the soft marshmallow or you can wait for it to melt away into a layer of aromatic foam.
Black coffee with espresso marshmallows
Besides marshmallows, the cafe also serves a range of snacks – cheese muffins, graham crackers, marshmallow brownies and marshmallow cake.
 Graham cracker
There is an on-going mix and match tea-time promotion – order a latte and a choice of either the yellow submarine marshmallow cake or the stout marshmallow brownie for RM14.90.
Huey cutting up my piece of chocolate cake with vanilla marshmallows
The decoration is rather simple, with wooden tables, but the chairs are rather cute. Take a look around: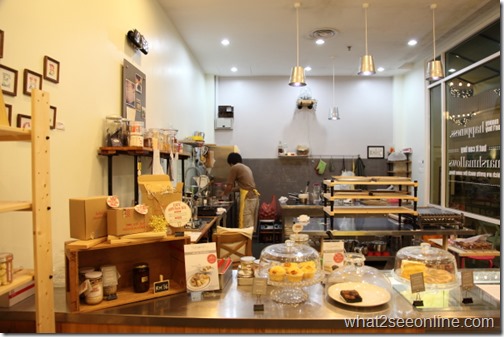 Open kitchen
Huey & Wah Café
3A-G-31 Straits Quay
Jalan Seri Tanjung Pinang
10470 Penang
Business Hour: 11:30am − 10:30pm (Daily)
Tel: 04 8903962