Add Some Sizzle In Your Weekend at G Hotel Penang
BY CK Lam
With the weekend just around the corner, kick back, relax and enjoy the Saturday Sunday Sausage Sizzle at G Hotel Penang. The hotel is introducing the pool sizzle menu at the G Pool Bar on every Saturday and Sunday.
There are plenty of choices to choose from, ranging from chillin' sizzle, sunshine sizzle, G town sizzle, sloppy slaw sizzle to guac-A-sizzle. It all comes on a toasted sesame bun. Dense with a chewy bite, the bun holds what's in between it very well.
The jumbo sausages are made from beef and chicken with light seasoning and herbs. The chef takes good care in grilling the sausages, preventing them from drying out and shrinking.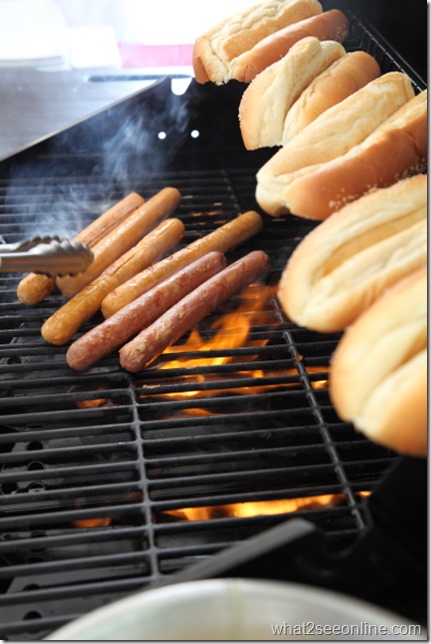 To complement the sausage sizzle, there is a choice of ten handmade condiments – sweet relish, horseradish dip, chili ketchup, mayonnaise, Djion mustard, tomato onion salsa, dill cucumber salsa, tabasco sauce, whole-grain mustard and tomato ketchup.
If you're in the mood for apple horseradish slaw, order the "sloppy slaw sizzle," made with gruyere cheese and whole grain mustard.
The flavor is well balanced, with the tangy and fresh apple horseradish slaw complementing nicely with the mustard and slightly melting rich cheese.
The chillin' sizzle is the version with grilled sausage resting in a bun slathered with house-made Dijon mustard. The chef maximizes the flavor and texture with crunchy raw onions and pickled jalapenos.
Chillin' Sizzle
The sunshine sizzle features toppings of pickled cocktail onions, dill cucumber salsa, and sauce made with mayonnaise and cream cheese. The sauce added richness to each bite, but is much better with less of it.
Sunshine Sizzle
The G town sizzle is a pretty tasty choice. Atop the sausage is house pickled sweet relish, tomatoes, gherkin slices and cheddar cheese.
The relish combines with tomatoes and gherkins created a distinctively tangy flavor and the cheddar cheese do help cut through the tanginess.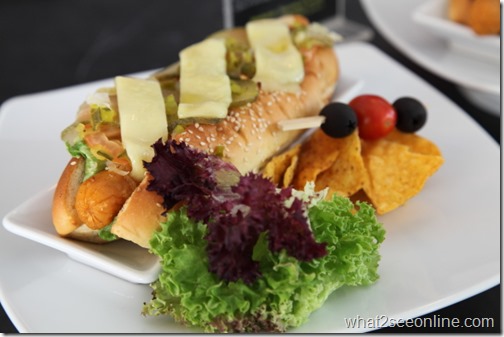 G Town Sizzle
As the name implies, the guac-A-sizzle is made with avocado besides tomatoes, diced onion, cilantro and dill cucumber salsa.
With refreshing ingredients and creaminess of avocado, this is a comforting choice for both the kids and adults.
Pricing for the barbecued sausages is reasonable. A sausage sizzle accompanied by soda and your choice of chips (potato chips, spiced cassava chips or nachos) is priced at RM25++. You can upsize for a glass of milk shake or draught beer with an addition of RM10.
You will find many other choices in the beverages list. A refreshing option is the slush, a frozen slushy treat which comes with strawberry and mango flavors.
Quench your thirst with the many choices of beverages
You can be sure of a myriad of pampering tucking in to this sausage sizzle promotion. Staffs are on hand to pamper you with cold towels, glasses of icy cold water and even cleaning your sunglasses. You can also enjoy a dip in the hotel pool too.
The grilling starts at 12pm till 6pm.
G Hotel
168A Persiaran Gurney
10250 Penang
* Many thanks to G Hotel for extending this invitation.