Miam Miam Penang – It's French and Japanese Fusion Fare
*The outlet has since closed down
Miam Miam Penang set up in Gurney Paragon has a reputation of serving fusion cuisine that incorporates both French and Japanese flavor.
Having garnered a following since its opening, the restaurant has recently launched a revised menu. Together with some friends, we revisit the restaurant. And while I can't say I loved every aspect of Miam Miam main plates on my first visit, my experience on this visit is far different.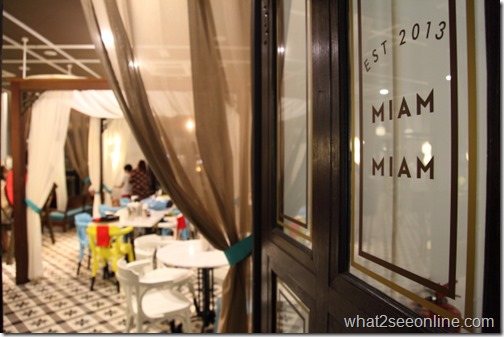 The new menu is more organized now, with a medley of familiar favorites and new dishes. The starters, main plates and desserts focus on imported weighty produce and ingredients, like spinach from New Zealand, soy sauce and breadcrumbs from Japan, and vanilla extract from Madagascar.
There are two salad choices on the menu. We had the Japanese Wafu Market Salad (RM10.80), dish with refreshing symphony of mixed greens and Japanese soy sauce-base dressing. Each of us share a crispy mouthful of the salad which tastes utterly oriental with the seaweed and katsuo (bonito fish flakes).
Bread Selection
Then, we are served with the French Toast and Croque Madame.
The quintessential French Toast (RM16.80) is served with bite-size pieces of nicely caramelized bread. It is good with homemade whipped cream and maple syrup.
The Croque Madame (RM15.80) is a grilled sandwich with generous amount of emmental cheese, gruyere cheese and ham.
A little salad of carrot and baby tomatoes provide crunch and acidity to the grilled sandwich which is topped with a runny egg. This simple dish will appeal to kids and adults alike.
Pasta Dishes
Miam Miam introduces several interesting pasta dishes. Selections include Soupy Lobster Bisque Pasta, Mac & Cheese, Chicken Teriyaki Spaghetti and Miam Miam Spaghetti (familiar favorite). The pasta dishes with generous serving could easily serve two.
All the pasta come out with a springy bite as they are boiled in a pasta cooking machine set for a specific cooking time.
The super cheesy Mac & Cheese features macaroni baked with a number of cheeses. Japanese breadcrumbs, mushrooms, and slices of bacon goes in too, adding flavour to the dish.
The Lobster Bisque Pasta served with crunchily fresh prawns and parmesan cheese will appeal to those who prefer a soup enriched with strong crustacean flavor. The slow cooked soup is a bit rich for my taste, but still pleasant.
The Chicken Teriyaki Spaghetti freshly prepared with a combination of bacon, leeks, mushrooms, seaweed, and pan seared chicken slathered with Nippon sauce is a refreshing and appetizing oriental twist.
Miam Miam Spaghetti  (RM26.80)
Lobster Bisque (RM29.80)
Chicken Teriyaki Spaghetti (RM26.80)
Mac & Cheese (RM23.80)
Rice Dishes
Then, there is the Miam Miam's new line of rice dishes. For those who prefer a little spicy, go for the Souffle Au Curry.
This Japanese baked curry rice prepared French-style with beef extracts, pork frankfurters and broccoli really shows off the mix of cooking cultures. The minimum waiting time for this savory souffle dish is 20 minutes.
Souffle Au Curry (RM28.80)
Be adventurous and go for the Riz Noir, better known as black squid ink rice. Covered with egg, the flavored black risotto is prepared with extra virgin olive oil and assorted seafood – prawns, squids and  scallops.
Sweet Treats
Maintaining its hit favorite oven baked French souffles, Miam Miam Penang has expanded its offerings to include the Valrhona Chocolate Souffle.
Rich on the chocolate, the souffle with remarkably light texture is heavenly eaten warm.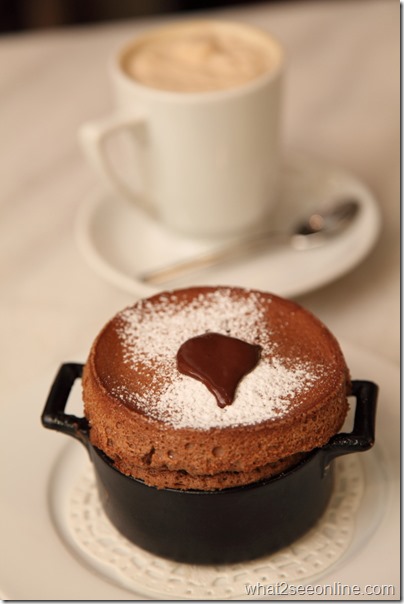 We sample several of the Japanese-style pancakes. The Cream Cheese Souffle Pancake priced at RM16.80 comes with a creamy cheese filling.
The Caramalised Banana Pancake (RM19.80) topped with premium gelato vanilla soft serve and bananas (cooked in a deep golden caramel sauce) is sprinkled with toasted almond nibs.
Cream cheese souffle pancake and the caramelised banana pancake
We indulge in several parfaits – the brightly coloured Berries & Cream Cheese Parfait and Matcha Parfait. The Berries & Cream Cheese Parfait with its creamy texture comes with fresh berries, digestive biscuits and cream cheese.
The Matcha Parfait, which is my favorite is served with red bean, coffee, matcha jelly and rice crispies drizzled with Okinawa brown sugar syrup.
Beverages
The colorful cold drinks mostly from fruits are rich of flavors and textures. The glass of Berries Soda with fresh berries is refreshing with freshly picked mint leaves.
We also had a couple of coffees, served in the signature copper mugs with mat copper color. Other drinks include the Mix Berries Smoothie and the Matcha Smoothie. I like the smoothness of the drinks which are not overwhelmingly sweet.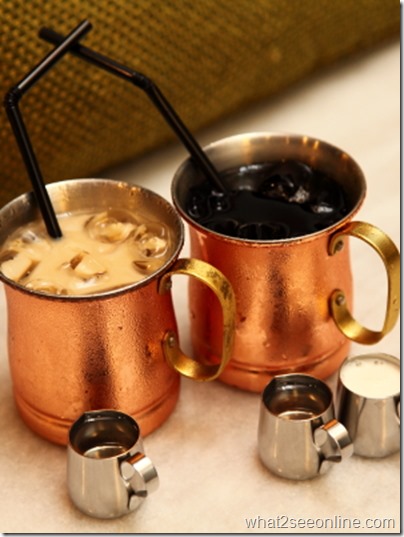 Iced Cafe Au Lait & Iced Coffee
Berries Soda (on the left) & the Mix Berries Smoothie and Matcha Smoothie

Together with the revised menu is a wine list with a selection of French sparkling wines and champagne.
Miam Miam Penang
163-C-1-01/2, St Jo's Gurney Paragon
Persiaran Gurney
10250 Penang
Tel:04 2267818
Business Hours:
11.30am till 10pm (Weekdays)
11am till 10pm (Friday, Saturdays, Sundays, eve of public holidays and public holidays)
* Many thanks to Miam Miam Penang for extending this invitation.