Cutting Edge Night With Wine and Food @That Little Wine Bar, Penang
*The wine bar has since closed down

A group of wine enthusiasts and foodies embarked on an evening, dining on five-courses of Chef Tommes', cutting-edge cuisine with pairing. It is indeed exciting seeing this food trend in That Little Wine Bar, located on Chow Thye Road, Penang.
The Cutting Edge Night menu offers a selection of traditional European cuisine presented with a twist. While the essence of the dish is preserved, the presentation is totally different. The dishes were paired with a selection of European wines from several wineries.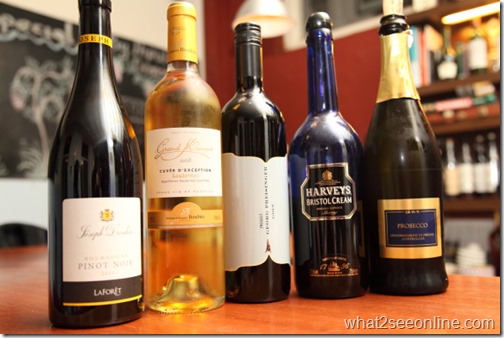 The meal starts off with the inventive dish of Tomato Beer and Marble Oyster. The flat pacific oysters were arranged in a thin rectangular shape that mimics a slab of white and grey marble.
Topped with wine poached baby octopus leg, a sprinkling of black caviar and lemon dressing, the slab of oyster was complemented by a glass of tomato beer made from filtered tomato water.
This light dish playing on the pairing of tomatoes and oysters went well with Prosecco di Valdobbiadene DOC, a sparkling white Italian wine.
The Red Beet Spaghetti Coil Consomme made an impression at the table. The dish was brought to the table with a spiral spaghetti made out of oven baked beet root.  Fresh thyme leaves, spring chicken consomme and three stringers of emulsion were added to the soup.
Chef Tommes devised three taste variations, starting with adding the carrot emulsion to the soup and mixing it. After savoring the soup, the green basil emulsion was added in and lastly with the truffle infused beef sauce. With three emulsions combined, the soup seduces with flavors.
A glass of Harvey's Bristol Cream Original Superior Sherry, with a woody nutty and earthy flavor, paired gorgeously with the soup.

Red Beet Spaghetti Coil Consomme
 The Red Beet Spaghetti Coil Consomme paired with the Spanish wine
The next savory course was the Breasts, presented with a composition of sous vide chicken breast and hickory smoked Japanese duck breast.
The tender duck breast and chicken breast served on butter potato mash and button mushroom kernel were accompanied by brussel sprouts, and a fantastic cherry sauce.
Every mouthful was varied and interesting, especially paired with the Joseph Drouhin Laforet Bourgogne Pinot Noir 2011. This seductive bright ruby-red colour wine from Burgundy, France pleases most diners with its fruity aroma and lovely spicy notes.
Guests were later treated to a dish which featured legs of spring chicken and frog.
The frog legs on a mild garlic and orange sauce were accompanied by baked avocado. The spring chicken leg served atop the potato straw was enlivened with carrot coulis. Lovely flavors were found in the spring chicken leg while the frog legs were a little light on salt.
The legs were complemented by the cherry flavors of the Zweigelt Classic, made in Austria's Burgenland region.
For dessert, the kitchen turned out a dish of strawberry jelly with a scoop of ice-cream encased inside it. The flavors worked well together with the chocolate and nut crumble topping.
The dessert was paired with the Sauternes Grand Moment Cuvee d'Exception 2008. This was my first experience taking this French sweet wine. It was just too sweet for me.
Chef Tommes succeeded in instilling culinary memories with the cutting edge menu that cost RM198 per person.
It will be interesting trying the repertoire of dishes that he will be preparing for That Little Wine Bar in time to come.
That Little Wine Bar
54 Chow Thye Road
Penang
Tel : 04 2268182

Business Hour:
Monday – Saturday: 5pm till 1am
Closed on Sunday
* Many thanks to That Little Wine Bar for extending this invitation.