Steamboat Meal at Zi Wei Yuan
BY CK Lam
For those looking to share a steamboat meal in Butterworth, I would suggest you head to Zi Wei Yuan. Located on Jalan Raja Uda in Seberang Jaya, the restaurant serves traditional charcoal heated steamboat.
The restaurant does not disappoint with its Grouper Steamboat and signature Fish Head Steamboat.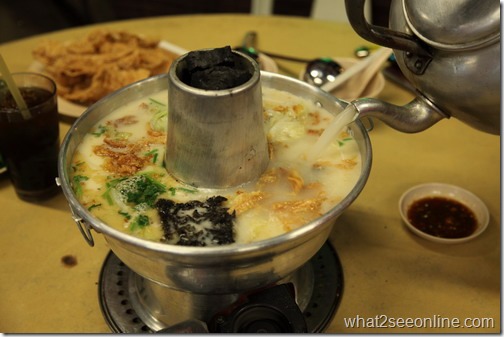 Zi Wei Yuan is known for its milky and deeply flavored soup, made by boiling fish and yam. The steamboat is presented in a metal pot, with a chimney holding the charcoal.
To meet the demand of customers, servers are always on hand with metal kettles to replenish the steamboat pots with boiling soup.
Zi Wei Yuan offers set menus and a la carte ingredients. Seafood choices include slices of fish, cuttlefish, squid, fish maw, seaweed fish balls, and lavish items such as sea cucumber, mantis prawns, oysters, abalone and scallops.
Do not miss out on the quail eggs, deep-fried pig skin, bean curd, dumplings, fried yam and fried bean curd sheets. A variety of meats are also available such as pork balls, pig's innards, chicken slices and beef slices.
There is an assortment of mushrooms, with choices of straw mushrooms, button mushrooms, abalone mushrooms and golden mushrooms. The mushrooms add in flavors and textures.
Other good choices of ingredients to serve along are leafy vegetables. All the ingredients further enriched the soup, which is comforting with a bowl of white rice and noodles. Yellow mee, instant noodles and vermicelli are among the popular choices of noodles.
The accompanying homemade steamboat dip with cut red chillies, chili padi, soy sauce and garlic provides quite a satisfying spicy and sourish kick to complement the food.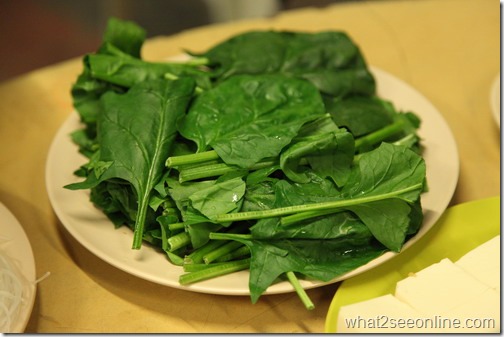 The Fried Fish Steamboat is priced from RM35, RM45 and RM65 while the Grouper Fish Steamboat is at RM40, RM50 and RM75.

Ingredients simmering in the pot
The accompanying specialty cold Chinese herbal tea and chrysanthemum tea are popular delights, offsetting the warm wholesome meal.
Do go early as this popular restaurant is usually filled with customers queuing for a table. Click here for the Map Location.
Zi Wei Yuan Steam Boat (紫薇園魚頭火炭爐)
6525, Jalan Raja Uda
12300 Butterworth
Penang
Tel: 04-331 2736
Business Hours: 6pm to 11pm
Closed on Wednesdays