CK Lam at Maple Palace Restaurant, Penang, featured in Essenze Magazine by CHTNetwork
Essenze Magazine is a prestigious magazine by CHTNetwork, featuring a vibrant mix of fashion, people, luxury, and many more. An article on Maple Palace Restaurant in Penang appeared in Vol. 34-14 and I had been interviewed for the article.
The interview over lunch at the Chinese restaurant with gracious host Vivien Teoh and Tan Loy Sin was documented and also with photos taken.
This is the version of the article – A Flair of Flavour…
 A FLAIR FOR FLAVOUR
In a land where spicy street food and Hokkien cuisine rule supreme, there is one heavyweight champion that is slowly turning the tide by introducing impeccable Cantonese Szechuan cuisine in a classy setting that is fit for a king. Set in Maple Gold Club, a grand heritage mansion tucked in the millionaire's row of Penang's swanky Northam Road (or Jalan Sultan Ahmad Shah), is Maple Palace Restaurant. The restaurant has made a name for being one of the top places frequented by the well-heeled millionaires and socialites of Malaysia's high society.
The proprietor and head-chef of Maple Palace, Tan Loy Sin, or Loy as he goes by, recently hosted celebrated food critic and writer, C.K. Lam, and EZ to sample the restaurant's new menu.
Lam, who runs one of the most visited food websites in Malaysia is widely regarded as an authority on the Penang food scene and has written for numerous publications in Malaysia and beyond.
Joined by Loy and his partner Vivien Teoh, we were treated to a sumptuous spread that included Double Boiled Watercress Soup with Pork Ribs, Braised Abalone with Sea Cucumber & Black Mushroom, Fresh Water Prawn Curry with Mantou, Steamed Marble Goby with Superior Soya Sauce, Steamed Chicken, and finished with a sweet note with the Sweetened Ginger Tea with Glutinous Rice Ball.
As the tantalising aroma of the food wafted, the conversation around the table naturally turned around to food. Lam, who originally hails from Kuala Lumpur, was soon sharing her insights on the restaurant industry with Loy. 'Most important is the food, and so is the word of mouth,' she said, explaining that when customers like the food and service in a particular restaurant, they spread the word to their friends and family, which everyone at the table agreed that it works even better than any advertisement.
Echoing Lam's sentiments, Loy in turn shared with the table his attitude on running a successful restaurant. He said that customers' feedback was very important to him as he strives to maintain the type of service and quality that has come to be accepted of Maple Palace. 'We need to be in tune with our customers' preferences, and so, much thought is put into deciding what goes in our menu,' said Loy, who personally creates the course set menu.
Lam chimed in, saying 'There is much competition these days and Maple Gold is one of the Chinese restaurants that is on top of the game. Loy works closely with his kitchen staff in maintaining the standard for the food and keeping the menu fresh and exciting. Dishes are prepared with bold and exciting flavours using quality and fresh ingredients.'
'Many know the restaurant for its comfort fish steamboat. Among the large selection of delectable dishes, the fish steamboat is one dish that I will order time and again. The aromatic soup boiled for hours has lots of flavour and depth,' she said, 'Maple Palace is also a must go destination for waxed meat claypot rice (Lap Mei Fun). This fragrant dish which is available during the festive Chinese New Year period is prepared with preserved Chinese sausage, waxed duck thigh, goose liver sausage and Chinese wine.'
On what was being served that afternoon, Lam said, 'The curry udang galah (fresh water prawn), which is part of the new exciting menu, is a huge winner. The fresh prawns stand up beautifully to the divine combination of Indian spices and the ladies' fingers made a perfect accompaniment to this spicy dish. You can have it with deep-fried mantou or white rice.'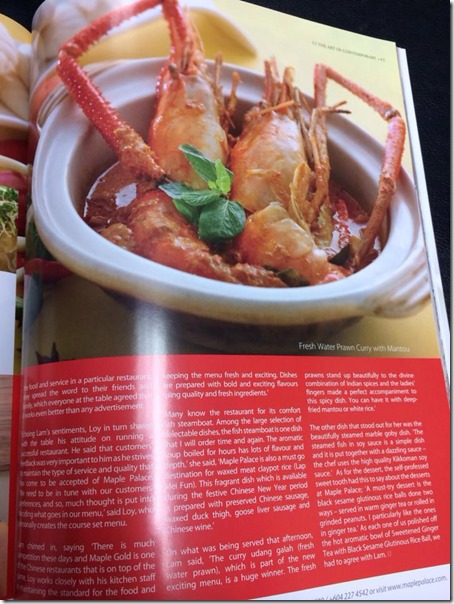 The other dish that stood out for her was the beautifully steamed marble goby dish. 'The steamed fish in soy sauce is a simple dish and it is put together with a dazzling sauce – the chef uses the high quality Kikkoman soy sauce.'
As for the dessert, the self-professed sweet tooth had this to say about the desserts at Maple Palace; 'A must-try dessert is the black sesame glutinous rice balls done two ways – served in warm ginger tea or rolled in grinded peanuts. I particularly like the ones in ginger tea.' As each one of us polished off the hot aromatic bowl of Sweetened Ginger Tea with Black Sesame Glutinous Rice Ball, we had to agree with Lam.
Maple Palace Restaurant
47 Jalan Sultan Ahmad Shah
Penang
Tel : 04 2279690